Welcome

to the

WILD STARS!

---




The Comic Book Store

---

---

What's New

---

---

Wild Stars Navigational Chart:

Wild Stars History 1970s 1980s 1990s New Millennium 20teens Production Notes Mary Tierney Paintings Wild Stars 1 Preview

---

Videos:

---

---

---

---

---

Bonus Material

---

---

---

Contact Us

---

Site navigational tip:
Return to the homepage by clicking on the logo bar at the top or bottom of any page.

---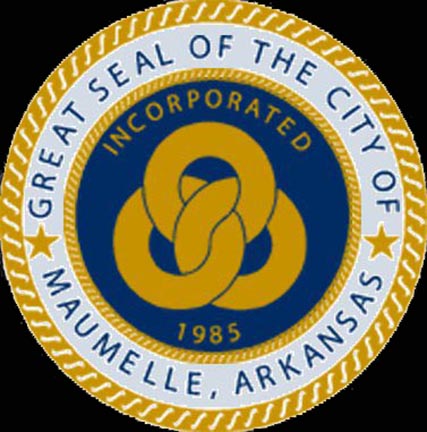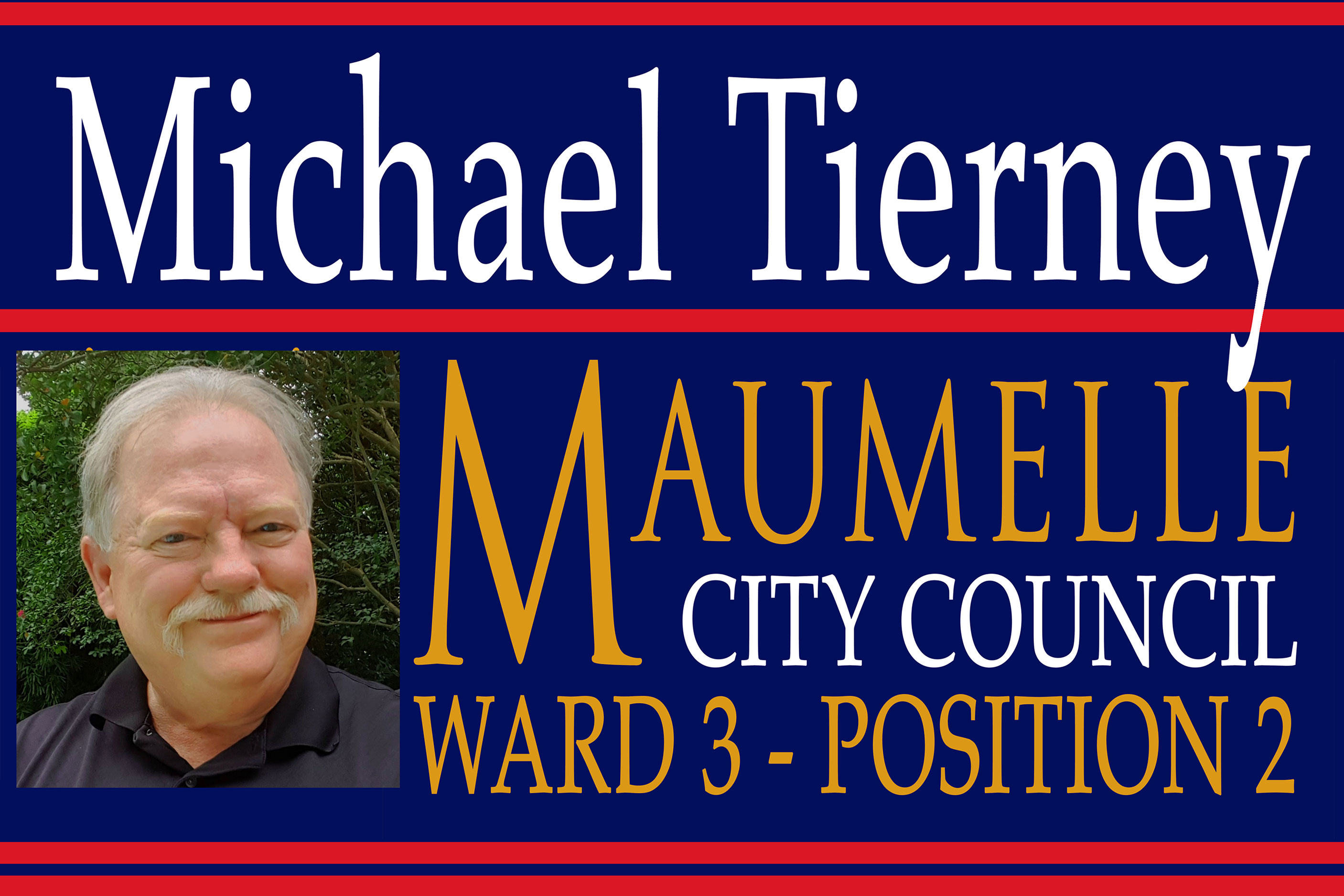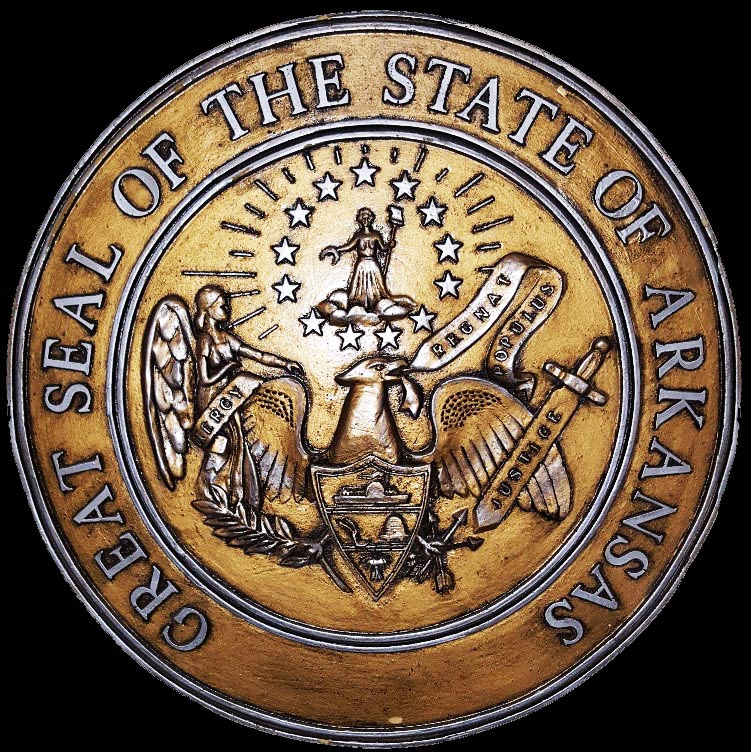 Maumelle City Council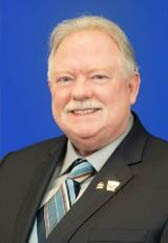 July 15th 2019 Update
As has become the rule and rarely an exception, tonight's City Council meeting was held on an overcast and rainy night.

After a presentation by Tree Task Force Committee Chairman Doug Ladner,
the formation of a planning and development task force to re-evaluate current
city codes and recommend changes in the current codes was discussed.
This topic will undergo further consideration during the next Council meeting.

Ordinance 982 had its first reading. This ordinance proposes a
requirement for additional signage to indicate private streets.
This signage would be paid for and installed by the city.

Resolution 2019-22 proposed an ammendment to the general fund budget
to pay for accrued vacation days and other salaries due for the retirement of
Code Enforcement Director Jim Morley. It passed unanimously.

There was a discussion about the fees that Maumelle pays to house prisoners in the County Jail's facilities.
County Judge Barry Hyde has sent a letter demanding that these fees be more than doubled to begin in 2021.
Possibly even quadrupled.

The affected cities of Maumelle, Sherwood, Jacksonville, North Little Rock, and Little Rock
are questioning this increase and the formulas used to determine the costs incurred by the county.
Of the five cities affected, Maumelle uses the jail the least and Little Rock the most.
So far in 2019 Maumelle has processed 126 prisoners through the jail compared to Little Rock's 3,379.
In 2018 Maumelle's count was 381 compared to Little Rock's 7,619.
In 2017 Maumelle processed 184 prisoners compared to Little Rock's 6,767.
Maumelle currently pays $51,274 annually for use of the county jail's services.
Judge Hyde's proposal increases Maumelle's cost in 2019 to $115,442.
In 2018 Maumelle's cost would have been $229.510.
In 2017 Maumell's cost would have been $82,966.
Obiously, there will be more discussion about the calculations on this matter.

It was announced that the City Council will hold an informal "brain-storming" meeting at Noon on Monday, August 5th.
It will, of course, be open to the public.
Since, by state law, council members are not allowed to speak to each other outside previoulsy announced public meetings,
the intent of this meeting is to allow us to discuss matters of concern in an informal setting.
July 11th 2019 Update
Yesterday the City of Maumelle hosted a public forum at Park on the River and revealed the new plans to resdesign Crystal Hill road.

Click on the images below if you'd like to see larger files.


July 1st 2019 Update
Tonight's City Council meeting was suprisingly short, considering how four new ordinances were passed.

Ordinance 978 to allow private alleys in residential areas that are not connected to public streets
passed unanimously.

Ordinance 979 to establish the dedication to the City of Maumelle certain streets and drainage
in the IM development at White Oaks Crossing passed unanimously.

Ordinance 980 to establish a capital improvements fund for long-term planning
passed unanimously.

Ordinance 981 to establish a police and fire fund by redirecting the half-cent Public Safety Tax
to the polic and fire funds passed by a vote of 6-2.

A Wednesday, July 10th meeting will be held at the Park on the River at 11903 Crystal Hill Road from 4 to 7PM,
where engineers will be present to discuss the planned redesign of Crystal Hill Road.

Another public meeting is tentatively scheduled for July 29th in the Council Chambers.
This is a unique, one-time meeting that was suggested by Coucil Member Jess Holt
to give members of the Council an opportunity to discuss issues facing the city
in an informal setting. No time has yet been set, and the date is subject to change.


June 17th 2019 Update
This Monday afternoon Tree Board President Dina Nash conducted a tour of Woodland's Edge in Little Rock.
This is a plannued urban development that places an emphasis on maintaining old growth trees
and as much of the natural settings as possible, mainting creeks as opposed to piping and covering them.
Houses all have undeveloped green spaces behind them,
with most of the roadway into the community also being left undeveloped.
The result is a feeling of being out in the country, while still living in the city.
Council Members John Vaprezsan, Jess Holt, and myself took the tour.

The first matter up for vote in tonight's City Council was Ordinance 976,
which requires City Council approval of timber management plans on properties
with the hope of slowing the dissapearance of Maumelle's tree canopy.
It was approved by a vote of 7 to 1.

Ordinances 978, 979, and 980 all had their second readings and generated no discussions.
Details about these can be found in the June 3rd Update.

Ordinance 981 generated some discussion about narrowing the use of this .05% voter approved
public safety tax to exclusively fund the police and fire budgets.
If approved, and future needs change, this could easily be undone by the council.
This and the previous three ordianances will be voted on during the next meeting.

Resolution 2019-17 proposed to remove the box on city applications that asks
if an applicant has ever been convicted of a felony.
This will have no effect on background checks that would normally be conducted for certain jobs.
The resolution passed unanimously.

Resolution 2019-18 allows Parks & Recreation to sell older and obsolete mowers.
While not a part of the resolution, the proceeds for these sales are earmarked
for paying the deductable for a new Community Center roof.
It was approved unanimously.

Resolutions 2019-19, 20, and 21 all were approved unanimously for the sale
of surplus city equipment.
June 14th 2019 Update
The 85th Municipal League Convention was held at Little Rock's Statehouse Convention Center/Marriott Hotel.

Myself and many other representatives from Maumelle's city governement joined representatives from around the State
for three days of educational seminars that started on Wednesday, the 12th, and will run through Friday the 14th.

The topics are many and varied, and often repeat from convention to convention.

But this year's 85th was the first to deal with Legalized Marijuana, as multiple speakers wearing green ties
explained the ramifications and limitations of the law, the rights of legal marijuana cardholders,
and the limitations of those rights, plus guidelines for cities in dealing with it.
What some might call the 'high point' of the presentation was when the audience was quoted the street price for illegal marijuana.
I saw a few eyebrows go up on that one.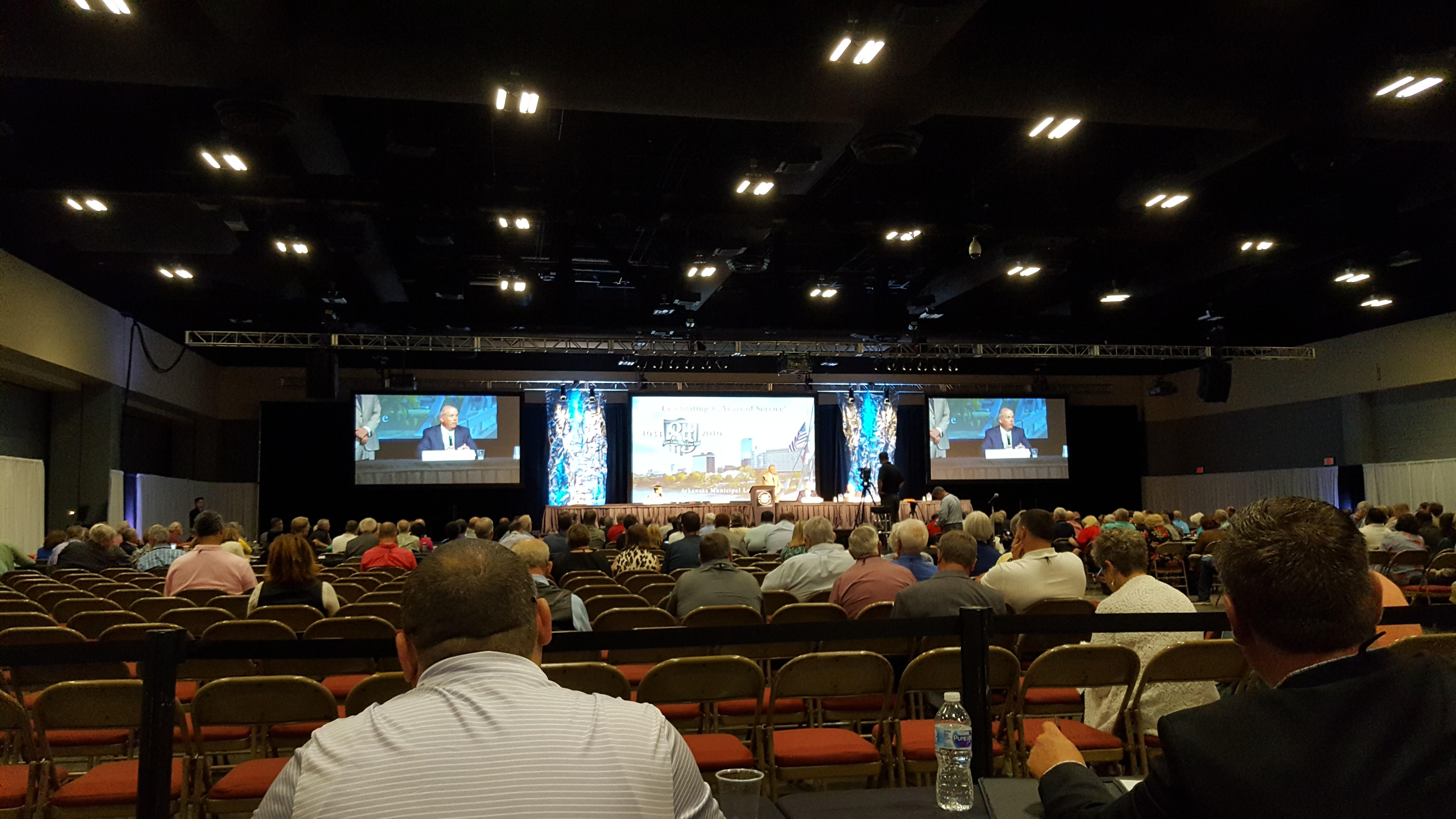 Two of Thursday's classes were taught by Maumelle City Employees.
Communications Director Rachel Hall and Human Resources Director Jared Azzone
both conducted seminars in their respective fields.
I wasn't able to catch either session, but Councilmember Chad Gardner, who took the picture below,
said that they "knocked it out of the park."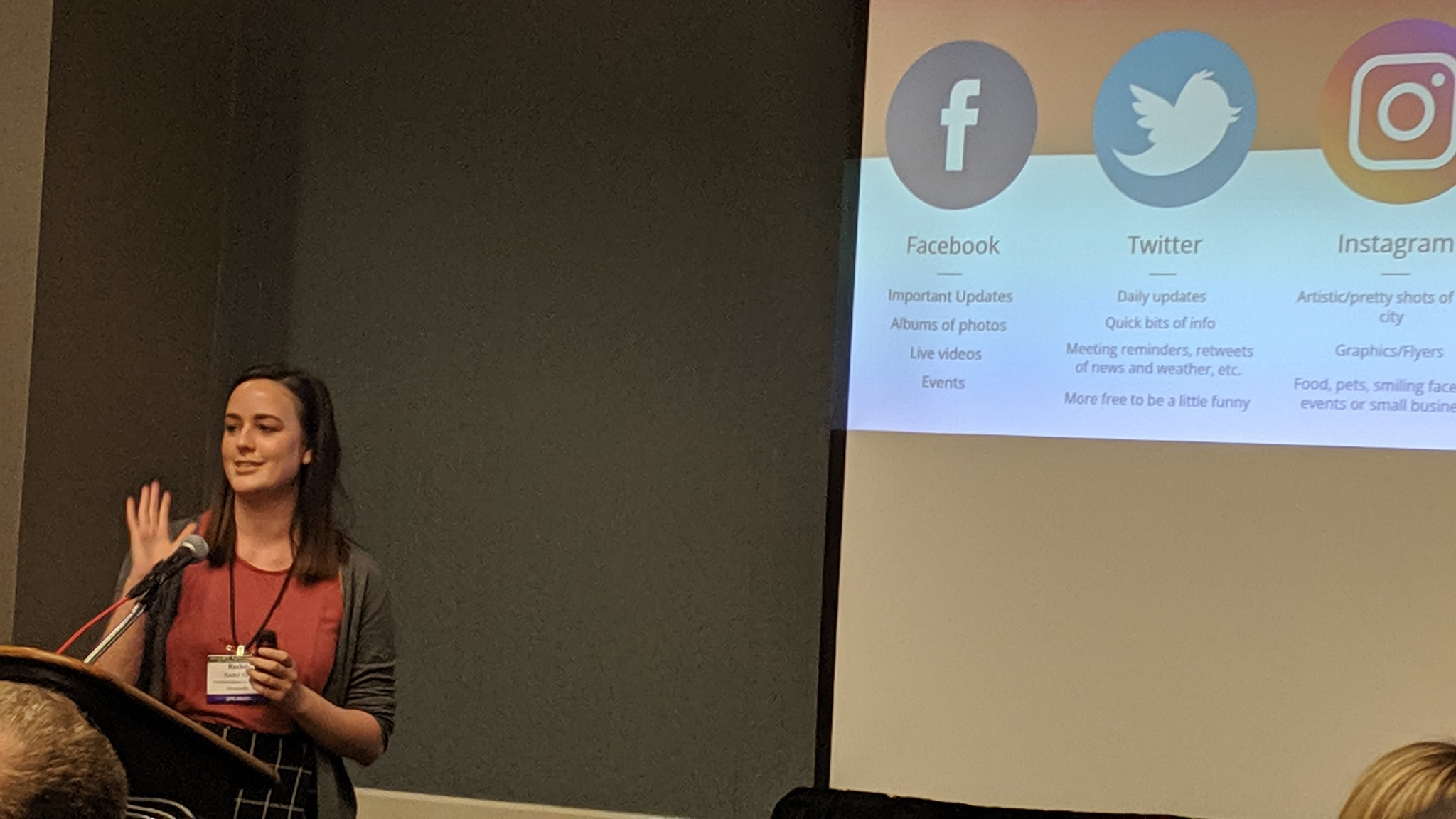 At the closing award lunchion, outgoing Municipla League President Joe Smith caused a few gasps in the audience
when he announced that his former fellow band-member,
country-singer George Strait, would be singing a song to the attendees.
Then another man with a guitar approached the stage and whispered in Joe Smith's ear,
who announced that George Strait's plane had encountered difficulties
and that they would be playing a pre-recorded video instead.

So the final lesson of the day was how to play a practical joke on an entire room full of people.

All in all, pranks aside, these Municipal League seminars are great tools for the ongoing education of public officials.

June 3rd 2019 Update
Tonight's City Council meeting continued a trend of the meetings getting longer every time, topping out at 3 hours and 10 minutes.
At the conclusion, the packed house had dwindled down to 2 attendees.

The reason for the packed house was the final reading and vote on Ordinance 974
to remove the specific dog breed ban and increase the powers of Animal Control Enforcement.

That last part was a very important element that got lost in the debates about nature versus nuture.
During tonight's discussions I asked City Attorney Milissa Krebs to elborate on this.
Much of the language was changed to give Code Enforcement the power to act BEFORE a bite occurs,
and also strenghtened our lease laws and the ability to enforce them.

My vote was based entirely on feedback from Maumelle voters,
which, while split, was overwhelming in support of Ordinance 974.
Terry Williams, Ward 3's other council representitive, expressed the same results from her citizen feedback.
But apparently this was not the case in other Wards, and the Ordinance failed by a vote of 3 for and 5 against.

Ordinance 975, strengthening the language to identity improperly parked and stored (aka: abandoned) vehicles
passed by a vote of 5-3.

Ordinance 976 dealing with tree guidelines had been tabled at the last meeting until the next.

Ordinance 977 ammending the visibility requirements as intersections passed unanimously.

Ordinance 978 had its first reading to allow private residential rear access
alleyways when they do not connect to any public street.
There will be two more readings for this Ordinance.

Resolution 2019-13 was an application for a conditional use permit to allow a car wash to be built
in the Diamond Park Lane/White Oak Cross/Country Club Road Parkway area.
The Planning Commission had already stamped their approval on these plans.
The Council voted 7-1 to give it final approval.

Resolution 2019-14 was an application for a convenience store to be built next to the car wash mentioned above.
Once again the Planning Commission had already given the their stamp of approval.
Once again the Council voted 7-1 to give it final approval.

Resolution 2019-15 involved a preleminary developement plan for Diamond Park Commercial.
It was approved unanimously.

Ordinance 979 is connected to the following resolution, and involves the
dedication to the city of certain streets and drainage and other developements at White Oaks Crossing.
There will be two more readings

Resolution 2019-16 involved approval of preliminary development plans for IM at White Oaks Crossing.
This will be a housing development.

Ordinance 980 was introduced to establish a capitol improvement fund.
At this stage this is simply the establishment of an account
for use in long term planning for future expenses.
The intent is to budget for periodic large expenses such as replacing a fire truck.
Funding for this account will be discussed in future Council budget meetings.
There will be two more readings.

Ordinance 981 proposes the establishment of a Police and Fire Fund with monies from taxes
collected under Ordinance 944, replacing monies lost after
the repeal of Ordinance 947 that collected the former Community Service Fee.
There will be two more readings.

There were also discussion about the progress in forming a Tree Board Task Force,
as well as a proposal to create an Education Task Force.
There is the possibility that the Pulaski Special School District could be disrupted due to recent actions by Little Rock,
and the purpose of the Task Force would be to observe events and prepare Maumelle for any changes
that could affect our schools.


---
May 31st 2019 Update
Talked with Mayor Norris today about the flooding sweeping through central Arkansas
and causing damage to Little Rock, North Little Rock, and other cities along the Arkansas River.

Part of Crystal Hill Road had to be closed after flooding covered the Park on the River,
but otherwise Maumelle has been fortunate.

No homes have been flooded, nor are any expected too.

Barring some unseen castastrophe, Maumelle is in good shape.


---
May 23rd 2019 Update
Two updates for you today.



Discussing the Specific Dog Breed Ban


Tomorrow the Dave Elswick Show's guest-host Shane Stacks will have as his guests
three members of the Maumelle City Council. Terry Williams, Chad Gardner, and myself
have been invited to discuss the new ordinance intended to repeal Maumelle's specific dog breed ban.
which will have it's final reading and discucssions on June 3rd, after which the vote will be taken.
If you'd like to discuss this issue, ask any questions in general about Maumelle,
or just want to brag about how much you love our fine city, callers are welcome.
The show will be broadcast on 101.1 FM from 2 to 3PM CST.

May 26th Addendum:
You listen to a replay of the show here.



Illegal Use of Handicaped Parking


Last week, I shared a THV11 video report by Melissa Zygowicz on Facebook, which can be currently found at this link .
This generated quite a bit of support, concern, and discussion.
Many residents wrote about how often they see the laws pertaining to handicapped parking spaces being broken,
and were concerned that by the time police arrived to ticket them, the offenders are often gone.

The State of Arkansas as a solution, and they've deputized every citizen who is willing to help.
If you see someone parking illegally in a handicapped parking spot, simply take a picture of both the front and back of their vehicle,
and then click on either this link or the image below.
There you will find a form to report the offenders.
The most noble aspect of taking this initiative is that
ALL MONIES COLLECTED IN FINES GO TO FUND PROGRAMS THAT ASSIST THE HANDICAPPED.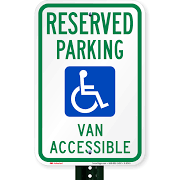 Please keep in mind that even if you do have a handicapped parking permit,
it is still ILLEGAL TO PARK IN THE VAN ACCESSABILE RESERVED PARKING SPACE,
unless you have that specific placard displayed.

Handicapped people who require wheelchairs have special needs,
which is why these spaces always have large striped areas around them.
This extra space is necessary to give them room to use a lift from the van to move their wheelchairs.
Please don't add to the burdens of those already burdened enough!


---
May 17th 2019 Update
Despite thunderstorms shaking the roof, as long as the last City Council meeting was, tonight's marathon was even longer.

The topic that drew eleven speakers was the proposed repeal of the selective breed dog ban.
This time, however, the speakers were not unananimous in thought,
with two speakers opposed to the repeal as opposed to nine speakers in favor,
three of whom returned after also speaking at the last meeting.
The ordinance will be voted on in the next Council meeting.

The proposed tree oridinance generated even more discussion than last time.
The Council decided that the ordianance would not accomplish all that is needed to be done,
and voted unanimously to establish a Tree Committee with the agenda to recommend ways to keep Maumelle's rating as a Tree City.
Right now we've fallen .2% under the 45% tree canopy threshhold required for qualification,
and as property around the new third interstate begins to be develop, we may fall even further.

The Tree Committee is also tasked to propose guidelines for future development of Maumelle's green areas.
Marion Scott-Coney will head the Committee, along with Council members Terry Williams and Steve Mosley.
Dina Nash, President of the Maumelle Tree Board, and two other members of the Tree Board will be included,
along with a property developer yet to be determined, and someone familiar with state statutes and zoning law.

The tree ordinance as it stands was voted in a split decision to be delayed for its third reading until the second Council meeting in June.
A motion that I made to reinstitute the requirement for maintaining a 10% minimum tree coverage failed.

The ordinance to allow greater city control over abandoned vehicles generated some conversation.
The ordinance dealing with overgrown property that obstructs a driver's view of oncoming traffic had no discussion.
Both will be up for vote in the next City Council meeting.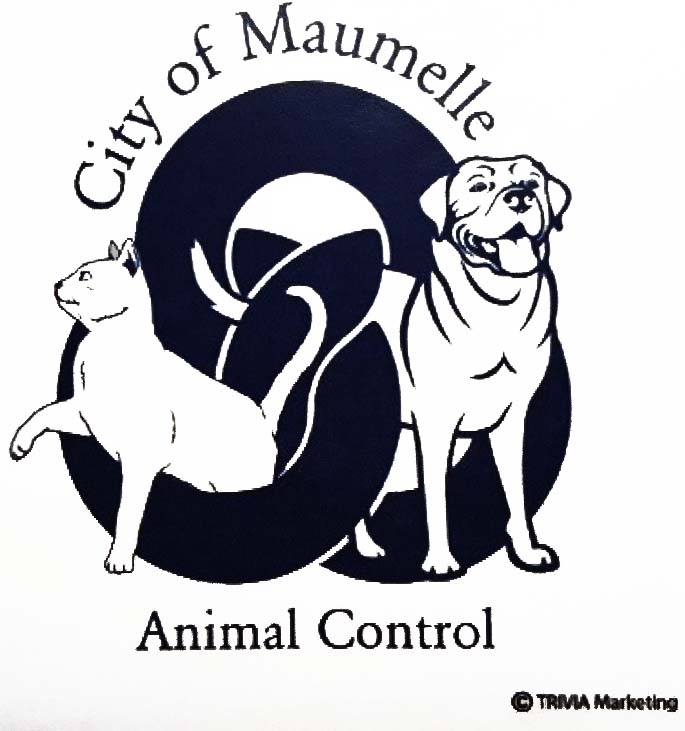 Other business included the Council's unanimous approval of a new logo for the department of Animal Control.
When you see this logo, you will know that they are official representatives of the City of Maumelle.

In closing comments I inquired about the status of the Entergy switching station that
would have to be moved to build a Roundabout at the intersection of South Odom and Club Manor.
City Attorney Melissa Krebs indicated that she has continued to investigate the matter,
and how general common law rules that this will most likely become Entergy's expense.
But this is not a final determination.

The last piece of business for the night was actually the first.
Prior to the City Council meeting, a Traffic Committee meeting was held
to discuss the proposed four-way stop at Diamond Park Lane and Counts Massie/White Oaks.
The committee voted unanimously to approve the measure.
However, since North Little Rock owns one side of the road, their approval is also needed.
Mayor Norris said that he had already reached out to NLR about this,
and their thought was to wait until after the new interchange had already opened before considering the move.
Mayor Norris said that he would communicate that it was Maumelle's decision to be proactive, rather than reactive.
Maumelle will have to wait for their response before proceeding.

---
May 15th 2019 Update
Rachell Hall, Communications Coordinator for the City of Maumelle,
produced a very nice video to introduce the members of the City Council.
---
May 6th 2019 Update
Tonight's City Counil meeting can be described with one word: Long.

Several new ordianance were introduced and the gallery was packed to near-capacity.

The first reading of Ordinance 974 Regarding Hazardous or Dangerous Animals drew many comments from citizens.
Their comments all had one thing in common: they supported the removal of banning of selective breeds of dogs labeled as dangerous.
The concensus, at least for tonight, is that animals are individuals and should not be blamed for the actions of their owners.

As someone who, as a child, was attacked by a vicious dog when its owner sicced it on me and my friends for simply walking past his house on the street, I concur with this assessment.
The owner was the one responsible for that attack.
It was the second attack the same person had orchestrated on a child.
Today's the laws are tougher, but I had to inquire about the "first bite" exception still on the books.
The City Attorney advised that in the case someone intentionally causing an attack today would suffere civil liabilities,
so I dropped my request to add a penalty to the ordinance.
To this point, local support for the removal of the specific breed ban appears unanimous.
A motion to skip the second and third readings was not passed, in order to give everyone time to be heard on this issue.

The first reading was made of Ordinance 975 Regarding Improperly Parked or Stored Vehicles.
The intent of this ordinance is to toughen existing laws against abandoned vehicles left in streets, yards, or driveways.

The first reading was made of Ordinance 976 Regarding Timber Management Plans.
This topic generated a lot of Council discussion.
The intent is to exercise greater control over clear-cutting and help maintain Maumelle's tree canopy.
One part of the ordinance, requiring a minimum of 10% of trees to be left standing, was struck.
The revised Ordinance 976 once again had it's first reading in the new, edited form.

The first reading was made of Ordinance 977 Amending Visibility at Intersections.
The intent of this ordinance concerns the maintaining of visibility at intersections,
specifically undeveloped lands that have been allowed to grow wild to the point of restricting a driver's ability to see oncoming traffic when entering an intersection.

All of these Ordinances will now advance to a second reading at the next City Council meeting, and a vote will be taken at the third reading in four weeks.

In other business, the Mayor provided the Council with an early estimate for the costs of the proposed roundabout on Club Manor and Odom South.
Because there is still a question as to whether or not Entergy will pay the costs for relocating a switching station,
the Council declined to take a vote to discuss adding the project to mid-year budget discussions until after this question is answered.

The proposed four-way stop at the intersection Diamond Park Lane and Counts Massie/White Oaks was announced to be discussed at a City Road Planning meeting in two weeks in the City Council chambers.
This public meeting is scheduled at 5:30, right before the next City Council meeting on May 20th.

Dave Gattinger was reappointed to the Facilities Board by a unanimous vote.

In in the final bit of business, the city approved Barney the Purple Dinosaur to become the City's mascot--not!
That's just a joke to see if you were still reading.
Like I first said--it was a looonng meeting!


---
April 17th 2019 Update
Mayor Norris, his assistant Scott Grummer, Councilman Chad Garner, and myself spent today at the Planning & Zoning Workshpop in the Municipal League Headquarters in downtown North Little Rock.

The full day of workshops dealt with the history and legalities of city planning, including numberous case studies, and also provided updates on recent state legislation that affect cities of both the First Class (Maumelle) and the Second Class.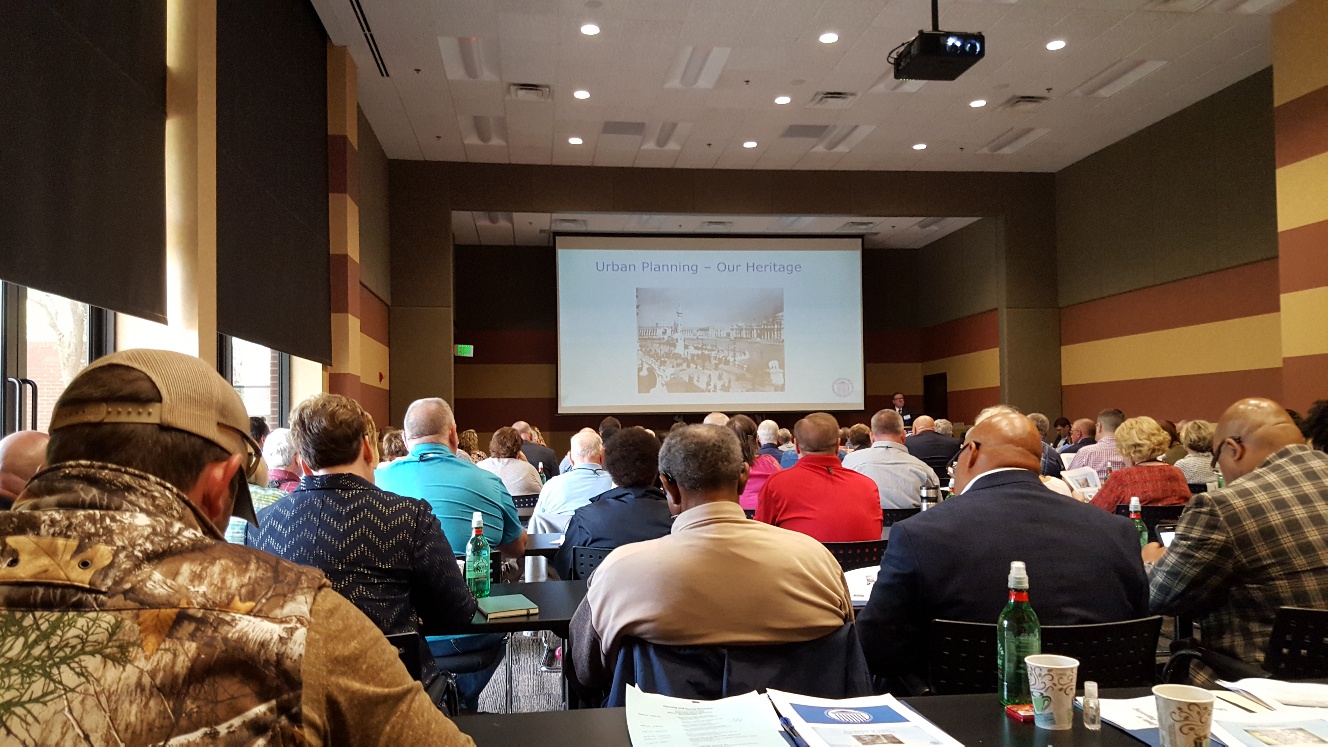 ---
April 15th 2019 Update

Tonight the City honored Police Officer Eli Keller as the Employee of the Month.

John Wells was elected to a Civil Service Commission Appointments, and
Larrissa M. Liddell was elected to a Tree Board Appointment.
Both elections were by unanimous votes.

Resolution #2019-10 was also unanimously passed to authorize Mayor Norris to enter into a revised billing services agreement with Central Arkansas Water.

The engineering firm of Peters & Associates presented the completed traffic study for Counts Massie Road and Country Club Parkway Connection.
The study included short and long-term traffic estimates, as well as potential solutions.

As a result of this study, the Council discussed the preference to create a four-way stop at the intersection of Counts Massie Road and Diamond Park Lane as soon as possible, in order to get drivers acclimated to the change before the new interchange opens later this year. This will require the co-operation of North Little Rock.

But this is only a short term solution.

The council is also considering the building of a roundabout in the elbow of Counts Massie, where only a pumping station separates it from intersecting with Country Club Parkway.
This roundabout will also require the co-operation of the City of North Little Rock along with acquiring rights of way.
The Council agreed in discussion that the current roundabout being planned at South Odom and Club Manor should remain the board's current priority, since it represents an imminent safety hazard. but that the Counts Massie/Country Club Parkway roundabout is something we will need to add to our long-term planning, probably in the next two to five years, but not longer.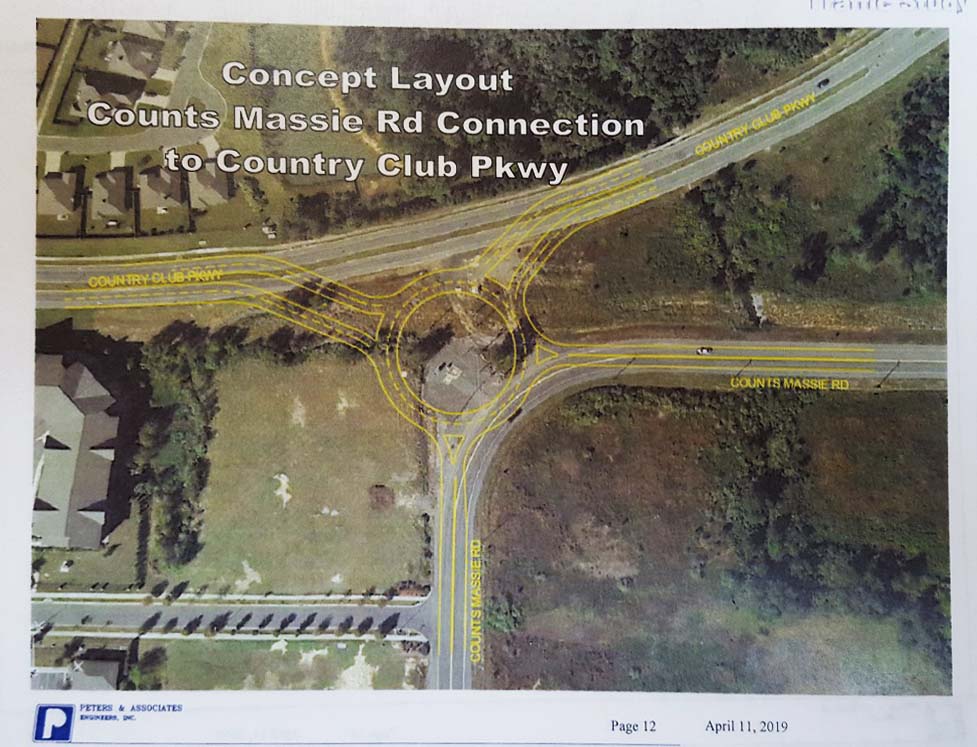 ---
April 2nd 2019 Update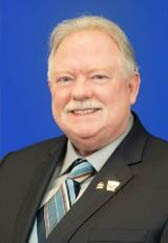 Tonight's City Council meeting possibly set a record for brevity, concluding after only 34 minutes.

Highlights included the passing of Ordinance 971 to change wording in Chapter 38 of the Maumelle City Code to help the city more quickly deal with problems like the pothold situation recently encountered on Savannah.

Ordinance 972, ammending Ordinance 962 to comply with FCC regulations dealing with the nationwide expansion of wireless services, was also passed.

The first reading was made for Ordinance 973, ammending Chapter 94 of the Maumelle City Code to permit indoor ammusement and recreational establishments.
This ammendment comes about as the result of a request to create an activities center catering to children aged 7 and younger.

Tonight new wall photos of the City's officers and council were also unveiled.


---
March 21st 2019 Update

Mayor Caleb Norris and myself appeared live on the Dave Elswick show on March 21, 2019, at 5PM, FM channel 101.1, with guest host Shane Stacks.


Click on

this link

if you'd like to listen, and then jump forward to the 2:03 mark.

---
March 18th 2019 Update
There was a considerable discussion in tonight's meeting about the pothole problem on the private commercial road of Savannah Drive.

City Attorney Melissa Krebs brought the Council up to date on the long and convoluted history of Savannah.
To date, no current owner has yet been identified.

Ms. Krebs also gave the Council a copy of a letter sent to the property owners of the commercials properites tied to the road.
Because of the deteriorated state of the street, it constitutes a public hazard and under the nuisance statute,
these owners have been given two weeks to make repairs, or else the road may be closed.

While also part of the privately owned private business area, Town Center is not currently slated for closure.
There is a major pothole where Savannah connects with Town Center,
so while this repair also needs to be addressed, it is currently being included as part of the Savannah problem.

For those who are curious, the reason Town Center is still a private road is because it has never been dedicated to the city by the owners.
It was orignally thought that this would happen, but has never actually taken place.
So at this time it remains privately owned, and by law the city cannot make repairs to private lands at the taxpayer's expense,
nor can we make repairs and "sort it out later."



Proposed Roundabout at South Odom and Club Manor


There was no discussion of the roundabout during tonight's meeting,
other than a report that engineering designs are still being prepared for a future Council vote.

But I thought I'd share an observation I made about the roundabout on a Maumelle forum last week.

The previous week my business in west Little Rock lost power for the latter half of a business day,
along with a thousand other homes, businesses, and traffic lights.
Now, Rodney Parham traffic always gets hectic during rush hour, and when you throw in inclement weather it gets doubly so.
But without traffice lights it becomes a legitimate nightmare.
I closed my store early and sent my employees home so that they would not have to deal with this.
The one word used by everyone who did experience the anarchy of rush hour that day was "Horrrifc."

Which brings me back to my point about roundabouts.
In weighing all the pros and cons of a roundabout,
one thing that has never been discussed is how they are largely unaffected by a power outage.
They are essentially anarchy-proof.
March 22, 2019 Update
Taco Bueno took control of the situation on Savannah and repaired ALL of the potholes today.
Picture by City of Maumelle Government.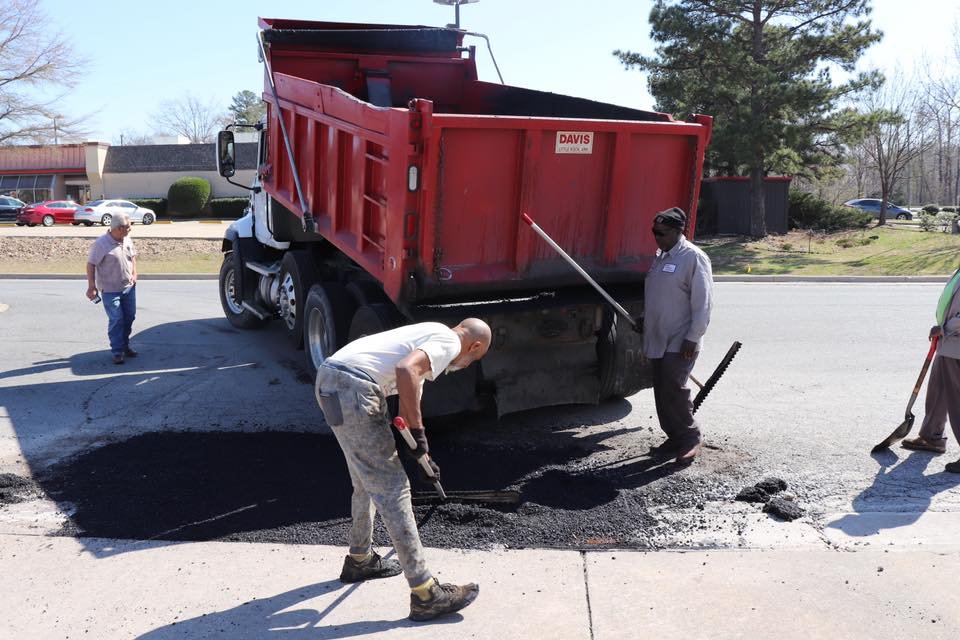 ---
March 4th 2019 Update
Maumelle resident and Senator Mark Lowery addressed tonight's City Council meeting.
He shared many recent developments in state legislation.
Of special interest to Maumelle residents is Act 241
which sets a cap for franchise fees that a utility like Central Arkansas Water can charge residents.

One resident expressed her concern about the 5G installation guidelines currently being established.
As City Attorney Melissa Krebs explained, 5G is something the FCC insists will happen,
with or without local guidelines, so it is in the city's best interest to establish our own,
otherwise we will loose all control over how they are installed.
One point I will make about the language being used in these guidelines is that the term
Stealth Technology simply refers to aesthetic designs meant to blend in with the immediate surroundings.
It is not spyware.
Think of it as urban camouflage--keeping Maumelle beautiful.

Mayor Norris also shared more about his plans to redesign the remodel of Crystal Hill Road.
The plan has been reduced from an 80-foot wide avenue down to 70-foot,
which would require little or possibly no need to use imminent domain.
Curbs, gutters, sidewalks and a lane that serves as a bike path are all still included.
This redesign will reduce the cost of the project from 2.7 Million down to an approximate $2 Million.
Exact numbers and turnaround times have not yet been determined.
Being that this was something I campaigned for, I fully support Mayor Norris on this.
So does the rest of the Council, with everyone present voting their unanimous support.

March 5th Addition:

One thing I forgot to mention yesterday is about how the City is currently working
very hard to address the issue of potholes creating hazardous driving on private roads.
Some have already stepped up and make the necessary repairs,
but the problem with Savannah continues--
this is were Arbys, Zaxbys and other are located.
Mayor Norris and City Attorney Krebs continue to research records in an effort
to discover who currently owns this road.

---
February 26th 2019 Update
A presentation was made to the public today at Center on the Lake in Maumelle about the proposed roundabout at the intersection of South Odom and Club Manor.

In the picture below you can see Mayor Norris in the left foreground discussing matters with one resident, while standing to the right Council Member Steven Mosley, with arms folded, does the same thing while taking note of this photographer.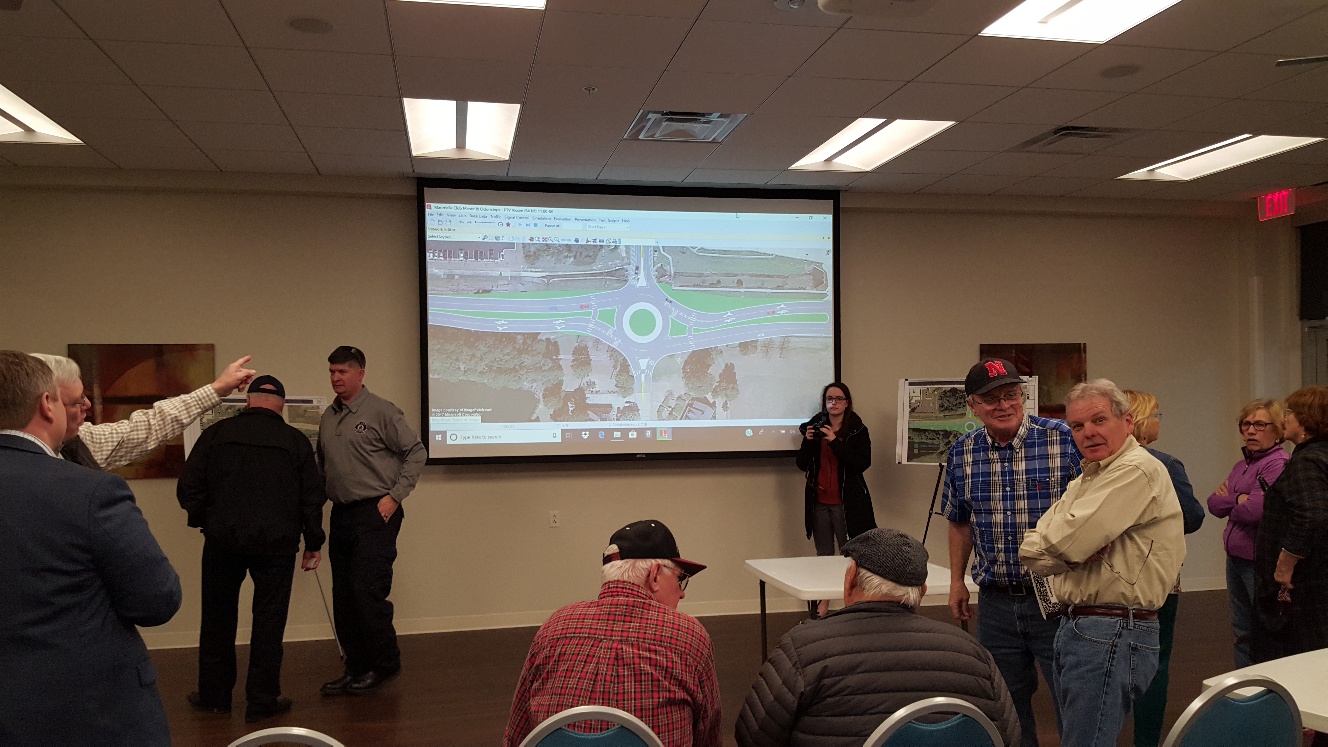 This intersection is the most dangerous in the city, with an average of nearly a dozen wrecks each year.
As always, the City Council is being proactive about public safety and is working to fix this problem.

Roundabouts are not popular at this time in America, but are very common in Europe.
Council Member Chad Gardner posted an interesting video excerpt from the Myth Busters television show,
where they do an experiment which shows roundabouts actually increases traffic flow by 20%.

In the 'pro' arena, I've talked with members of the Maumelle Police,
who cite a drastic reduction of catostrophic accidents with roundabouts.
Specifically, vehicles are not "T-boned" at high speeds.
These types of accidents are the worst for injury and possible life of life.

In the 'con' arena, roundabouts are referred to by truck drivers as Trucker Hell, because they can be difficult for them to navigate.
However, problems such as tipping over are negated with larger roundabouts such as the one proposed here.
Plus, there is minimal semi-truck traffic going down South Odom.

So this discussion is ongoing.
Please let the Council and Mayor know your thoughts on this matter, pro or con.
---
February 19th 2019 Update
Tonight's City Council meeting, held on a Tuesday because of Monday President's Day holiday, was called to order when Mayor Norris quieted a raucous crowd.
This is a facitous statement -- being a cold and rainy night, there were no spectators in attendance.
But the levity reflects the good natured tenor of the meeting.

Mayor Norris gave his State of the City address, which was very concise and covered a wide array of city matters.

There are two points that I feel are the most important to share.
Improvements to the Victoria Circle drainage systems in order to relieve chronic flooding problems should be proceeding very soon.
The Mayor also proposed changing the improvement plan for Crystal Hill Road from the current four-lane plan down to two-lanes.
This will not only move much needed improvements forward, it will also act to reduce taxes by reducing the cost of the project.
I campaigned on both of these ideas, and fully support of the Mayor in this matter.

John Craft of Craft, Veach & Company gave a presentation of the audit report for the fiscal year of 2017, and answered questions afterwards.
The council will review this report and discuss it with Mr. Craft again next meeting.
At first glance, I see no problems with the report as presented.

Director of Econmic Development Judy Keller pre-screened a business recruitment video, which will soon be released to the public.

Shannon Vega, Maumelle's Director of Finance gave a presentation about the state of Maumelle's current, 2019 budget.
---
February 5th 2019 Update

Roundabouts were discussed twice at last night's City Council meeting.

On Tuesday, February 26th, a presentation about the placement of a roundabout at the intersection of Odom South and Club Manor will be held between 4 and 7PM at the Center on the Lake.
This will be an informal presentation, with engineers available to answer any questions, so drop by at your convenience to ask questions and have your opinions heard.

The possibility of placing a roundabout where Counts Massie connects to White Oaks was discussed again.
The Council approved a $6,000 traffic study to evaluate the need of a roundabout, or possibly the conversion of this intersection into a four-way stop.

In the same vicinity, the Council also approved changes made to a previously approved Preliminary Plat and Preliminary Development Plan for a subdivision located due north of Natural Trail.
This will be an Independent/Assisted Living/ Memory Care complex located northwest of Diamond Park Lane.
So, when construction begins, be advised that what will look at first glance like an apartment complex is actually an Assisted Living complex instead.
Sadly, Assisted Living complexes are not known for having traffic.

Other Council business included approval of a conditional use permit for an Event Center named Gather Arkansas, which will host smaller evnts like craft classes, workshops and vendor events.
A sign posted by the Planning Commission that requested public comment drew fourteen responses -- all of them positive.

The Kimberly-Clark bond issue for a $110 Million dollar expansion in Maumelle was approved for an emergency advancement as the second and third readings were both made, and the bond approved.

Another revisement to a prelimiary plat was also approved for Phase 24-B of Country Club of Arkansas.


---
January 23rd 2019 Update
Last night's City Council meeting was fairly uneventful.

A code of conduct for city officials was passed.
This is the same resolution as they have passed each of the last several years, which delineates proper conduct and civility.

A counter-offer was received from a former city employee who is suing for work performed during break times.
The Council voted to reject this counter to the Council's previous offer to settle.

Several other matters were discussed in a fairly open forum, which included the setting of a Public Hearing on Tuesday, February 26th, 2019, to discuss the roundabout being engineered for the intersection of Club Manor and South Odom.
This meeting will start at 4PM and run for at least two hours.

Another topic was the possible addition of another roundabout where Counts Massie meets White Oaks, which leads to the 3rd Interstate Interchange soon to start construction.
This intersection becomes Commerce CV to the South, and Diamond Park Lane to the North, which connects with Country Club Parkway. Studies and engineering reports were discussed.

I made the suggestion of turning this intersection into a four-way stop.
Mayor Norris will be following up on this with Mayor Smith of North Little Rock.
Being an intersection shared by the two cities, participation by North Little Rock would be required to resolve this possible traffic congestion point before it becomes a public safety hazard.
I will keep you informed on the progress in this matter.

Tommorow night is the Maumelle Area Chamber of Commerce's Annual Banquet.
I apologize in advance for being unable to attend.
That same night is also the next meeting of the Maumelle Planning Commission, and I will be atteneding that instead, in order to report to the next City Council meeting on the proceedings.
There are nine items on the Planning Commission's agenda which will later be brought before the Council.

Last week Mayor Norris, City Clerk Timmons, City several Council members and others including myself attended the 2019 Arkansas Municipal League Annual meeting held in the Statehouse Convention Center in Little Rock.
Numerous events were held, including Government 101 classes for newly elected officials.
At the banquent former Maumelle Mayor Mike Watson was honored for his years of service.
---
January 8th 2019 Update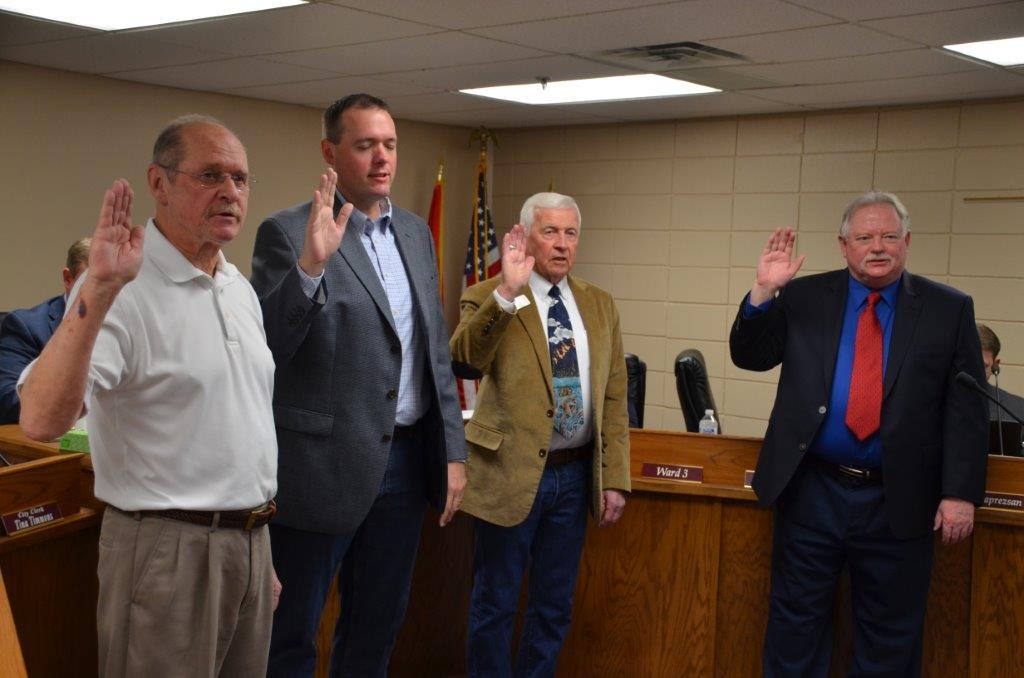 photo by Jack Stowe
Last night all the newly elected Aldermen were sworn in on the Maumelle City Council. Shown from left to right are Ken Saunders, Chad Gardner, Jess Holt, and myself. Chad and I are first-timers, whereas Ken and Jess are incumbents.

Other Council business included the swearing in were our new Mayor Caleb Norris, incumbent City Clerk/Treasurer Tina Timmons, and new City Attorney Melissa Krebs.

New business conducted was the Council's approval of a resolution to support Kimbery-Clark's $100-120 Million expansion of their Maumelle facility. Kimberly-Clark will issue a bond to finance this expansion, which will enjoy tax benefits during the term of the bond. Those benefits will not extend to K-C's current facilities. There is no financial risk to Maumelle with this measure, and considering how Kimberly-Clark just closed their facilities in neighboring Conway, this should help ensure Kimberly-Clark's continued presence in our city for the long-term.
---
December 3rd 2018 Update
Here is the 2019 Budget that was pased in tonights (December 3rd, 2018) Maumelle City Council meeting, for those who would like a closer look at the proposed budget and actual expenses for previous years. Click

here

or on the image below to veiw a larger image.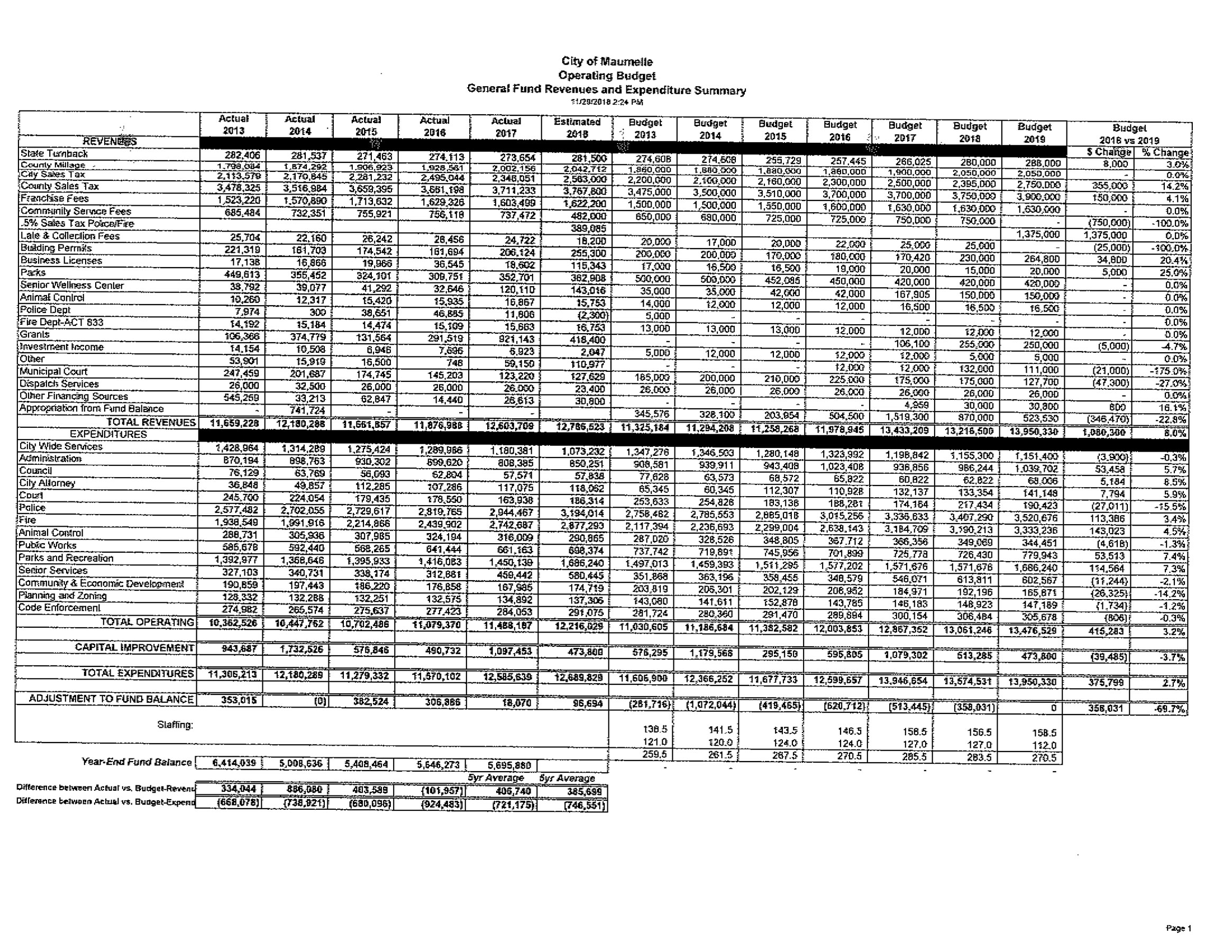 ---
Here is

a link

to my 2018 Campaign page.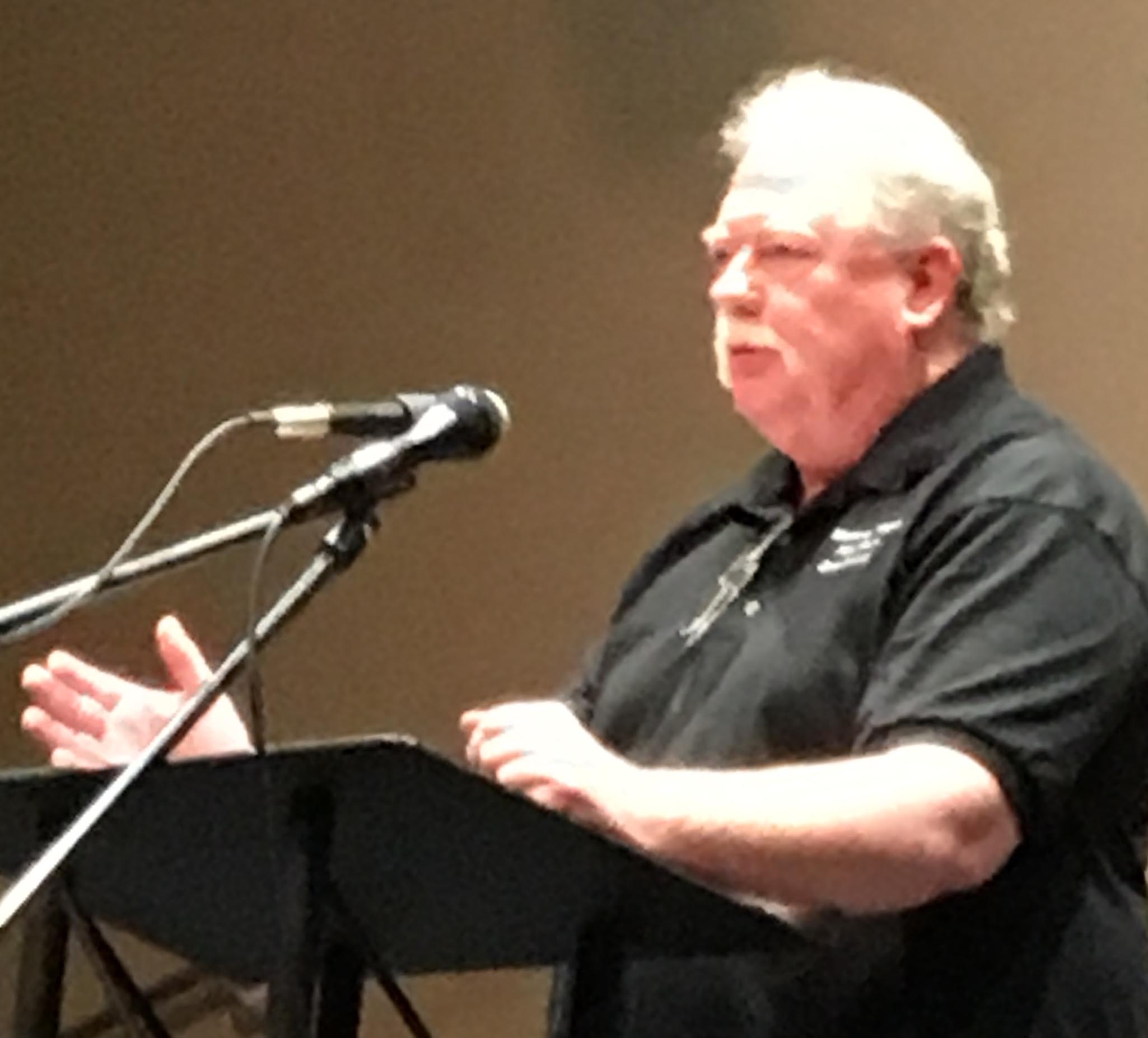 photo by Shannon Odom
---
Click on the map below to find your Zoning: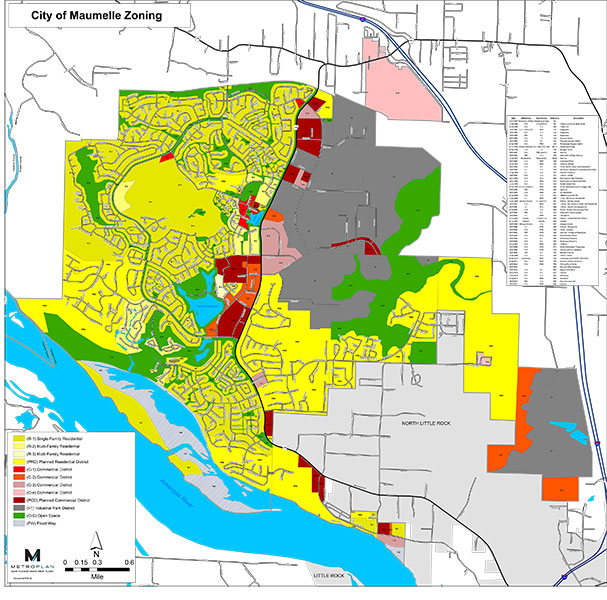 ---
Click on the map below to find your voting ward: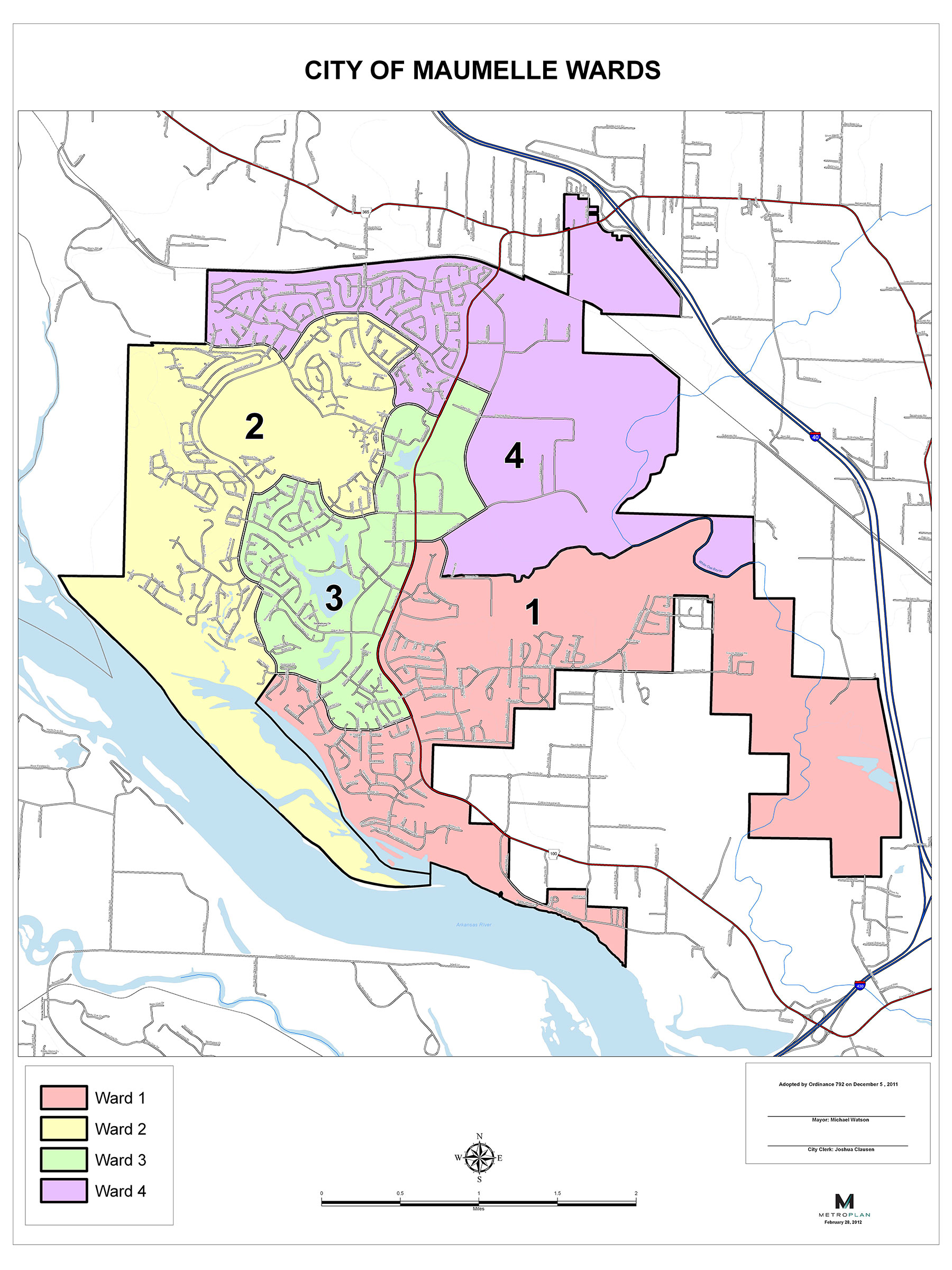 ---
The State of Arkansas has it's own long-range planning, called Long Range Intermodal Transportation Plan (LRITP), with a vision that reaches to 2040. You can access the public record of this plan on the following link:
http://www.arkansashighways.com/Trans_Plan_PolicyARDOT_LRITP_ExecSummary_Final.pdf
wildstars.net
wildstars.biz
thewildstars.biz
thewildstars.ca
wildstars.club
wildstars.co
thewildstars.co
wildstars.guru
wildstars.info
thewildstars.info
thewildstars.me
wildstars.mobi
thewildstars.mobi
thewildstars.org
wildstars.pro
wildstars.us
thewildstars.us
thewildstars.ws
wildstars.xyz
michaeletierney.com
michaeletierney.net
michaeletierney.org
michaeletierney.info
littlerocketpublications.com
littlerocketpublications.net
littlerocketpublications.org
littlerocketpublications.info
---