Welcome

to the

WILD STARS!

---




The Comic Book Store

---

---

What's New

---

---

Wild Stars Navigational Chart:

Wild Stars History 1970s 1980s 1990s New Millennium 20teens Production Notes Mary Tierney Paintings Wild Stars 1 Preview

---

---

---

---

Videos:

---

---

---

---

---

Bonus Material

---

---

---

Contact Us

---

Site navigational tip:
Return to the homepage by clicking on the logo bar at the top or bottom of any page.

---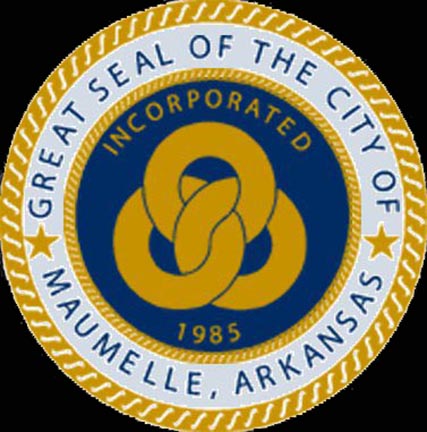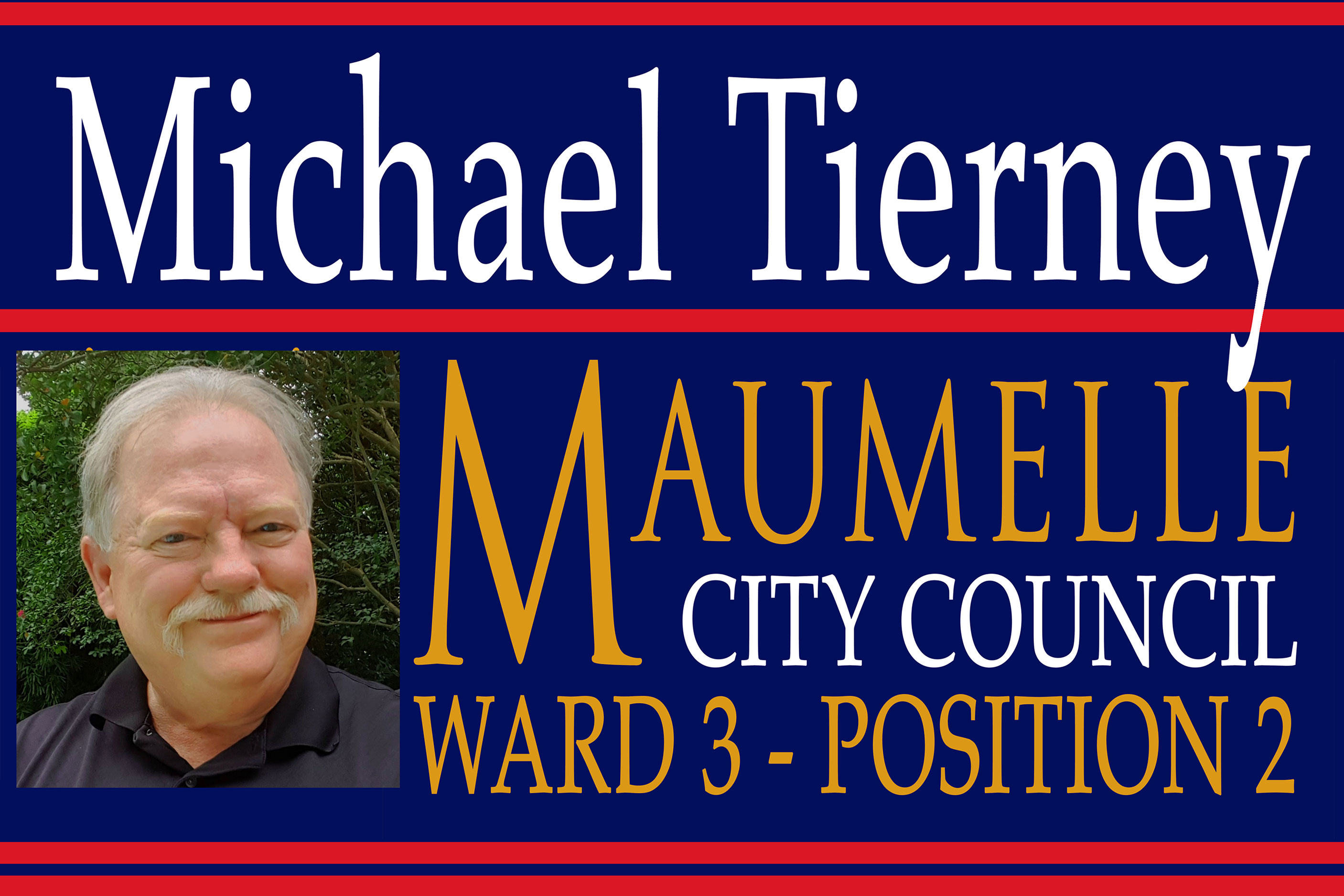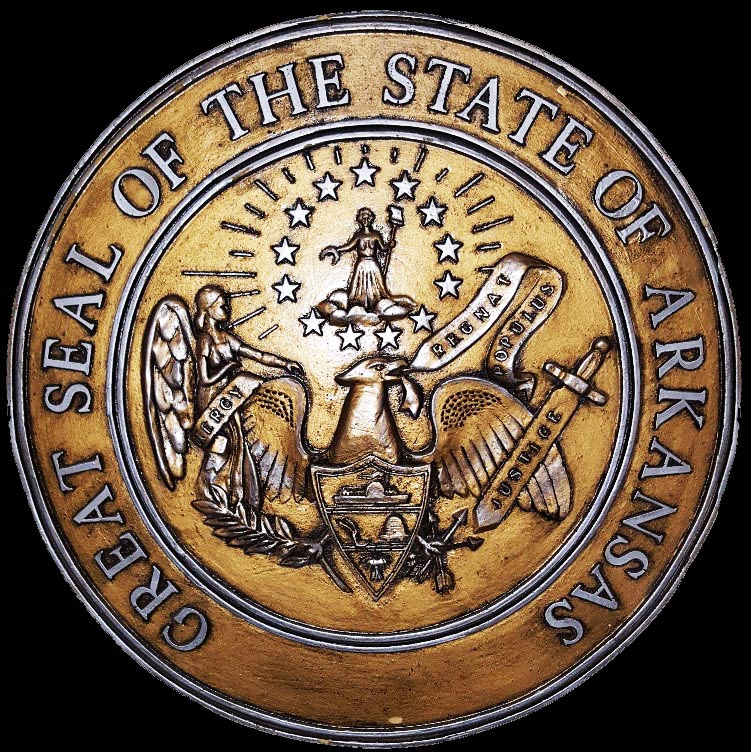 Maumelle City Council
2020
March 26th, 2020 Update

Mayor Norris released the following statement today:

Effective immediately, Maumelle is closing playgrounds at all City parks.
The City of Maumelle has been diligent in disinfecting playgrounds but we want to
take reasonable precautions to ensure that we protect our children and our citizens
as a whole from the spread of COVID-19. City parks will still remain open, but
we encourage individual responsibility in preventing the spread of disease.
Please stay home when you are sick, wash your hands frequently, cover
your cough or sneeze with a tissue, and practice social distancing. Also, please
adhere to social distancing even on our walking trails and sidewalks.


March 19th, 2020 Update

After the Governor's speech today, the City of Maumelle has now updated our response
to the Covid-19 pandemic.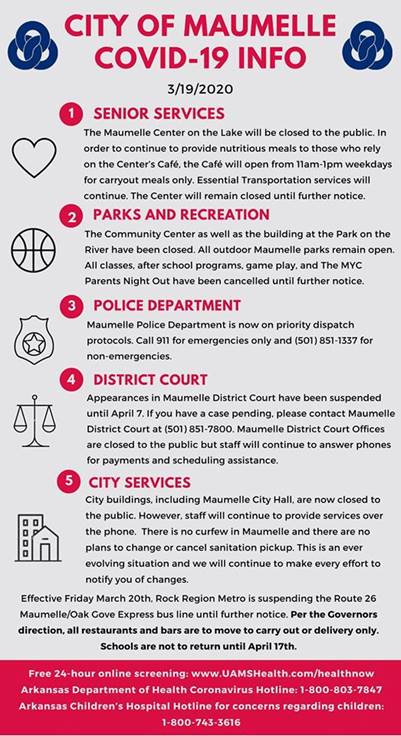 March 18th, 2020 Update

Here is the latest update on how the Covid-19 is affecting Maumelle.

I've also heard that most, if not all, banks are closing their lobbies and restricting
all transactions to their drive through windows.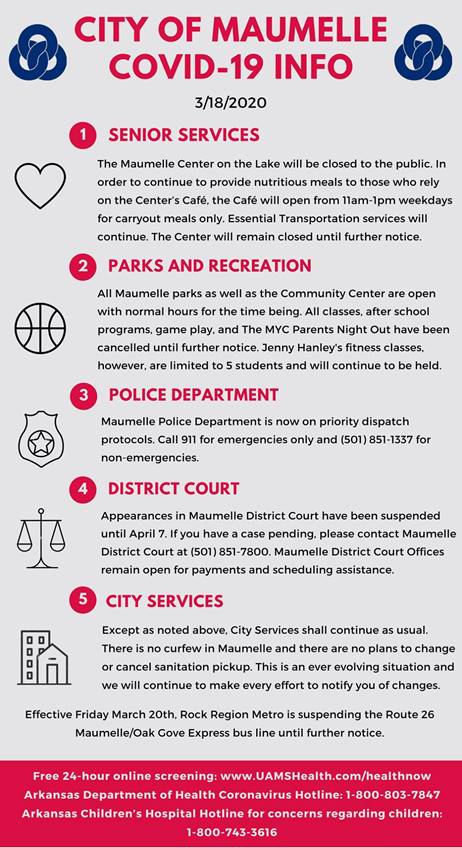 March 17th, 2020 Update

I just received the following notice from Mayor Norris:

Effective Wednesday, March 18, 2020, the Maumelle Center on the Lake will be
closed to the public. In order to continue to provide nutritious meals to those who rely
on the Center's Café,  the Café will open from 11am-1pm weekdays for carryout
meals only. Essential Transportation services will continue. The Center will remain
closed until further notice. Our number one priority is to do everything we can to help
protect the health and safety of our 50+ population.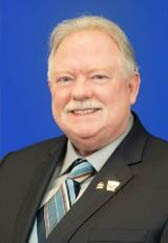 On a night when the nationwide pandemic is causing most public gatherings to either
be cancelled or be limited in attendance, the City Council met to deal with a very full agenda
in a marathon session.

Ordinance 993 that I had proposed to adjust the Business License Fee Schedule,
and redirect those monies to funding the Police and Fire Departments failed on a 6-2 vote.

Given the recent impact of the Covid-19 virus on businesses, I had expected this and
considered postponing the vote until a later date. But with no end in sight for the
pandemic, decided to let the vote take place.

More on Covid-19 later.

Ordinance 996 had its first reading and deals with the dedication of certain streets and
drainage, associated with the IM development at White Oak Crossing, to the city.

Ordinances 997 and 998 both dealt with the undeveloped property at the corner of
Diamond Lane and White Oaks Crossing. 997 amends the Land Use Plan from a SUR
Special Use Residention to Commerical. 998 amends the Zoning from a PRD
Planned Residential District to C-3 Commerical. They each had their first readings.

A study dealing with building a Roundabout to connect White Oak Crossing with
Country Club Parkway was presented. The Council voted 7-1 to proceed with the planning.
All the City is committed to at this point are the planning expenses.
The hope is for Metroplan to fund 80% of the costs to build it.
If that should fall through, the project could then be stopped.

A dispute with City Code Enforcement concerning the conversion of the Maumelle
Exxon gas stations sign from plastic letters to LED lights to display the price of gas
caused the Mayor to convene the Council in the Board of Sign Appeals.
There is a Sign Commission looking to rewrite the City code dealing with matters
like this one, and it is expected that the code will be changed in this instance.
The Council voted 7-1 to allow the sign to be changed over.

The Tree Board had two vacancies that needed to be filled.
The Council voted unanimously to appoint Whitney Hargis and Erin Hall
to fill those vacancies.

Resolution 2020-5 passed unanimously to allow the City to begin leasing 6 (six)
Police vehicles from Enterprise Fleet Management. If the costs compared to the
current practice of purchasing them yeilds the expected savings, then over time
all the Police cars will be replaced with this plan, until we have a fleet of 26 cars.
This proposal passed unanimously.

Resolution 2020-6 all passed unanimously to accept a State-Aid Funds Grant which will
pay for 100% of the overlay of North Odom from Maumelle Blvd to Woodland..

Ordinance 995 had its first reading to allow the Mayor to begin using online
auctions to sell excess and obsolete City equipment.

Ordinance 999 proposed to limit the Fire Department's response to 9-11 calls
pertaining to Covid-19 which to not require immediate care--in the event that the
Department is already operating at maximum capacity to deal with more immediate
emergencies. In this event, those calls would be handed off to MEMS.

Given the fast pace of the developing pandemic, an Emergency Reading of all three
readings was done and the ordinance passed by a unanimous vote.


March 9th, 2020 Update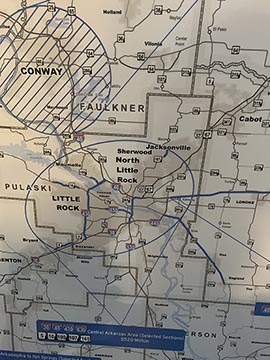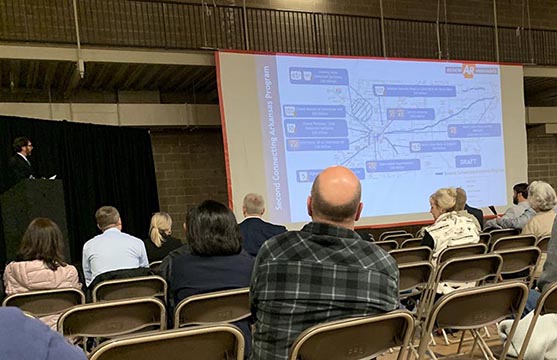 ARDOT, the Arkansas Department of Transportation, held a mini-siminar tonight
at Maumelle's Jess Odom Gymnasium. This was one of several held across the state
to educate people about Issue One, a measure on this November 3rd's election ballot.

Back in 2012, Arkansas voters approved a temporary 1/2 cent sales tax to fund highway projects.
This was a tax on everything--not just gasoline--and amounts to $300 Million a year,
funding one-third of Arkansas highway projects.
It was the legislature's intent to replace it by its imminent expiration with another tax.
None of those proposals were approved.

Issue One on this year's election ballot would make that 1/2 cent state tax permanent.
Voting it down would reduce the state sales tax rate from 6.5% to 6%.

One of the projects already earmarked to be initiated should the bill pass is the
restriping of lanes on the I-430 bridge, creating a dedicated turn lane into Maumelle
when headed north, and a dedicated Little Rock Highway 10 exit when headed south.

Another is the widening of Maumelle Boulevard to six lanes between I-430 and Counts Massey.
Council Member Steven Mosley confirmed this during the question and answer session.

The main speaker, who more or less implied that the new Maumelle entrance was an
ARDOT project during his initial presentation had it clarified that it was not by a couple
of different people during this session.

Maumelle's 3rd entrance was 100% funded by Maumelle's residents, except for One Million Dollars
contributed to the planning stage by former Pulaski County Judge Buddy Villines,
with the stipulation that the exit be connected to Short Marche,
something that current Judge Barry Hyde has blocked with a barrier.


March 2nd, 2020 Update

Tonight's City Council was one member short, so unanimous votes will count as 7 - 1.



The meeting began with a memorial video and moment of silence dedicated to Jim Narey,
Maumelle's Director of Planning & Zoning, who passed away one week ago today.

Sheep Dog Impact Assistance, an organization supporting our military men and first responders,
and whose motto is "Helping others is a way of life,"
awarded their Sheep Dog of the Year award to Maumelle Fire Chief Gerald Ezell,
for his selfless acts that included donating a kidney to a young girl he did not even know.

Mayor Norris gave a 40-minute State of the City Report.
His report will also be available online, and since it focussed mostly on last year,
the only part I would like to draw attention to was his discussion about the results from
Maumelle's recent petition to evaluate resident's thoughts about a new roundabout at
Country Club Parkway and White Oaks.
According to the survey, 54% were in favor of a roundabout, with only 20-plus% stating a dislike for roundabouts.
The balance of those surveyed were ambivalent, with no preference.

Last month I was the Council's liason to the meetings held by the Planning Commission,
and I gave my report based on the following notes:

With the passing of Planning Commission Director Jim Narey,
Chief of Staff Scott Grummer stood in as the temporary Director, and did an excellent job.

The current Chairman, Vice-Chairman and Secretary were reelected to another term.

Four items came before the Planning Commission,
and all four will soon be coming before this Council .

The revised Preliminary Plat for the IM at White Oak crossing has
several changes made to redesign its 30 lots. Adjustments like
access for the Fire Department and trash truck access, utilities
easement and an easement for an open, currently undeveloped space were made.
An issue raised by the City Attorney I thought was significant because of the
problem the City encountered last year with potholes on Savannah Drive,
and how the owner responsible for that private drive had gone bankrupt.
She requested that a plan of transition be put place should the Im owner someday
no longer be around to maintain the development's private fences and roads.

There will be no building, nor future phases, until the final plat is approved,
which will require emergency access that is up to code for the Fire Department.

The Preliminary Plat and the Preliminary development plan for the IM
were both given Do Pass Recommendations.

The 2.6 acre corner property between Country Club Parkway, White Oaks, and the ballpark
had two Zoning requests. This property is identifiable because so many developers have
dumped materials on it in the past.

The first request is to amend the Maumelle Master Use Plan from
SUR Special Use Residential to Commercial.

The second amendment for that same property is a request to be rezoned from
PRD -- Play and Residential Development -- into to a Commercial C-3.

There were two residents who spoke in opposition to these changes,
and wanted the property kept residential. One said that she represented
around 25 other residents who were unable to attend.

The Planning Staff recommended to proceed, since the property could still
be used for a different type of commercial or even an apartment complex,
which would add to traffic congestion, which was a concern expressed
by the citizens in opposition. Staff felt that a C-3 Zoning would give the city
better control over whatever type of commercial enterprise goes in that location.
The owner has not indicated exactly what business that will be,
but requested the C-3 as being appropriate for her plans.

The change from SUR Special Use Residential to Commercial passed unanimously.
The change from PRD Planned Residential District to C-3 Commercial
passed by a vote of 6 to 1.
They were both given Do Pass Recommendations to the Council.

At the conclusion of the blue room meeting earlier in the month,
Acting Director Scott Grummer also gave an update of efforts to spur
economic development in the North Maumelle/Morgan area,
and how he is currently attempting to get owners to meet
and work together on a plan.

Ordinance 993, which is my proposal for adjusting the business license rate,
and applying it to the Police and Fire funds in an effort to reduce scofflaw businesses who do not pay
generated a fair bit of discussion once again.
One aspect of the Ordinance that I had not mentioned before was how anyone under the
age of 16 would be exempt from having to pay a license fee.
So, if a child wants to set up a lemonaide stand, they can do so without worrying
about an encounter with the authorities, as has happend in other cities.

Resolution 2020-3 was a request for Council permission to sell a city vehicle,
a Chevy Silverado that has engine problems.
The Council approved unanimously.


February 24th, 2020 Update

The City of Maumelle has created a poll for residents to vote their preferences in connection
to a Roundabout being built to deal with congestions at the
intersection at Country Club Parkway and Counts Massey/White Oaks.
With the new 3rd Entrance now open, this area is seeing accelerated traffic growth,
and some residents have complained about excessive wait times to make turns off
Country Club Parkway and onto Counts Massey/White Oaks
during the rush hour periods of 8AM and 5PM.

This proposed Roundabout would deal with that problem.
Please consider taking a minute to answer a few questions and let your thoughts be known.
Click HERE or on the image below to get started.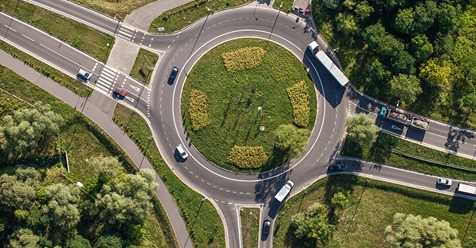 February 18th, 2020 Update

Since Monday was the President's Day holiday, this meeting of the City Council was held on Tuesday.
The Council was one member short, so all unanimous votes will be recorded as 7 to 1.

Captain Austin Woody of the Fire Department was proclaimed February's Employee of the Month.

Ordinance 993, which proposed changes to Maumelle Business License fee schedule had its first reading.
The was a resolution that I proposed, and attached here are the notes I used to
explain the Resolution to the other Council Members.

A number of years ago I volunteered to help rewrite Little Rock's business license fee schedule.
After joining the Maumelle City Council, I discovered some parallels with Little Rock's situation.

One of those similarities was scofflaw businesses, people who do not pay their business
license fee. I've been told that this averages between 20 and 25 percent, which was the
same rate that Little Rock used to suffer. One of the changes our committee made was
to convert the business license fee into a funding source for the Police and Fire
Departments. This not only reduced the percentage of scofflaws, it helped make those
departments the highest paid in this area.

The other problem Little Rock had was that it's codebook was seriously outdated,
still listing categories for industries like mule skinners and hide tanners.
While Maumelle doesn't have a problem with obsolete industries like Little Rock,
our Business License Schedule became outdated when the Community Service Fee was
replaced by a half cent sales tax.

That's when the part of the annual business license fee that calculated a the square
footage of every business simply went away. We basically stopped collecting the
majority of the fee for doing business in Maumelle.

So, what I'm proposing here is not a new tax, but to recoup those fees we
stopped collecting, and putting them into the police and fire funds.

Even with this increase, the rates being charged businesses will still be far lower than
all other cities--except Conway, which only charges ice cream vendors.

To use my own businesses as a comparison, the rates would go from 10% of what it
costs to do business in LR or NLR to 20%.

A drop in the bucket.

There were several questions, including proposals to put the fees to others uses.
Generally there was surprise that our fees were so low when compared to the rest of the state.

Resolution 2020-1 authorizes the sale of deed restriction options for 3 acres of City owned
property in the White Oaks Bayou wetlands.

This resolution ties with Ordinance 986 that was discussed in last year's notes for October 21st,
which dealt with selling the option on 2 other acres of City owned wetlands,
in order to facilliate the sale of a larger tract of unrestricted wetlands for industrial development.
Since that time the tracts being considered have been even larger than anticipated,
and it was determined that more acreage was required.
Resolution 2020-1 passed unanimously.

Resolution 2020-2 proposed an updatee to the city budge to allocate $10,000 for
planting new trees on city properties.
This was an item that was removed during last year's budget discussions.
Since that time tax revenues appear to be trending higher than expected, and the
Coucil voted unanimously to add the program back into the budget.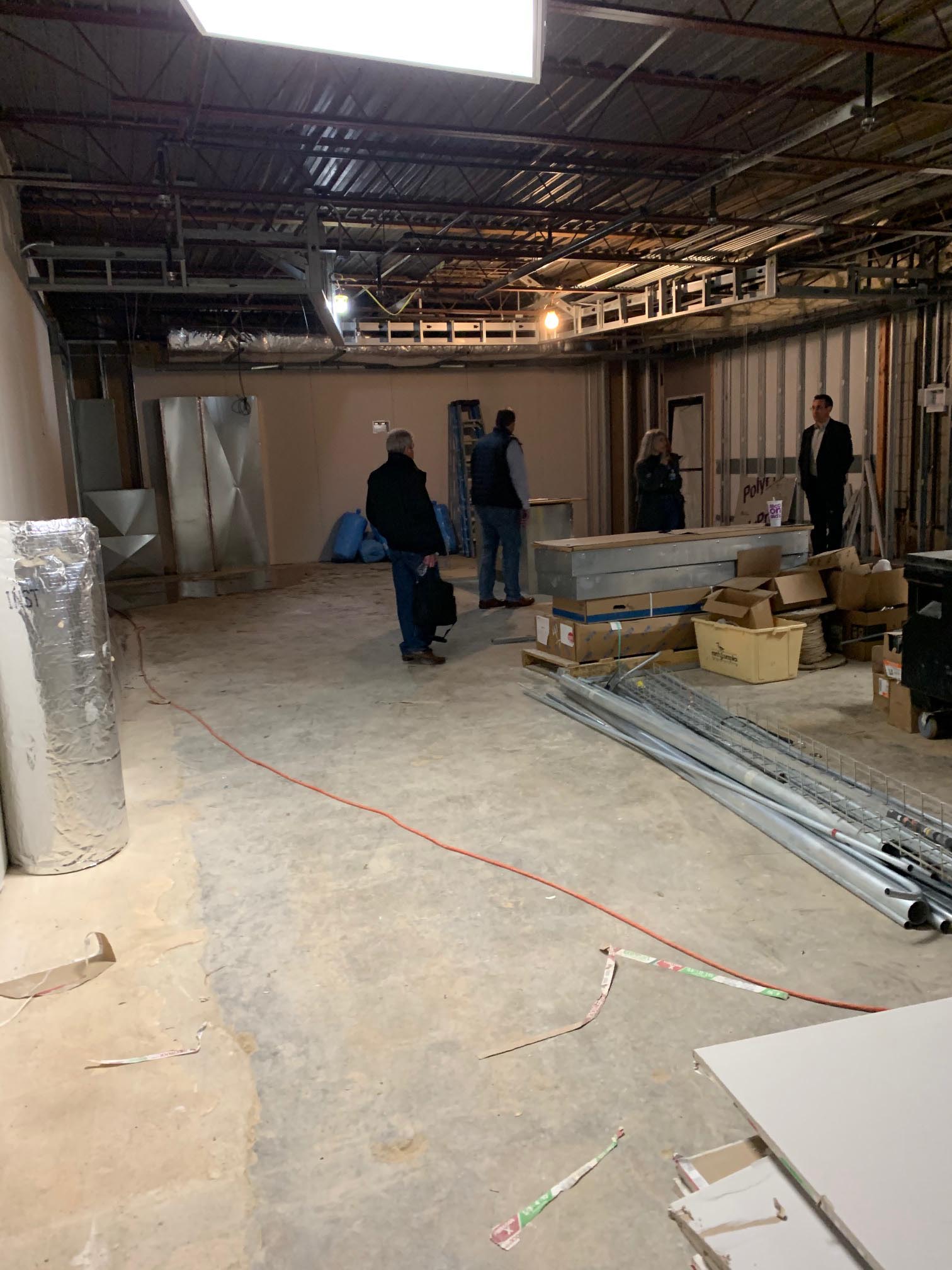 After the council session ended, the Mayor gave a tour of the renovations being made to City Hall.
The picture above shows the new Council Chamber.
All the renovations are estimated to be completed mid to late April, which will
include a facelift to the building's main entrance.


February 3rd, 2020 Update

Keisha Walker was introduced at tonight's Council meeting as the new Director of Human Resources.
Her previous job was as the Benefits Coordinator for Goodwill, and she has a lengthy resume.
Everyone welcomed her to Maumelle!

Ordinance 991 was tabled for a minimum of 3 months, until the city can get a ruling from
the Attorney General as to the exact parameters of a state statute limiting the number of
hours that a police officer can accrue of sick leave.

Odinance 992 was about to be introduced, but since it deals with the number of hours
that a fire fighter can acrue for a retirement payout, it was also tabled for 3 months.

State Representative Mark Lowery has offered to assist in the research being done on these issues,
and they may be back on the agenda with first readings for both in May.

Mayor Norris and City Attorney Krebs also gave updates on the progress for the Crystal Hill Road
renovations, and easement issues are close to being resolved.
Also, Central Arkansas Water should have a main water pipe moved by the end of July.
The pace of work should accelerate after that is completed.

A feasibility study is doing a poll about installing a roundabout at
White Oaks and Country Club Parkway, which should be up by the end of the week.
This survery will allow citizens to indicate their preferences on how the city should proceed.
There is a possibility that this roundabout could be built with funding from a grant.

The Mayor also updated the Council on how the intersection of Club Manor and South Odom
is still be evaluated for options. Another meeting is scheduled later this week.

I reiterated my support to install a traffic signal at Club Manor and South Odom,
and also about how I have heard complaints about the difficulty some drivers are having
accessing White Oaks from Country Club Parkway during peak traffic periods.


January 22nd, 2020 Update

Mayor Norris announced City Communications Coordinator Rachel Hall as Employee of the Month.

Ordinance 991 was the only one on the agenda, which had its second reading.

This subject generated a considerable amount of discussion.
City Attorney Krebs mentioned that creating an Emergency Bank for the hours that the
police would otherwise lose by adopting state mandated limits was a doable idea,
but would be a complicated matter to arrange.

At one point I seconded a motion to table the ordinance until later, but withdrew it
as the motion was withdrawn after the City Attorney made more options known.

I later made a motion to rewrite Ordinance 991 to grandfather in the officer's current
accumulated hours, but failed to get a second.

I feel confident that a motion like this will pass during the next Council meeting,
when another ordinance is also in place to replace their future lost benefits.
The Council seems to collectively agree that the officers should NOT lose their hours.


January 8th, 2020 Update

A Little Rock Air Force Base Compatable Use Study had been launched, which could affect Maumelle.

Here are the details pulled from their website:
What is the Little Rock Air Foce Base Compatible Use Study?
The Little Rock AFB Compatible Use Study (CUS) is a cooperative planning effort
conducted as a joint venture between Little Rock AFB, Pulaski County, White County,
Lonoke County, Cabot, Jacksonville, Sherwood and other jurisdictions and stakeholders
in proximity to the base. The study is administered by the Jacksonville Economic
Development and Cultural Alliance and co-funded through a grant from the Department
of Defense (DOD), Office of Economic Adjustment (OEA).
What is the purpose of the Compatible Use Study?
The Little Rock Air Force Base Compatible Use Study is aimed to benefit both the Air
Force and the surrounding region by:

Preserving long-term land use compatibility between the installation and the surrounding communities;
Sustaining the operational mission of the Air Force in nearby communities while
protecting the quality of life of nearby residents and businesses;

Enhancing communication and coordination among local and regional stakeholders; and
Integrating the growth plans of the communities in the region with Air Force plans and mission operations.

The purpose of the Compatible Use Study is to identify means of promoting responsible
land use near Little Rock AFB, to accommodate compatible growth and economic
development in the region, to protect public safety and quality of life, and to sustain the
mission of the Air Force in the region for the long-term. The Compatible Use Study will
evaluate ways to enhance communication and coordination among local and regional
stakeholders with the goal being to protect land use compatibility as both the
community and the Air Force plan for the future. The Compatible Use Study will not
result in changes to land use, zoning, or how a property owner may use their property,
though it may identify regulatory changes for the community to consider.
What does the CUS address?
The Compatible Use Study will provide:

An assessment of existing land use conditions near Little Rock AFB, Camp Robinson,
and the Blackjack Drop Zone;
An assessment of potential future civilian and military land use conditions, to include
projected incompatible uses; and
Strategies to promote compatible land use planning around Little Rock AFB and the
surrounding communities.

Compatible land use planning can be defined as the balance between the needs and
interests of the community and the needs and interests of the Air Force installation. In
order to assess compatibility, the project team will identify current or potential
encroachment issues, which include noise, endangered species/critical habitat, safety/
security, air or water quality, regional airspace management, energy development, and
frequency spectrum interference, among other issues.

The Little Rock Air Force Base Compatible Use Study is expected to be completed in
early 2021. Implementation of any actions recommended in the Compatible Use Study,
should the community wish to take that step, would follow completion of the study and
would follow community-wide consideration and input and action by local decision-makers.
Who will guide the development of the Compatible Use Study?
While the Jacksonville Economic Development and Cultural Alliance will act as the fiscal
agent and project manager for the Compatible Use Study, the development of the
Compatible Use Study will be guided by two steering committees with input from the
general public. The Policy Committee is composed of elected and public administrative
officials representing jurisdictions in the study area and Air Force leadership. The Policy
Committee is responsible for guiding the direction of the Compatible Use Study and for
managing implementation actions. The Technical Advisory Committee is comprised of
staff members from local governmental agencies, the Air Force, and other entities, and
will identify and address local land use matters, provide feedback on documents
prepared by the consultants, and assist the Policy Committee in the development and
evaluation of implementation strategies and tools.

The project is overseen by the Compatible Use Study consulting team of White & Smith
Planning and Law Group, Marstel-Day, LLC, and Benchmark Planning. This team has
completed numerous Compatible Use Study projects around the country.
What are the opportunities for public input?
There will be multiple opportunities for public input throughout the development of the
Compatible Use Study. The project team will hold a number of public meetings to
provide Compatible Use Study project updates and to seek input into the process and
deliverables. More information on public meetings can be found on the Process tab
above.

Also, the general public will be able to provide input through a public survey, the results
of which will provide the Compatible Use Study steering committees and project team
insights into community attitudes regarding regional Air Force activities.

Finally, the public will be able to provide input on the project through the Little Rock
Compatible Use Study Facebook page, or by emailing us at the contact information provided below:

Robert Price
Director/Project Manager
Jacksonville Economic Development and Cultural Alliance
rprice@cityofjacksonville.net
(501) 681-2288
January 3rd, 2020 Update

There was no carryover of old business from 2019, and only one new matter was brought
before the first Council meeting of 2020.

But it is a thorny matter.

Ordinance 991 adopts provisions for the number of hours of sick leave that police officers can accure.
While working on a new employee handbook, the city became aware that the number of hours currently
allowed are in direct violation of 1985 State Ordinance 14-52-107.
The problem in bringing the department into compliance is that three-fourths of the force has already
accumlated sick hours maxed out at the old system, and bringing them into compliance would result in
them losing a significant amount of those accumulated hours.

It was asked if we could simply ignore the state ordinance, but failure to adhere to state law,
especially after we are already aware that the City is in violation, could bring a lawsuit against the City.

Many suggestions and questions were discussed, trying to find a palatable path to compliance.
My suggestion was for the creation of a "Catastrophe Bank" where those excess hours would be saved in case
of an emergency, to be used by all members of the force.
That way the hours earned would not be lost.

This option and several others will be evaluated by the Mayor and City Attorney.

The second reading of this Ordinance will be held on January 20th, and the vote taken on February 3rd.
More to come on this matter.


---
2019 City Council Notes:
Here is a link to all my notes pertaining to Maumelle's City Council during 2019.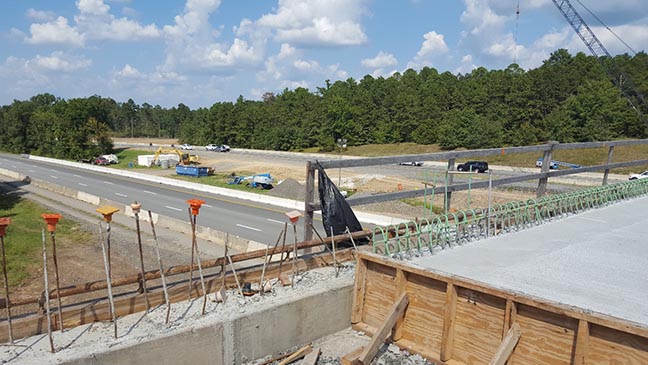 ---
Here is a link to my 2018 Campaign page.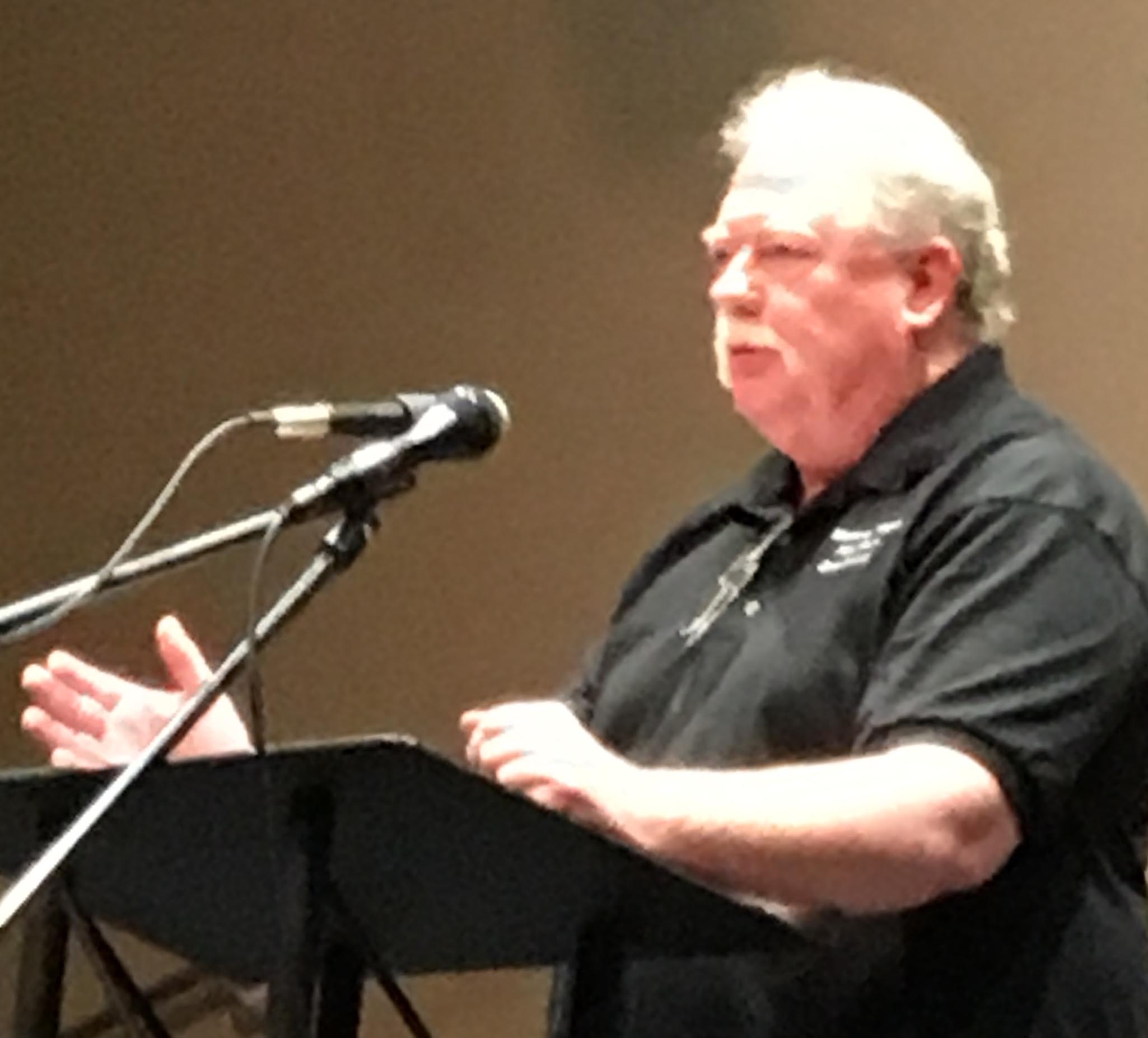 photo by Shannon Odom
---
MAUMELLE Zoning MAP
Click on the map below to find your Zoning: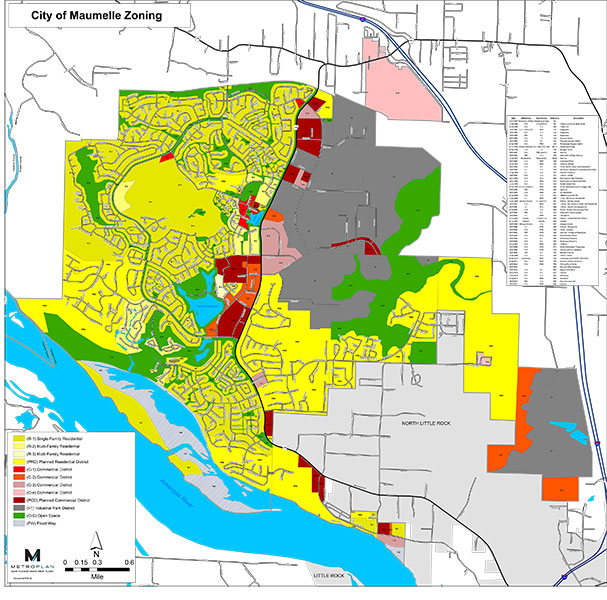 ---
MAUMELLE WARD MAP
Click on the map below to find your voting ward: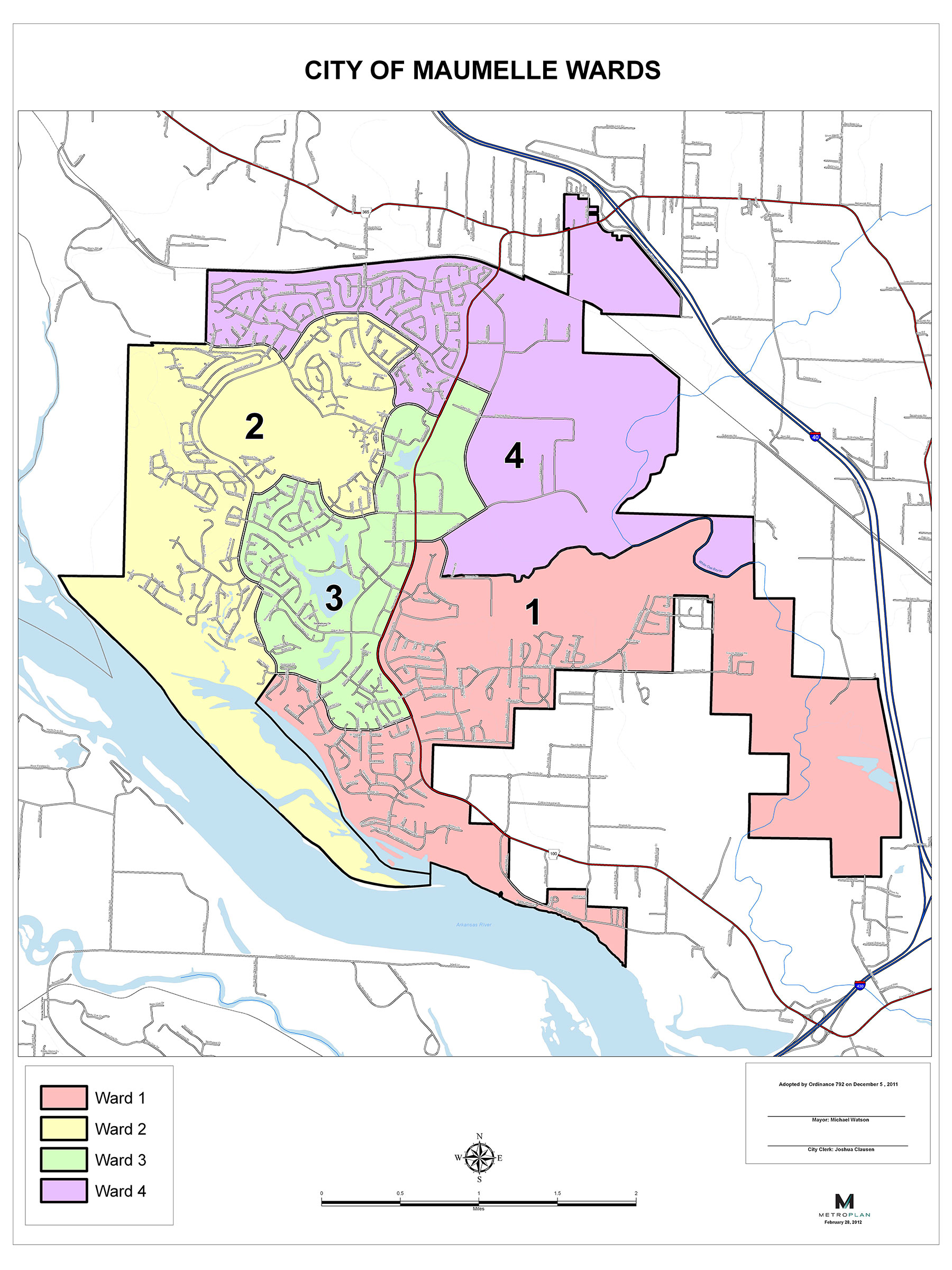 ---
The State of Arkansas has it's own long-range planning, called Long Range Intermodal Transportation Plan (LRITP), with a vision that reaches to 2040. You can access the public record of this plan on the following link:
http://www.arkansashighways.com/Trans_Plan_PolicyARDOT_LRITP_ExecSummary_Final.pdf
wildstars.net
wildstars.biz
thewildstars.biz
thewildstars.ca
wildstars.club
wildstars.co
thewildstars.co
wildstars.guru
wildstars.info
thewildstars.info
thewildstars.me
wildstars.mobi
thewildstars.mobi
thewildstars.org
wildstars.pro
wildstars.us
thewildstars.us
thewildstars.ws
wildstars.xyz
michaeletierney.com
michaeletierney.net
michaeletierney.org
michaeletierney.info
littlerocketpublications.com
littlerocketpublications.net
littlerocketpublications.org
littlerocketpublications.info
---