Welcome

to the

WILD STARS!

---




The Comic Book Store

---

---

What's New

---

---

Wild Stars Navigational Chart:

Wild Stars History 1970s 1980s 1990s New Millennium 20teens Production Notes Mary Tierney Paintings Wild Stars 1 Preview

---

---

Maumelle City Council
2020

---

---

Videos:

---

---

---

---

---

Bonus Material

---

---

---

Contact Us

---

Site navigational tip:
Return to the homepage by clicking on the logo bar at the top or bottom of any page.

---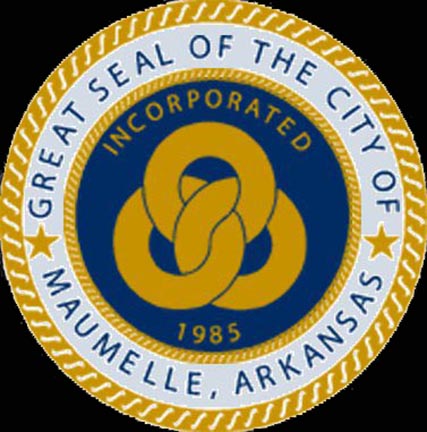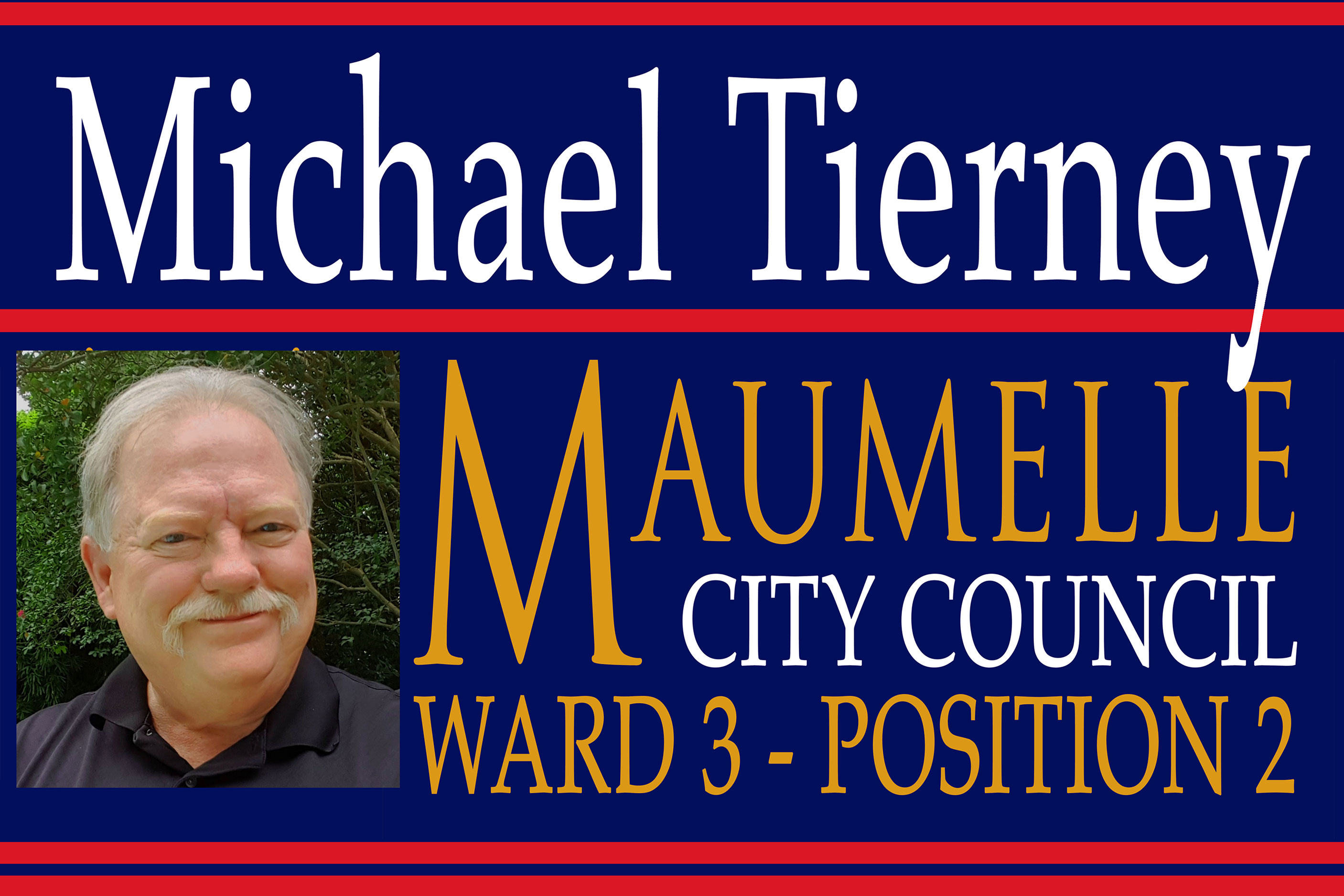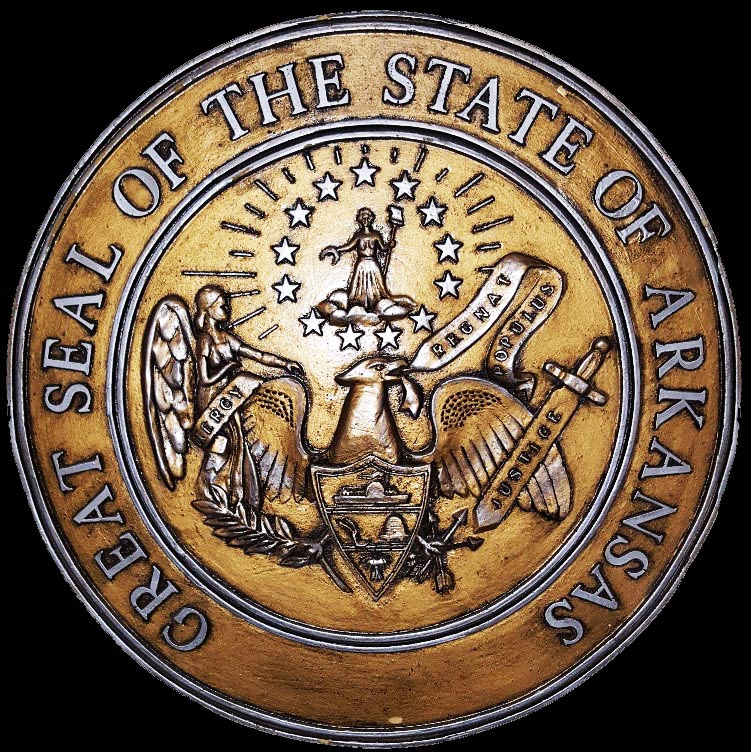 Maumelle City Council
2021
July 19, 2021 Update

Tonight's City Council meeting was one member short.
All unanimous votes will show on the record as a 7-1 vote, since all absentees count a No vote.
There were video and audio issues on Facebook.
A YouTube video recording will be uploaded later.

Employee of the Month for January 2021 was Christie Grant of City Hall.
July 23, 2021 is Christie Grant day in the City of Maumelle.

Four members of the public asked to speak about issues.

Bob Osborne talked about the issues on Crystal Hill road, offering a couple of solutions
for resolving the issues of the current disagreement with Entergy and how they have
stalled construction on the road's rebuild.

Lory Osborne talked about the issues on Crystal Hill, and, like Bob, was happy to see
that the Council was working on a Resolution to alleviate the issue. She discussed
the need for road signs, and how there have been problems with package delivery companies.

Jean Baskie also wanted to talked about "the war zone mess" on Crystal Hill road, and
also requested road signs. She suggested a sign being posted after "Park on the River"
that says "Local traffic only" and the growing pothole problems. She also requested
police cruisers be present to discourage traffic. She passed around a picture of Crystal
Hill Road.

Janet Watkins also wanted to discuss Crystal Hill Road, and is concerned about what will
happen when school buses start to run. She was also concerned with how signage
warning about the construction having been vandalized. She is on a first name basis
with Public Works because of the problem with overgrown weeds and piles of gravel that
block her view when accessing the role. She requested a patrol car sit in her driveway
and write tickets, which "would probably fund the city in several days" due to all the
speeding vehicles on the road. She passed around pictures of the hazards created by the
stalled construction. She asked for relief, and joked about wanting to take a chainsaw to
the poles causing the problems.

Liz Matthews gave the June financial report.
County Milage Taxes are way over budget.
Most departments are operating under budget, some way under.
The General fund balance is still under the minimum balance goal, but getting closer to
where it needs to be.
Sales tax comparisons are above the previous five years, which have increased every year.
The 2018 audit is nearly ready for review, and 2019 will follow soon after.
It is anticipated that 2018 through 2020 audits will all be completed this year.

Ordinance 1035 accepted certain streets and drainage in phase 24-c in Country Club of
Arkansas. The Ordinance passed unanimously.

Ordinance 1036 establishing standards for right-of-way construction and permit
issuance had its second reading.

Resolution 2021-18 was added to the agenda. This resolution is intended to create an
agreement with Entergy to get the power poles on Crystal Hill Road moved. The City and
Entergy still disagree who owes for that cost, but the City has agreed to establish
financing in the event that the Public Service Commission determine that we owe the
amount. Entergy has maintained all along, including in their lawsuit against the City,
that they wanted to see the money first before doing any work--ignoring the public
safety concerns stated in the Council's previous Resolution.

Mayor Norris stated that should the expense be placed on the City, it would be
endeavored to fund that cost out of the current bond issue. Should it require stripping
out something critical to the operation of the road would be the only way he envisions
coming to the Council to ask for extra funding in the future. To clarify, the expenses,
should they be levied, would come from stripping out features of the road redesign.

Michael Johnson of Entergy claimed that Entergy has been operating in good faith, and
that the estimates of those costs are firm.
I asked for a ballpark idea of how soon the work might begin--and he replied next week.

The Resolution passed unanimously with what the Mayor called "A very adamant Yes!"
The Mayor said the financing was already started and could be done possibly as soon as
tomorrow, no later than Friday.
Personally, I feel that if Entergy were indeed operating in good faith--
they would not wait for us to "show them the money" before starting the work.

A Resolution was made to consolidate Public Relations with the Mayor's Office, since
Judy Keller has announced her retirement, and she had operated as Maumelle's
Economic Development as a department of one. This would put the budget and
operation all in the Mayor's Office. The resolution passed unanimously.

I'd like to Thank Judy Keller for her years of excellent service to the City.
She is irreplacable, and will be missed.

Mayor Norris discussed the Central Arkansas Greenways program (see my previous post
for links) and stressed how important feedback is in order for Maumelle to receive funding.

Council Member Holt expressed his Thanks to the Mayor and City Attorney for getting
the Entergy knot untied.

Council Member Mosley agreed, and discussed police car costs that other Cities are
struggling with. Maumelle has entered into a lease program, and is experiencing no
problems at this time.

City Attorney Krebs said an upcoming trail has been delayed.
She has also drafted a response to the Entergy complaint filed against the Council and
City, based on feedback we have given her.

A new term that ends in May of 2025 is open on the Public Service Commission.
Applicants have until August 4 to file their resumes with City Clerk Timmons.

July 15, 2021 Update


As shown in this vIdeo, Metroplan is working on a regional greenway path to connect
central Arkansas communities, which includes Maumelle as a key component.

A vitural map can be found HERE.

After watching this video, you are invited to share your thoughts and input on how this 55 million dollar path
should be designed in a SURVEY.

Full details about this project can be found HERE.


July 14, 2021 Update

Entergy has taken their determination to put their previously agreed expenses onto Maumelle residents
to a state of war--by filing a lawsuit against the City and City Council.

Here is an excerpt of one of my emails to the City Attorney about this issue,
which deals with the stalled upgrade of Crystal Hill Road:

I noticed that Entergy didn't make a single comment about the issue of PUBLIC SAFETY--
the key concern of the council in passing our Resolutions, demanding that something be done.
Instead they repeated over and over, like a mimic bird, 'you pay first and then something gets done.'
By doing that, they have admitted that there is no sound reason for delaying the movement of the poles.
Their own document admits that they are putting public safety at risk in the pursuit of money.
I'd have to think that is an illegal action.

I leave the determination on that last point to the City Attorney.

Entergy is resolute in their determination on sticking the citizens of Maumelle with their expenses,
despite how in their recent rate hike they claimed the increase was needed to cover this particular
type of expense of relocating utility poles--which is the issue here.

Again, at no point did Entergy ever acknowledge the public safety hazard they have created with thier
stalling tactics, and how the Council has demanded something be done about it.

Instead, they tried to paint our ongoing discussions for a new Ordinance that sets standards
for WHENEVER that and any future work is done by ANY utitlity company as us trying to
retrocon their liability--which is already stated in the franchise agreement.
The Ordinance currently being debated strictly deals with HOW repairs to utilities will be
conducted in the City of Maumelle.

You can read Entergy's filing in full HERE.
July 6, 2021 Update



Tonight's City Council meeting was fully attended, but started several minutes late due
to connectivity issues with Facebook.

Mister Raborn with Parks and Recreation discussed the opening of the Splash Pad and
how attendance has been turnstile, with families coming in and out. He considered it to
be a great hit and "everything is running good." "The water is just like drinking water ...
it's very safe." You could drink it, but he doesn't recommend it.

The operating hours of the Splash pad are 9 AM to 8 PM. It is motion activated, so if you
go there during these hours and you don't see any activity, it will respond to you. When
you leave, it will automatically shut off after four minutes of no activity.

He also discussed the family orientated fireworks events

Council member Mosley gave his Planning Commission report. There are two properties
around Commerce Drive that have been given Do Pass recommendations as they were
passed on to the Council for consideration. One property was for multi-family (passed
7-1), and the other was for a miniature golf course (passed 8-0).

Ordinance 1028 amending the Maumelle Zoning map is an Ordinance that the Council
sent back to the Planning Commission, which is now back. This is the high density
housing project mentioned in the Planning Commission report.

Council member Mosley commented about how he felt Ordinance 1028 could negatively
affect Maumelle Boulevard traffic, and how the Planning Commission had not taken this
into consideration.

Director of Planning and Permits Grummer was asked about Maumelle's long-range plans,
and there are no current plans to rewrite our City's long-range land use plans.

There were other discussions, key was that if the zoning was passed, C2 would include
R3 permission--which would remove the Council's input on future development.

A motion was made to table the Ordinance to the middle of October, so the Council
could see and discuss what the developer's actual plans for the property are.
The motion passed unanimously

Ordinance 1035 accepting the dedication of streets and drainage had its second reading
for Phase 24C in the Country Club of Arkansas development. There was no discussion.

Resolution 2021-16 granting a conditional use permit for a health education/
recreational facility in an I-1 (industrial park) zoning district.

Phillip Munson spoke to the council about his plans for 1800 Murphy Drive, and his
background in commercial construction and desire to develop a family outdoor
entertainment center. It is a project that should appeal to both children and adults. The
holes will be longer than a typical Put-Put and will include sand traps and well shaded
areas. The clubhouse will be 1400 square feet and include concessions and an indoor
party room for rental and birthday parties. It would be family owned and operated in the
months of Spring to Fall. His plans are to open in summer of 2022.

The resolution passed unanimously.

Resolution 2021-17 to require Entergy to be ordered to provide certain records about
their business and activities as required by State Code. The City Attorney has asked
about information regarding previously relocations in the Crystal Hill location, but she
had been referred by Entergy to outside council which has claimed these requests will
need to go through the Public Service Commission. The resolution is intended to give
the City Attorney and Mayor information on how the relocation of the poles on Crystal
Hill has been handled in other cases, and how they had specified the need for funds for
pole relocation in a recent rate hike request. Right now no information requested is
being provided. State Law allows the Council to order this information to be provided.
The resolution passed unanimously.

Ordinance 1035 establishing right-of-way standards to administer and regulate right-
to-way permits for public utilities. This Ordinance would deal with City policy for
utilities relocation of equipment, such as the poles needed to be moved on Crystal Hill.
This Ordinance is modeled after one passed by the City of Cabot in 2019. Entergy has
already has already notified the City Attorney that they will end all discussion with the
City about relocating the poles if this Ordinance were passed, and will challenge the
Ordinance within 60 or 90 days. When Cabot passed the Ordinance, there was no challenge.

The Mayor commented about how Entergy had indicated that the project could proceed
and that they would abide by any decision made by the Public Service Commission. But
Entergy reneged, and no agreement was in place at the time the Council meeting started.

Last week Ward One held a traffic and parking committee meeting, which included both
Council Members from that Ward. They wanted to add a bike lane on Riverland, and
unanimously approved this motion. The City has already budgeted the money for the
striping, so no further monies would be required to make this happen. The path will run
from Maumelle Blvd, except in the area of Turtle Creek drive where the road is too narrow.

The IT contract with Manages Service Technologies has expired. The renewal included a
cost increase of approximately $70,000 next year, but will also include full service
support instead of the previous contract which was limited to a set amount of time. The
Mayor felt it important that the City maintain the support infrastructure as the City
becomes more technology dependent. This will affect all departments, and that the City
will eventually need to establish a full time tech department of at least one person.

The Mayor felt that going with a company at this time, as opposed to one person, give us the
the full breadth of skills available--and not being reliant on a single individual.

The City Clerk commented about how this contract is needed as we plan for the future.

The Mayor commented about how this would not affect the budget this year.

Mayor Norris also commented about how a bid came in to replace the parking lot that
was three times higher than what the engineers anticipated. So this repaving will not
happen at this time--and will be rebid next year.

City, County and State sales tax collections are up for the month of April.

I asked about the proposal of a traffic light at Club Manor and Odom South.
The Mayor said he would get an estimate.
Concerns were made about traffic then backing up to the light at Odom and Maumelle
Boulevard. Previously we were told that the new adaptive traffic light system would
resolve that--but now that it is in place it is not performing up to expectations.

Another low cost proposal that has been made to close Club Manor to through traffic,
and provide another cut in the Odom medium to allow people to do U-turns. The problem with
that is it would be directing traffic into a pedestrian crosswalk and bike path--and that
we would need to put a pedestrian crosswalk light into that area.

The Mayor expressed concerns about draining the Streets Maintenence budget, and that
at some point it might be a consideration if the money is not drained by repairs.

Different types of crosswalk warnings to drivers were discussed, and how there is a
speeding problem on this section of Odom. There was a recent accident where one car
stopped for a bicycle at the crosswalk, and another car went around and struck the bicycle.

City Attorney Krebs said there the Corriveau wage-an-hour case coming up
against the City. This is a case where an employee took breaks at their desk, but then
sometimes did work during the break.

After the meeting was over I talked with Mayor Norris at some length abou the South Odom/Club Manor
intersection. Apparently he is working on a proposal that has several working parts, dependent on
other development plans for city property, and funding in the Street Fund--which is currently
being reviewed to see how much, if any, could be directed to a future plan that would address the
intersection. He couldn't give me a hard date, only an estimate that the proposal could come in a
few months or several.

At this time I also floated the idea of using some of the City's Covid funds to build a swimming
pool addition on to the Senior Center. It was not well received. There are other plans in mind for
those funds. To make the swimming pool happen, funding will have to come from another source.


July 1, 2021 Update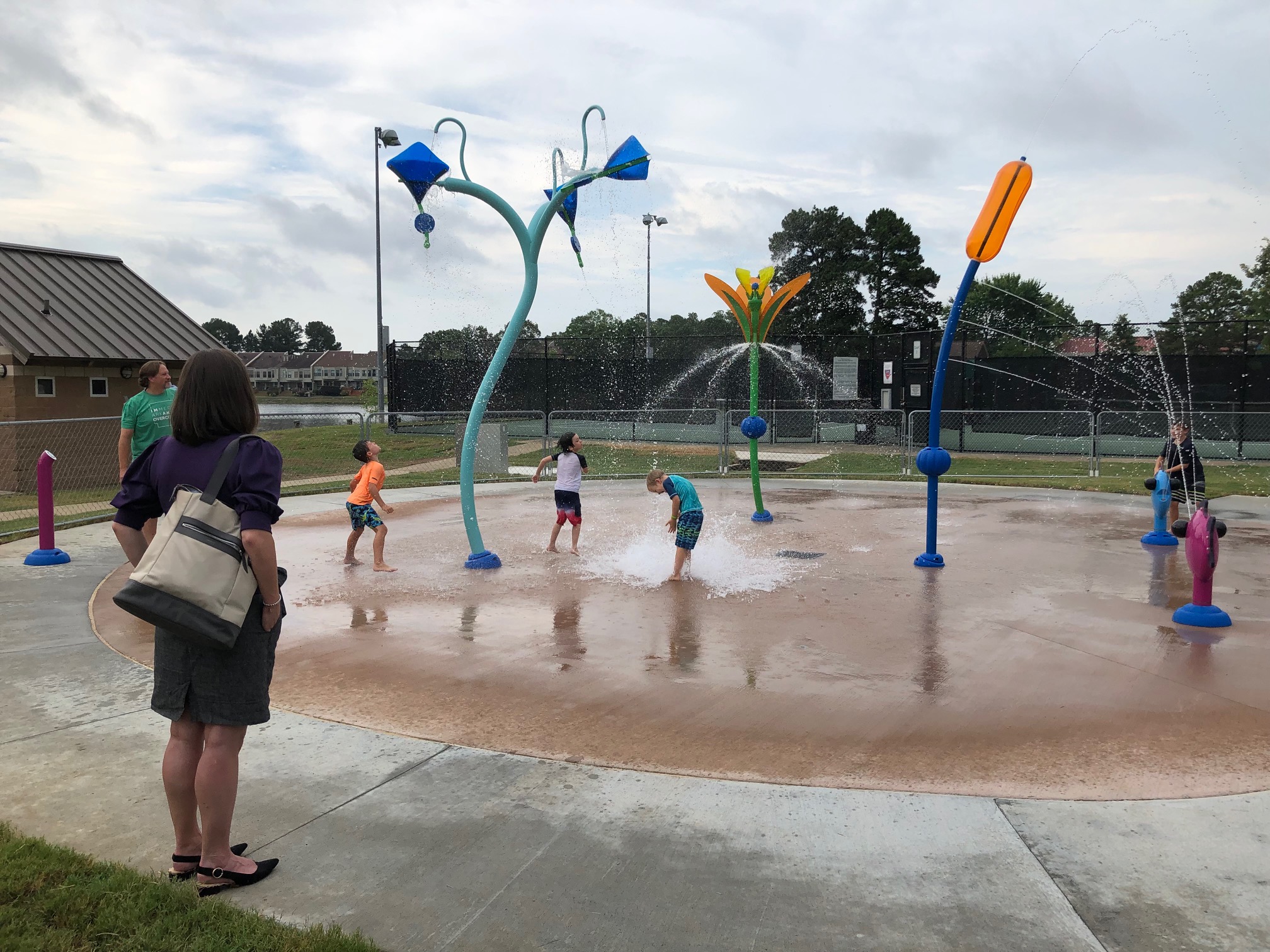 Just in time for the hottest days of the years--Maumelles new Spash Pad opened today!


June21, 2021 Update



Tonight's City Council meeting was barely a quorum, with three Council persons absent.
Any unanimous votes will count as a 5 to 3 vote, since all absentees count as a No vote.

The Mayor announced the Employee of the Year of 2020 to be City Planning and Permits
Director Scott Grummer. June 25th, 2021 was declared to be Scott Grummer Day in the
City of Maumelle.

The May 2021 financial review was given by Ms. Mathis. County milage tax is currently
ahead of last year. City sales tax is down but the County sales tax is way up. The Senior
Center is currently behind in revenues, but people are slowly starting to return.
Expenses remain at or below budget in all departments except Planning and Permits,
which should balance out by the end of the year. The previous deficit in our minimum
bank balance level took a major step in the right direction. There was some discussion
about ongoing adjustments as the audits for 2019 and 2020 continue to affect balance
sheets, which have a lot to do with that deficit.

Resolution 2021-12 approved the preliminary development plan for Country Club of
Arkansas Phase 24C. This was approved by the Planning Commission last month.
Applicant John Wright discussed the preliminary Bill of Assurance, and how the
properties will have their own Property Owner's Association. Council member Mosley
asked about some of the POA requirements that he considered strict in concerns
with grass maintenance. The Resolution passed unanimously.

Ordinance 1035 accepts and confirms the dedication of certain streets and drainage
for the same property concerned in Resolution 2012-12. This was the first of three
readings. There was no discussion.

Resolution 2021-15 states the position of the City Council regarding the relocation of
Entergy utility equipment and facilities in order to facilitate improvements required for
public city street projects pursuant to the franchises agreement first adopted in
Ordinance 17. This deals with certain Entergy equipment currently delaying the
completion of the Crystal Hill remodel. Entergy is contesting their obligation in the
relocation, based on some state laws dealing with how long the utilities were in place.
What is different from the cases dealing with those laws and the situation in
Maumelle is that we have a Franchise agreement, which would require this relocation be
done at their expense. This resolution is made as part of that Franchise agreement.

This equipment is the bulk of the poles currently located in what will become the right
of way. The relocation costs for these poles that Entergy wants to charge the city is
$142,000. Their original estimate was around $200,000.

Mister Bob Osborne made a public comment as a property owner on both sides of
Crystal Hill in both North Little Rock and Maumelle, and how bad the current state of the
street is. He asked if maybe this was something insurance could help with, or the public
park in the vicinity. He has previously given property to the City to widen the road, and
made another offer of right away to the utility company.

Michael Johnson of Maumelle, who is the Entergy customer service representative to
Maumelle, then spoke. The costs are to deal with 26 poles and three underground replacements.
He could not speak for Legal, and asked the Maumelle to approach this matter slowly,
and to allow more discussion befor passing any Resolutions. He is still waiting for more
Public Commission Guidelines from the Entergy Legal department.

City Attorney Krebs commented about how she has waited weeks at a time with no
response from Entergy, and how there has not been much detail provided in regards to
Entergy's position. She has discussed this matter with two members from the Legal Department.

Michael Johnson expressed a concern about how other Cities might take this as a
precedent and could violate guidelines for relocation costs. He could not explain the
Legal department's agenda.

City Attorney Krebs commented about how the whole project is on hold because of
Entergy's refusal to move the poles, regardless of any discussions at a later time to
allocate expense. They use our right of way every single day, and that to move these
poles is part of their cost of doing business, and does not consider it appropriate to
hold up the project by refusing to do anything.

Michael Johnson said that Legal has a different point of view, and he speculated that the
Public Utilities Commission might later decide the City needs to pay.

Mister Osborne asked why Entergy does not just go ahead and move the poles, upgrade
the road, and let the attorneys fight over the money later.

Michael Johnson once again asked for more time for Entergy to discuss the matter.

City Attorney said she has tried for months to get a resolution to this matter. She also
commented about how comparing residential requests are not the same as a Franchise
agreement. They City has tried to be patient and has reached a point where something
had to be done to get the matter moving.

I asked Mister Osborne to elaborate on how bad the public safety hazard has become on
the Crystal Hill, which he said has a two foot difference from side to side.

Council member Mosley commented about driving Crystal Hill recently and how bad the
state of the road has become.

The Resolution passed unanimously.

Mayor Norris commented about how Maumelle joined the declaration of Juneteenth to be a
federal holiday that he encouraged all residents to support.

Council member Mosley commented about items coming up from the Planning
Commission, and how one commissioner didn't realize one applicant wanted to
place high density housing on the land. The other item is a proposed miniature golf
course to be placed on a thin lot on Murphy Drive.


June 7, 2021 Update


Today's Council meeting was the first in a year that was not a Hybrid.
Every Council member was in attendance in person.

The news was shared that Jackie Johnson, former Mayor Burch Johnson's wife, passed away.
Please keep the Johnson family in your thoughts and prayers.

The Youth Council made a dual presentation.
Kylie Wall was given the Peyton award, given by Mary and Fred Peyton.
Doug and Marion Scott Coney contributed an extra $500 to increase this year's
Peyton scholarship to $1500, awarded to Lauren Elliott

The Employee of the Month of December 2020 is Terry Gibson of Public Works.
June 8 2021 is Terry Gibson day in Maumelle.

The Financial statement review was given by Ms. Mathis.
Right now the bottom line of our finances is being impacted by reconciliations being
done during audits to previous years, but the City should be back in the black by the
time the end of May numbers are known.
Until the past years are fully reconciled, our current numbers will remain in flux.
The recommendation was made to move monies between funds to reconcile the account
balances with the required General Fund minimum, and move them back once
everything is resolved.
2018 is currently being prepared for final review for auditors, and 2019 is currently
being prepared, with plans to start 2020 in August.
The City had been critically behind in audits in previous years, and a push is being made
to become current.

There was a fair amount of discussion about the proposal to move the money, or
whether to leave it be for another couple of months to see if upcoming reimbursements
might not bring the balance back in line. The general consensus was to wait for further
reports to see if this matters corrects.

Council Member Mazonni gave his Planning Commission report, which was light.

Ordinance 1031 regarding the referendum process had its third reading.
The ordinance passed unanimously.

Ordinance 1033 amending the Maumelle land use plan and map had its third reading.
The ordinance failed by a vote of 3 to 5.

Ordinance 1034 amending the current Zoning map related to the Ordinance that failed.
The ordinance failed by a unanimous vote.

The Planning Commission vacancy had three very qualified applicants; Darrell Stephens,
Robert Bateman, and Justin Mallett. The candidates were interviewed by the Council, and
any of the three would be an excellent choice, making the selection process difficult.

Darrell Stephens was selected.
Congratulations to Mister Stephens and Thanks to the other applicants!

Resolution 2021-14 to dispose of surplus City property. There are two police vehicles
from 2013 and 2014 that are no longer in service.

The Mayor thanked everyone for their participation in the Merorial Day ceremony.

Council Member Terry Williams read the obituary of Jackie Johnson, wife of former
Maumelle Mayor Butch Johnson. A memorial service is planning for June 19th.
Council Member Mosley commented about how she had run for the School Board.

Council Member Saunders mentioned a travel program being sponsored by a local bank.

Memorial Day
May 31, 2021 Update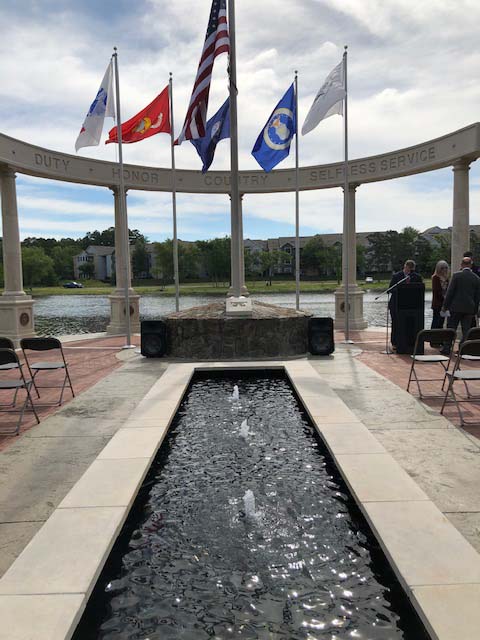 Today's Memorial Day Service Ceremony was held at the Veteran's Memorial
by Maumelle's Lake Willastein.

After a welcoming address by Maumelle Mayor Caleb Norris, the Maumelle Fire Department
presented the Colors, I was honored to lead the Pledge of Allegiance, Counciil Member
Chad Gardner sang theNational Anthem, Council Member Terry Williams gave the Invocation,
Council Member R. J. Mazzone gave a heart-felt speach about his experience returning our nation's
fallen heroes by a C-130 plane, and Council Member Doug Shinn laid the wreath.

Next to the Veteran's Memorial is the Field of Flags, presented in Maumelle every year at this time
to recognize Arkansas servicemen and women who gave their lives in service of our country.
It is a somber testament to their noble sacrifice.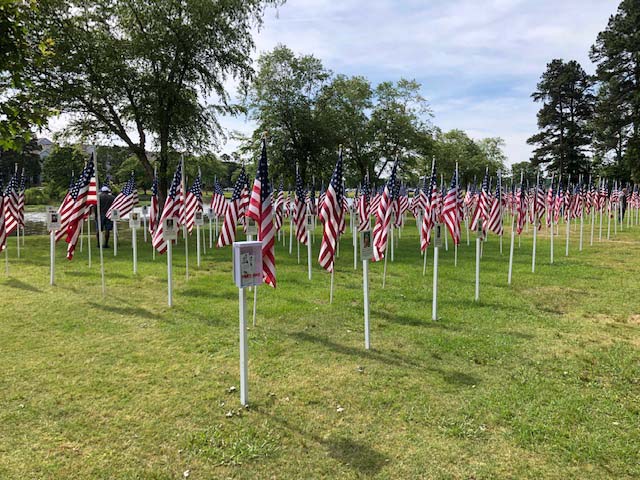 May 17, 2021 Update


Tonight's meeting was another hybrid, with one Member attending virtually and two
absent. So any unanimous votes will show on the official record as 6 to 2, since absent
votes always count as No.

Employee of the month for November 2020 is Lieutenant John Thomas of the Maumelle
Police, who has streamlined the training programs.

Director of Finance, Ms. Mathis explained that the City's financial statement review for
April is unavailable since the 2019 audit started this week.

The Director of Human Resources, Ms. Dorreen Mattes gave a department report and
announced a new hire on a part time basis. Due to wage compression,
Maumelle is beginning to have a problem keeping employees, and minimum wage jobs
are proving to be very difficult to fill at this time.

Ordinance 1028 amending the Zoning map was originally tabled until August. Because a
public notice was not made previously, and it should go back to the planning
commission, the motion to table the Ordinance until August went to another vote. The
motion passed unanimously, referring it back to the planning commission

Ordinance 1031 regarding the initiative and referendum process had its second reading.

Ordinance 1032 regarding the initiative to bring Maumelle City Code into line with
recent State mandates. The Ordinance passed unanimously.

Ordinance 1033 amending the Maumelle Land Use Plan and Map had its second reading.

Ordinance 1034 amending the Maumelle Zoning Map had its second reading.

The Public Facilities Board received a single applicant for the new opening, David
Hodges. He was confirmed unanimously.

Mayor Norris commented about economic development in Maumelle having taken place
last week. He suggested taking a peak at the videos highlighting Maumelle businesses.

We have a vacancy in the public director's position at this time if anyone would like to apply.

City Clerk Timmons mentioned that we have an opening in the Planning Commission for
a term that ended May 2022. Deadline for resumes is June 3rd. Contact the City Clerk if interested.

The meeting concluded in a record time of 26 minutes.


May 3, 2021 Update


Even though the mask mandate has been removed, we are still operating under
Ordinance 1000 and today's Council was another hybrid meeting.

Tonight's first guest was Representative Mark Lowery, who updated the Council on this
year's legislative session, which was one of the longer ones.

Act 655 was passed and is specific to Maumelle in dealing with how Police Officers
accrue sick leave.

Act 873 amends the tax law so that the Maumelle Charter School no
longer has to pay sales tax on public sales, an exemption that was already applied to
public school district. Fundraisers like cake sales will no longer charge tax.

Act 877 requires utilities to have an emergency plan in place during outages, and to
notify public officials in such an occurrence.

Act 1072 requires the registration of roofing contractors. This deals with disreputable
roofers who in the past have taken advantage of residents. If a roofer comes to you,
make sure that they are registered to avoid being taken advantage of.

There was an effort to open Short Marche to the new third Hwy entrance. A bill was
supported by Justice of the Peace Paul Elliot and the majority of the Quorum Court that said
a Judge cannot close a Class 5 collector road within a quarter of a mile from an
interstate hightway entrance. The Bill was not passed, but County Judge Hyde conceded
that the road might someday be reopened. So a lot of effort was made on this issue,
with no immediate results.

Justice of the Peace Paul Elliot also made an address to the Council. He gave Maumelle a
$1000 grant to place tables at the new Splash Pad, and was voted to vice chair of
a National Public Safety committee in Washington D.C.

Employee of the Month of October 2020 is Jason Lyon of Code Enforcement and
Planning, who dealt with reducing the number of street light outages and other issues in
the technological field.

Council Member Gardner gave a Planning Commission report. Everything that came
before the Commission last month was approved, and several developments will be
coming before the Council with recommendations for Do Pass resolutions. A new sub-
division will be built to the Northwest part of the City that is currently in the County but
will be requesting Annexation at a future point.

The Mayor mentioned that he had received some comments of opposition. He said that
as the property owner was having discussions with Maumelle, he was encouraged to
make his development in a manner that would fit with the neighboring properties. He
also mentioned that another property is also petitioning to be annexed into Maumelle.

Ordinance 1028 was due for its third reading. With the City being the applicant, the
Mayor asked that the Ordinance be tabled while they consider a different Zoning option.
The motion passed unanimously.

Ordinance 1029 had its third reading, dealing with a change to the City Code to define
short term rentals and require business permits. Concerns were expressed that the 8
person capacity limit was too low.

Currently the City Code requires that every person who
rents a house in Maumelle to purchase a business license, which this
Ordinance eliminates. There was disagreement about whether or not if this is something
that needs to be addressed now, or if we should wait to see what other cities do first.

The City Attorney pointed out that currently the City cannot stop people from renting a
house and having a party with 50 people--and how there have been multiple events like
this, with people renting large houses and then charging admission to large parties, and
wedding venues being held in homes. The Attorney did not consider this to be fair
treatment of the neighbors in a residential area. She felt it should be addressed now.

The Ordinance failed by a vote of 2 Yes to 6 No.
I was one of the Yes votes.

Ordinance 1030 amending Maumelle City Code to expand the allowance for Private
Streets in the City passed unanimously.

Ordinance 1031 had its second reading regarding the initiative and referendum process.
It brings the City into compliance with State regulations requiring the number of
signatures required and eliminates a conflict in the code that gave two time periods for
them to take effect, resolving that number to be 30 days, which is the time period used
in the past.

Council Member Mosley made a motion to extend the time period for gathering
signatures on referendums and the time period for when new Ordinances take effect.
Both time periods are the same. The City Attorney said that the Council can set whatever
time period they want, and how the State passed a statute recommending 60 days, but
which had been determined to be unconstitutional to enforce on Cities--since we have
the right to set them. The motion was to extend this period to 90 days.

It was asked if we can separate the petition time from the enforcement time, which the
City Attorney said no, they have to be the same time periods. Only an emergency clause
could then enact an Ordinance in a shorter time period--its not something you could
write into an Ordinance's language.

The motion failed by a vote of 4 to 4. The Mayor declined to vote and the motion failed.

A motion was made to change it to 60 days.

The motion passed by a vote of 5 to 3, which taking the Ordinance back to first reading.
The Mayor asked the City Clerk to give the first reading of the Ordinance with the new
60 day time periods. It will go back to 2nd reading next meeting

Ordinanace 1032 amends City code to remove City enforcement of Private Bills of
Assurance for aesthetic purposes and other purposes.

It was questioned if the City might be opening itself up to trouble.

The City Attorney then read a list that the City is no longer allowed to regulate, which dealt
with details about exterior appearance and square footage. The State Legislature has
stripped that authority away from Cities.

Property Owners associations can still enforce those issues, but the City cannot. Those
matters are considered to be a private matter between individuals.

Ordinance 1033 amends the Land Use map dealing with the corner lot at Carnahan and
Club Manor. That corner is zoned commercial but the area behind it is residential. The
commercial demand never developed but the residential area filled.

Planning and Permits Director Scott Grummer discussed how the current Zoning would
not allow residential development and how the requested rezoning would allow
multi-family townhomes to be built.

The Mayor mentioned about how a study is being made to include Club Manor into a
new bike trail corridor.

Ordinance 1034 amending the Zoning Map from PCD to C2 town center, which deals
with the same property in Ordinance 1033.

Resolution 2021-11 dealing with the development plan for Harris Addition which was
recently rezoned. The measure passed 7 to 1.

The City Clerk asked for a liaison for the June planning commission and there is an
opening on the facilities board, which is a 5 year term.


April 30, 2021 Update


Mayor Norris has issued a trio of Proclamations for the City of Maumelle.

May 1, 2021 was declared "501 Day" in the City of Maumelle, in recognition of the 501 area
code that was issued in 1947 as prt of the original North American Numbering Plan for telephone
numbers. On Saturday, May 1, cities and businesses throughout the 501 area code will be celebrating.

May 2 through 8 are declared to be "Professional Municipal Clerks Week" in the City of Maumelle,
in recognition of Maumelle's oldest public service position, and the time honored and vital part
of local government throughout the world.
Mayor Norris further extends his appreciation to City Clerk Tina Timmons, and all Professional
Municipal Clerks for the vital services they perform and their exemplary dedication to the
communities they represents.

May 9 through 15 are declared to be "National Economic Development Week" in the City of Maumelle,
in recognition of the International Economic Development Council, the largest professional economic
development organiztion didicated to serving economic developers--who in turn promote
the economic well-being and quality of life for their communities by creating, retaining, and
expanding jobs that facilitate growth, enhance wealth, and provide a stable tax base.
Economic developers expand career opportunities and create vibrant communities by improving
the quality of life in their regions.


April 29, 2021 Update


Metroplan is updating their plan for the local area that includes Maumelle, and is
working on a new development and redevelopment plan for the next 20 years.

Here is their Public Outreach Initiative video:




They are also conducting a survey to better understand our community's needs and interests.

To help grow Maumelle in a manner you think would be best, you can participate and
provide your valuable input to the survey by clicking this link.


April 19, 2021 Update




This week's meeting was another hybrid meeting, with one Council person attending virtually.

Kim White, volunteer coordinator for Center on the Lake, was declared employee of the
month for September 2020. Maumelle was named one of the volunteer communities of
the year for 2020. More members are coming back to the Center and more volunteers are
needed--if you have the time, contact Director Volger. Kim talked about how food
pantries she would stock in mornings would be empty by noon. They are also doing
floral arrangements for home bound and shut in persons, to cheer them up and help
deal with the loneliness of isolation, which has been magnified with the pandemic.
Kim thanked the citizens for their support, and if you've got the time, she has things for you to do.

If you'd like to donate food; peanut butter, crackers, and lots of soups are needed.

Justice of the Peace Paul Elliot was supposed to attend to discuss a country grant, but
was unable to attend and will be rescheduled.

Liz Matthews gave the March 2021 financial statement review for the City.
The City has brought in $125,000 more in funds than monies spent in 2021, although
reconciliations for expenditures in previous years are dragging our bank balance down.
The 2018, 2019, and 2020 audits are progressing, with the goal be completely caught
up this year--after years of being perpetually behind.

Ordinance 1025 amending the Maumelle Land Use plan had its third reading.
This deals with land currently Zone Commercial near where the old Kroger's Grocery store was.
The proposal is to change that Zoning to a PRD.

Mark Redder spoke about how this development would accomadate residents aged 55 and
older, and he felt it would be an asset to the local area, that has not been developed in
recent years, and is largely occupied by older buildings.

Developer Ron Harris spoke about developing homes and multi-family units, and their
financial impact on cities by creating jobs and tax revenues.

City Attorney Melissa Krebs asked the Council to articulate how they felt the Zoning
change would change things.

Council Member R.J. Mazonni spoke about how he was concerned that Maumelle is
expanding residential areas faster than we are commercial, and is concerned about
reducing an existing commercial area.

Mister Redder countered that the development of an area which has been stagnant would create
growth, and spoke about the commercial growth currently happening along White Oaks
Lane, leading to the new 3rd entrance.

Gene Pfiefer, the landowner, spoke about how when he bought the land the Kroger was
the only commercial property in the area. He bought it in the expectation of his property
developing commercial. It has never happened. There is no cross traffic from other
businesses in that area. When the Kroger store moved from the area, it "delivered a
death blow" to developing the land commercially. He has "tried mightily" over the years
to get something developed, and even tried to give a portion to the city on multiple
occasions, and each time was turned down by the city. He has been unable to sell the
land commercially for decades now.

Council member Holt spoke about how he wished another alternative could be found,
and wished the area would include more trees.

The Mayor spoke about how this would be a change to PRD, and for the Council's
determination--the site plan supplied with the packet was not indicative of the final
development, and how he thought it would be more densely developed.

Council Member Gardner spoke about how outdated our Land Use Map is and
developments have gone in different directions than what was anticipated decades ago.
He did not want to get in the habit of turning away good proposals and growth by
sticking to an outdated plan.

Council Member Mosley spoke about how he felt the City Attorney said the changes
should apply with the immediate area, not the whole city, and he would be a No vote.

Developer Ron Harris commented about how City Planning had requested increased
density in the developement.

MIster Redder commented that it would be moderately more dense in development than the plan
shown previously in the Council packet.

The land owner talked about having developed properties for 50 years and is very proud
of what he had done, and how they included a lot of trees.

City Planning Director Scott Grummer spoke about the density proposal. The original
proposal had included all single family residences, and proposed to mixing it with
multi-family butted up to the commercial area. He felt that the proposal as it stood
worked well with the existing infrastructure.

Council Member Williams spoke in support of the development since nothing else has
occurred in the area, and how is could generate tax revenue for the City.

The Mayor spoke about having additional residential areas can lead to an increase in
commercial development. He also spoke about the commercial development along
White Oaks, and how businesses are currently waiting for the area to develop and traffic
to increase. The upcoming roundabout it considered by some to be a tipping point.
Businesses are looking for the next traffic hot spot.

My comments were that this area that has been stagnant for a considerable amount of time, and here we
have a development that is willing to work within the parameters set by the City, which
will lead to an increase in commercial needs and future development. If this area could
have been developed according to the Zoning it currently has, it would have happened a
long time ago. Instead, the foundation business of Krogers Grocery store had left the area
and took the area a step back, instead. I support making a change that will turn a dead
zone into one filled with new life.

Council Mosley addressed Council Member William's comments, and about how
Maumelle Forward had declared residential growth to be a drag on the community and
would be an increased expense on the City. He did not consider it to be a revenue worth
going for.

Mayor Norris said Council Member Mosley's evaluation looked simply at the property, and did not take
into consideration the increase of revenue to surrounding properties, and felt this was
something we would need to discuss with an economist, and how he could find nothing to
support that determination.

Council Member Shin mentioned that since the time of the Maumelle Forward report
things have shifted to online sales and internet taxes did not exist as a source of City
income at the time that report was made.

Director of Community and Economic Development Judy Keller talked about how over the years
she had tried to develop the property, and about how badly the property was impacted by
Kroger leaving the area. Every time she has since showed the property to developers, they
felt it was too far removed from the City center.

Director Grummer spoke about the net gain of building a house, how the amount of
infrastructure is offset by building a more densely populated area. The streets will be
Private and not maintained by the City. The costs are different for multi-family as
opposed to single family. The Planning Commission gave this project a Do Pass
recommendation, and Director Grummer, who had previously been opposed, now gives
it a Do Pass recommendation after the developer's willingness to work with the City. He
feels the development will be an asset to the city, and considers the old zoning to be outdated.

Landowner Pfiefer mentioned that the statistic Council Member Mosley quoted has been refuted
by the National Association of Home Builders.

Council Member Holt spoke about living in Maumelle 28 years, and how he came to the
meeting ready to vote No, but after listening to Mister Pfiefer and the discussions of the
Council on the matter, he had changed his vote to Yes.

The Ordinance passed by a vote of 6 to 2.

Ordinance 1026 amending the Zoning map to do with this property had its third
readings. This deals with the same property. The Ordinance passed 7 to 1.

Ordinance 1027 enacting supplemental provisions of the City Code to repeal certain
ordinances had its third reading. The Ordinance passed unanimously.

Ordinance 1028 amending the Maumelle Zoning Map had its second reading. This
Ordinance deals with the area immediately bordering the area discussed earlier in the
meeting, changing the Zoning from C3 to C2. This would allow the area to mix
residential with both commercial and residential.

Planning Director Grummer spoke about how the City supports this change.

Council Member Mosley asked it this change could congest the traffic on Maumelle Boulevard.

Director Grummer did not anticipate it to have an impact, and commented about how
the recently installed adaptive light system should deal with it.

Mayor Norris said it is difficult to do a traffic impact study when you do not yet know
what will be going in there.

City Attorney Krebs spoke about how Zoning may be amending when the public
necessity and public welfare requires the amendment, and that the Council should be
prepared to explain their vote.

Mayor Norris spoke about how dropping the zoning from C2 to C3 might provide a
better transition area from industrial to residential. "You don't want a warehouse right
across the street from a residential."

Ordinance 1029 amending multiple sections of City Code Code to define short term
rentals had its second reading.

Council Member Mosley wanted to know if anyone wanted to make any changes on
occupancy limits.

Council Member Gardner had a couple of questions. He spoke about how he has enjoyed
the Council discussions over the last couple of years. He had two issues with the
Ordinance. His first issue dealt with the new language requiring long-term landlords to
register as a business (If they own three or more properties in Maumelle). He wanted to
know how it would be enforced. In his research he found cities that both had this
requirement, and others that did not. He wanted to know the reasoning behind it.

City Attorney said that number of 3 was chosen because it was in Fayetteville's model
and in other cities. We currently have a section that is "Profoundly unclear" about who
needs to register, and right now it could be construed as One property.

Council Member Gardner made a motion to strike that particular piece of language.

City Attorney said this change would make every single landlord into a business
owner under the current language.

City Clerk Timmons said currently Zero landlords are registered as a business.

Council Member Holt spoke about how he has friends renting in Little Rock, and will
learn how they went about the process.

City Attorney read the Code about how properties rented in the City currently require a
business license to be registered.

It was discussed about striking on the out-of-state owners requirement.

I pointed out that would still require all other landowners to still register as a business.

The motion to strike sub-section D failed.

Council Member Gardner then made a motion to change the number of properties owned to 5.
That motion also failed.

Council Member Gardner then discussed how he feels an occupancy of 8 to be too low.
He did not know what a good model would be, but would like to see that number raised.

Ordinance 1030 amending the Maumelle City Code to expand the allowance for Private
Streets had its second reading.

Ordinance 1031 to revise sections of the City Code regarding initiative and referendum
process had its first reading, setting the period to be 30 days.

City Attorney said the current calculations dealing with the changes was
left over from a previous form of government. Clauses about the time periods for
referendums or ordinances to go into effect have two different lengths of time in
different places. One said 30 and the other said 90 days. An Initiative is when a new
law is enacted. A referendum is when a law is being repealed.

The City Attorney said that State Law suggests 60 days, but a City has the discretion to
choose its own length of time.

The Mayor commented that increasing the time period to 90 days, as opposed to the
currently used standard of 30, would increase the need to enact emergency clauses to
enact laws to make them effective immediately.

A motion to amend the law from 30 to 90 days failed by a vote of 2-6.

Ordinance 1032 amends City Code to remove city enforcement of Private BIlls of
Assurance for aesthetic purposed and other purposes.

City Attorney Krebs explained about how this dealt with City Code and Enforcement
issues building permits, and a State Statute that limits what covenants a City can enforce.

Resolution 2021-10 deals with the disposal of City Surplus Property, a Dodge Charger
and a Dodge Magnum that require extensive repairs.

Council Member Mosley asked how long until we are fully on board with the leasing
program.

Chief of Police Pickard said that would be another three years down the road.

City Clerk Timmons announced that the Summer Municipal League conference has
opened for registration.


April 5, 2021 Update



Tonight's City Council meeting was another hybrid meeting, with one person attending virtually.

Pat Brown of Maumelle Parks and Recreation was declared Employee of the Month.

Community and Economic Development Director Judy Keller gave an update. In the past
year contacts were necessitated to be done virtually. Her department helped facilitate
over $100,000 in funding assistance to local businesses. A job fair will be taking place
next Wednesday. The Kimberly-Clarke expansion was finished last year. She provided
information on numerous other events and attempts at developing new commercial
enterprises on undeveloped properties, one is 119 acre site that has not yet been
cleared. Another 88 acres is available near I-40.

Ordinance 1022 dealing with the proposed rewrite regarding enforcement procedures on
hazardous or dangerous animals had its third reading. The full ordinance is shown on
my February 24 post.

Being under hybrid rules, emails were allowed as public comment.
City Clerk Tina Timmons read the first, after pointing out how she cannot read a
comment that did not include a name and full address.

Matt Dyna and Miss Patti Robinson submitted identical comments, discussing children
being killed by dogs. They believe it will happen in Maumelle and are opposed.

Miss Leslie Rush spoke in favor of the new ordinance. She favored breed neutral
legislation for public safety that addresses all potentially dangerous dogs.

City Clerk Timmons read another email (sorry, I missed the name), this one in favor of
the new Ordinance and breed neutral legislation.

Veronica Palmer spoke in favor of the new ordinance, and research that supports it. Her
own research showed that the majority of residents are in favor of the ordinance.

City Clerk Timmons read a email from Shane Pennington, urging the Council to vote on
the issue tonight. He commented about how Pit Bulls have been reported to already be
in the City, and how none of them have bitten anyone.

Jonathan Crafton spoke on the need to update the abilities of Animal Control to do their
job, and in favor of passing Ordinance 1022. He feels it will better protect the public safety.

City Clerk Timmons read a email from Lauren Elliot in support of Ordinance 1022 and
feels breed neutral is the best option.

April Thomas spoke in favor of Ordinance 1022 and how attacks have already happened
in Maumelle by a number of other dogs that are allowed, and prefers breed neutral law
that will properly address them as a danger.

During the proceedings, the front row of the gallery was occupied by residents holding
signs in support of the Ordinance's passage.

City Clerk Timmons read an email from Karen Kerston in support of Ordinance 1022 who
considers breed spefic legislation that focuses on looks to be a mistake. She is
saddened by the ugly nature of neighbors arguing with neighbor on this issue.

City Clerk Timmons read an email from Dustin Hartung in support of Ordinance 1022
which he considers to be a more inclusive form of legislation, whereas the previous
ordinance does not prevent bites by other breeds. He wants Animal Control to have a
better ability to save dogs from harsh conditions and punish irresponsible owners.

Council Member Mosley spoke about how he wished this measure had never been
brought up, and worries about the decisiveness it has created. He made a motion to
take the ordinance to a referendum in May of 2022. Council member Holt seconded his motion.

Council member Holt spoke about how he got a call from a woman who told him that
years ago a child was attacked by a neighbor's pit bull in Maumelle, causing 52 stitches.
This was why he barely made the meeting at time, and he was very upset about the call
and is opposed to the Ordinance. He does not understand why people are in favor of it.
Then he spoke about a dog being attacked by a dog that was not a pit bull.

Council Member Mosley's spoke again before the vote on his measure, and in favor of a
referendum. When he suggested that this measure was backed by a national group it
drew laughter in the room. He felt that the residents did not really support it.

At this point I shared the feedback I had received that was in favor.
Over the better part of two months since this Ordinance was first proposed in a different
format, I've received emails from 196 individuals, some of them writing dozens of
times. Separating out 42 in favor and 21 opposed who live outside of Maumelle, the
final "vote" expressed was an even 100 people in favor of the new Ordinance, and 43
opposed. It had been 44 opposed, but one person withdrew his opposition after I
explained more about the proposal. I did not add him to the "For" since his instructions
were to vote my conscience.

The motion failed, and Council Member Mosley wanted it made into a roll call vote so
there would be a record of who voted how.

A roll call vote was then made on Ordinance 1022. The motion passed 5 to 3.
There was a loud applause from the gallery.

Mayor Norris then read an email from an unnamed resident who advocated the
Ordinance being decided in tonight's meeting because it made her ill because of the
division she has seen it create.

A Mister Strahan then spoke about a Freedom of Information Act request he had made
about Ordinance 1023. He also made the same request of Central Arkansas Water. He
addressed me and other Council members, and said everything I had provided matched
perfectly with what he had gotten from CAW. He felt that City Hall officials did not share
everything. He then mentioned instances of insults, which I have never heard.

Ordinance 1025 amending the current land use plan had its second reading.

Council member Mosley had a question for Planning and Permit Director Scot Grummer
about the map that had been included in the packet, and expressed concern about how
the change might cost the City future tax revenues by changing it from commercial to residential.

This property in question is on the western boundary of the City, bordering I-40.

Council member Mazzoni also questioned losing more commercial property, and felt
residential zoning would be encroaching on commercial property, even though this
property has sat for some time.

Director Grummer commented that he questioned the previous zoning, and said he had
expected it to be changed, and that bringing more residential in would bring more
opportunity for commercial development to the area.

Council member Mazzoni disagreed. He felt it was reactive as opposed to proactive, and
expressed concern over increased costs for emergency medical services if we start
building more senior centers.

Council member Mosley confirmed that the land on the other side of the third interstate
interchange has not yet been annexed by the City.

Ron Harris made a public comment about how he would be happy to provide
information dealing with these questions on the third reading of the Ordinance.

Ordinance 1026 amending the Maumelle Zoning Map had its second reading.
This is the zoning amendment tied to the previous land use change.

Ordinance 1027 enacting Supplemental Provisions of the City Code had its second reading.

Ordinance 1028 amending the Maumelle Zoning Map dealing with property along
Commercial Park Drive, very close to the previous property being discussed, had its first reading.

Director Grummer spoke about the City meeting with the property owner, and how he
was agreeable to down-zone from a C-3 to a C-2 zoning, which would allow some
residential to create a buffer from the Industrial Park to the East. If the other rezoning
does not happen, the owner has the right to pull this request from the agenda.

Council member Mazonni expressed his previous concerns again.

Council member Mosley spoke about a Maumelle Forward report made back in 2011,
where the findings spoke about every time you add a residential roof it does not cover
the cost of added demand on services.

Ordinance 1029 amending multiple sections of the Maumelle City Code had its first reading.

This is an Ordinance that I sponsored along with Council Member Doug Shin.
It proposes creating a registry of short-term hotel businesses operating within
residential areas and establishes a contact person to assist the Police and Fire
Departments in the event of emergencies. Currently this is a shadow business and the
City has no way to identify where these short-term hotels are operating, which are
subject to sales tax like any other service. Creating this registry will enable the City to
deal with the concerns of residents living next to these business, and assure that event
venues do not occur in residential areas. See my previous post for details on when this
proposal was given a unanimous Do Pass by the Planning Commission.

Council member Mosley asked what Little Rock and other cities were doing about this.

Council member Shin replied about how it is the faster growing industry and is here and
needs to be tracked, which right now we have no way to do.

Council member Gardner had a question for the City Attorney about section 1A about
the business registry section in Maumelle.

City Attorney Melissa Krebs replied that the language is making the definitions more
clear cut about who should pay sales tax in the City of Maumelle,
and how the types of businesses listed should already be registered.
About Landords who own more than two long-term rentals properties needing to
register as a business, previous Code language was very unclear.

More discussion was made about the occupancy allowed being capped at 8.
The point here was to keep a baseball team from taking over a house.

Council member Gardner was concerned that when "young people" like him travels, they
would exceed the maximum number of occupancy allowed. Over the weekend he
registered a stay in Maumelle, and confirmed that he was charged sales tax.

The Mayor jokingly questioned Council member Garner's use of "young people."

Council member Williams spoke about how she had rented and their occupancy was
always regulated by local laws, and that Air bnb would comply with city ordinance.

Council member Mosley asked what the Mayor thought about it.

The Mayor spoke in favor of the Ordinance.

Many more comments were made about how young the Council members are.

Council member Williams asked Police Chief Pickard to address a previous problem where
several hundred people had gathered at a single residence and arrests needed to be
made. He urged putting a capacity cap.

Council member Shin spoke about how college kids are doing a number of these rentals,
and the potential for abuse if a cap is not made.

We will be doing more examination on the cap limit, possibly tying it to a square
footage requirement.

Ordinance 1030 amending the Maumelle City Code to expand the allowance of private
streets had its first reading.

Council member Mazzoni asked why this was being requested.

The Mayor said as more gated sub-divisions consider being annexed into the City, the
current language prevents this possibility.

There was more discussion about this and current regulations.

Resolution 2021-8 proposes a lease agreement between the City and the State to lease
space in the City Hall for the Revenue Office. After some discussion the resolution
passed unanimously.

Resolution 2021-9 concerned the approval of City Surplus Property, specifically a Ford
Interceptor and a Dodge Charger from the Police Department, both of which require
repairs that would cost greater than their worth. The vehicles have already been replaced
by lease vehicles. The resolution passed unanimously.

Mayor Norris gave an update that anyone 16 years and older are eligible for vaccination.
There is currently no citywide mask ordinance in place. The Mayor has required masks
be worn in City buildings, and businesses are at liberty to make their own requirements.

In the 2020 Census, Maumelle finished with the 2nd highest self-reporting in the state.

Maumelle is once again declared a Tree City.


March 25, 2021 Update


At tonight's Planning Commission reading, a new Ordinance written in coordination with City Planner
Scott Grummer and staff, and City Attorney Melissa Krebs, proposed by Council members Doug Shin
and myself, came before the Planning Commission.

The intent of the Ordinance is to create a registry of short-term hotel businesses operating within
residential areas and establish a contact person to assist the Police and Fire Departments in the
event of emergencies. Currently this is a shadow business and the City has no way to identify
where these short-term hotels are operating, which are subject to sales tax like any other service.
Creating this registry will enable the City to deal with the concerns of residents living next to
these businesses, and assure that event venues do not occur in residential areas.

The Planning Commission unanimously voted a Do Pass recommendation and passed the
Ordinance on to the City Council for consideration.

Here is the proposed Ordinance in its entirety: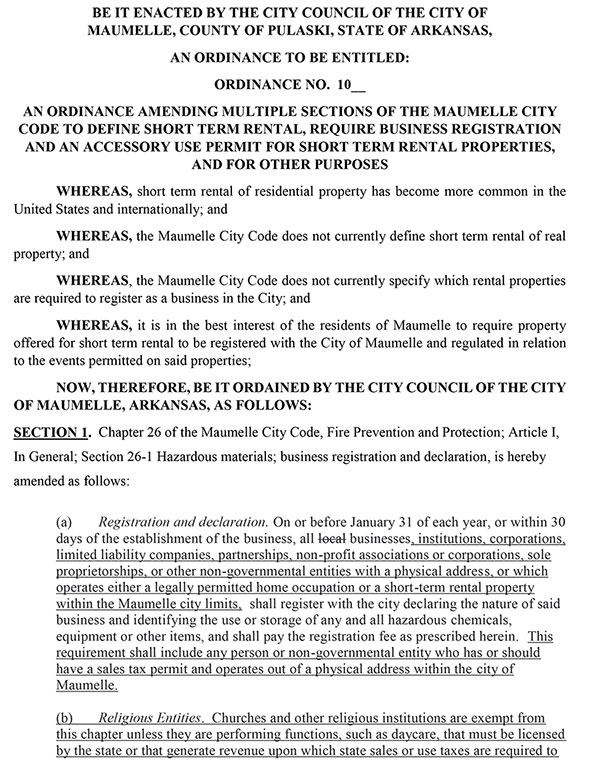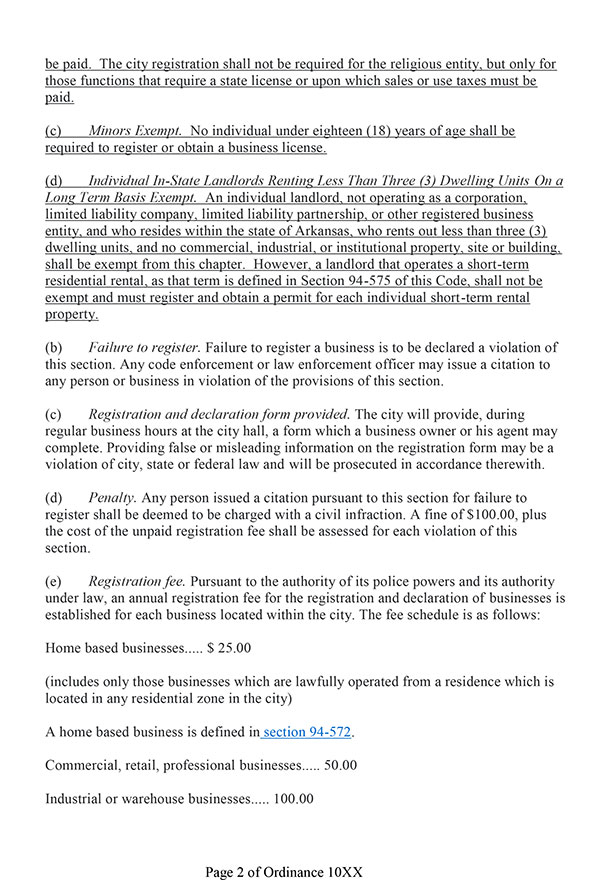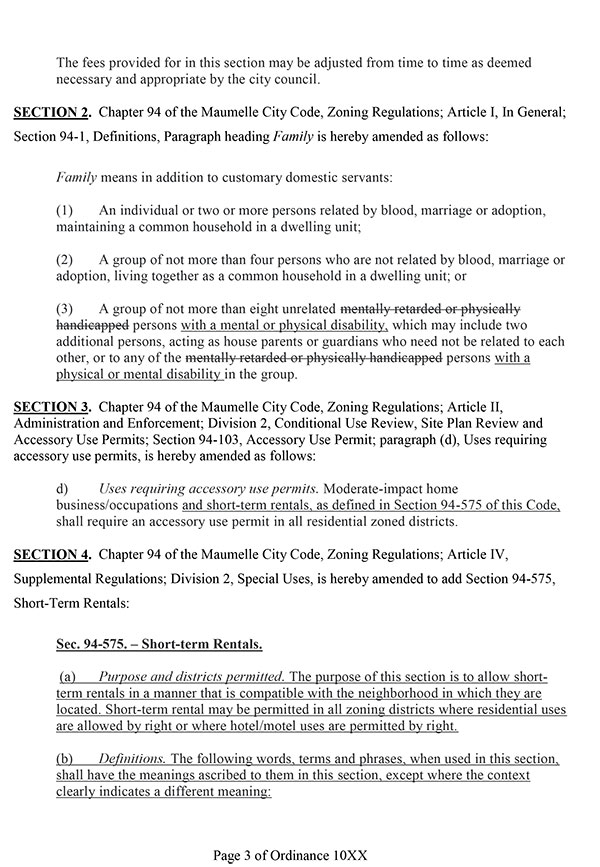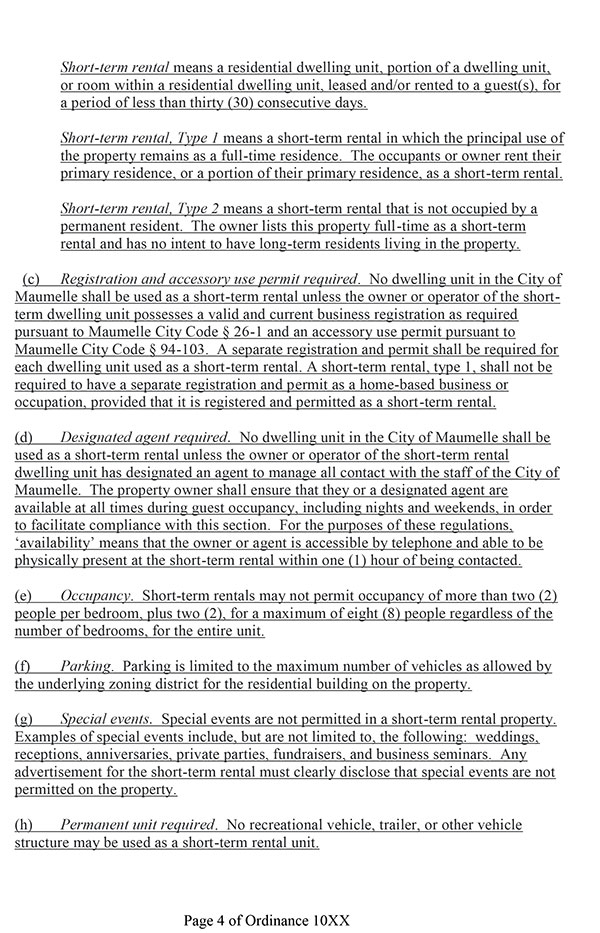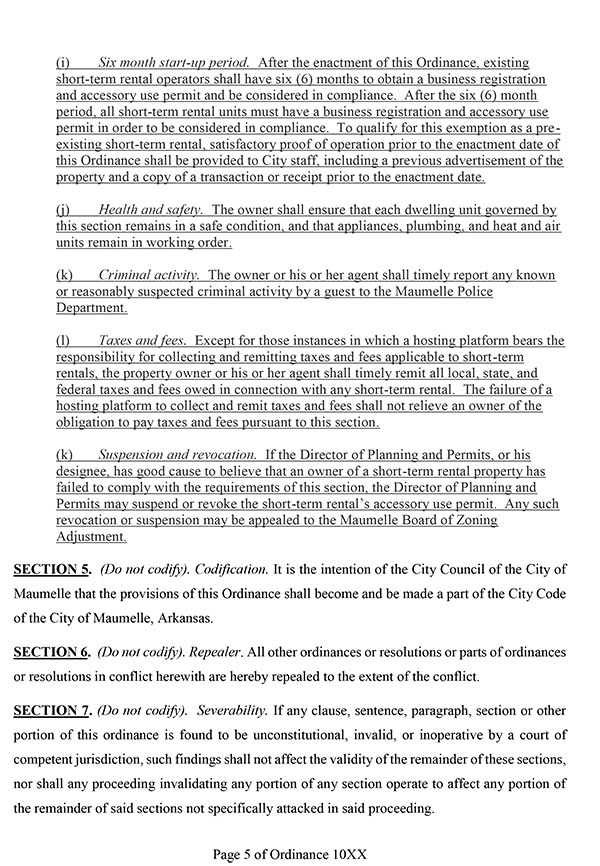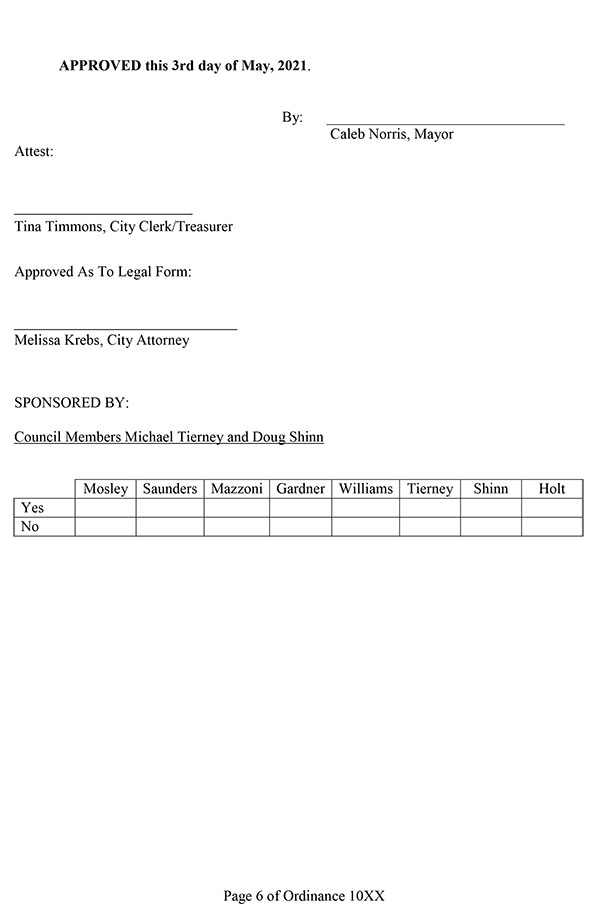 March 15, 2021 Update



Tonight's City Council meeting was another hybrid meeting with two Council members attending virtually. In
anticipation of the Mayor's State of the City Report, there was a full house with no social distancing.

Employee of the Month was Michael Cossey, Chief of Training in the Maumelle Fire Department.

The Mayor then gave his State of the City Report, as required by law within the first 90 days of the year. The last
Report was given 9 days before the Pandemic hit Arkansas. The unprecedented crisis encountered by the City last
year, and steps taken to deal with the ramifications were discussed, including how traditional events were handled in a
new manner. The launch of SeeClickFix was discussed, which is a phone app by which residents can report problems
from pot holes to city lights being out to stray dogs. If you've got a problem that you feel the City needs to deal with,
then this phone app is your direct hotline. So far about one third of the reports made have come from the Mayor himself.

The City Hall rebuild and staff changes in the Hall and the Police Force were discussed. Sadly there were 16 narcotic
overdoses last year in Maumelle, as opposed to 11 the previous year. There was also a 50% spike in auto thefts.
Identity theft also skyrocketed last year. Despite all this, our property and violent crime rates are still well below the
state average, making Maumelle one of the safer cities in the state. 

The Fire Department saw an increase over 8% in calls. A new app had been created to allow easy access for the police
and fire to gain access to the homes of elderly during an emergency.

The City Clerk's office continued to convert files to electronic format and increasing staff accreditation.

The City Attorney dealt with 274 new cases during 2020, and a breakdown of these was given. She was also involved
with numerous new ordinances and resolutions.

The Department of Senior Services and the Center on the Lake continued to outreach to other city entities and to serve
the community during the pandemic. Shuttle service continued throughout the year at a 65% level compared to the previous year.

Public Services dealt with street overlay projects and installed new storm drains. The adaptive Traffic system has
finally been completed, but is still being fine tuned.

The redesign of Crystal Hill Road was completed and this very long overdue project finally entered into the construction phase.

The City is currently investigating ways to improve our streets, including the roundabout at White Oaks Crossing and
Country Club. The City has received a grant of $2.5 million for this project, which should begin this year.
Animal Services had a 98.1% live release rate from their Animal Shelter.

Sanitation has had staffing difficulties, and the new automated truck scheduled for last year did not arrive until this
year. The recycling center was kept very busy. Mayor Norris gave the tonnage and cubic feet breakdowns, but I can
only type so fast.

The Finance Department is poised to finally be caught up from delinquent audits and will soon been operating on a
timely basis. A new software transition is targeted for January of 2022, which will put timely information into
everyone's hands. The streamlining of the budget process is part of this new software.

Humans Resources adopted an advisory committee of department heads for hiring.

The Mayor expressed concerns about how the city is no longer competitive to hire quality people due to budget
constraints. He and most of the Council (myself included) declined this year's wage increase as a result.

Parks and Recreation has been heavily impacted by the pandemic which mandated the closing of gyms and much of
the Community Center. The new Splash Pad is currently under instruction and should be ready to go this summer.
The cost was only $75,000 to taxpayers, as the balance was funded through grants. 

The Department of Planning and Zoning lost Jim Narey last year, and former City Director Scott Grummer became
the Director of the combined Planning and Permits department. A breakdown of their activities was given. A new
online portal has been created to help developers. 

Kimberly Clarke and Cold Storage both made major increases in their sites.

"2020 was a year for the history books" due to the challenges presented by the pandemic. This concludes the
summary of the Mayor's Review of the City.

Ms. Mathis gave the financial statement review followed with more information about the city's revenues. Tax
revenues are down, but should balance by the end of March. Franchise fees are expected to be higher than expected
because of increased utility use during the February snow storms. Sales Taxes are less than year to date but ahead of
budget. Parks and Services, and the Senior Center are down on their revenues and expenses are being monitoring.
Expenditures in most departments are under budget and under year to date. The Police Department expenditures are up
due to the timing of payments to the County Jail. The General Fund is currently under the required amount, and
expenses are being monitored to get this balanced back out.

Ordinance 1022 Amending Chapter 10 of the Maumelle City Code regarding the
enforcement procedures on hazardous or dangerous animals had its second reading.
There was some discussion.

Public comments were read, and once again the focus was on pit bulls.
Two cards read were opposed to lifting the ban. One mentioned something I've also read in many emails that
repeatedly mention pressure being exerted on the Council by big money groups in an effort to lift the ban. I've never
seen any such occurrence--to my knowledge this is a complete fiction.

One card read was in favor of lifting the ban, and advocated giving Animal Services the tools they need to do their job.

Brett Winneger (apologies for any misspellings here and later) addressed the Council, who is not a resident, advocated
animal mercy and related his positive experience when rescuing a pit bull.

Lanely Sprily (?) talked about the three times she had been bitten by other breeds like lab mix, while serving as an
Animal Control officer. She advocating giving Animal Control better tools, and how banning breeds does not work.
She advocated visiting the Animal Rescue service and learn about the animals first hand.

Gary Childers spoke about his work in the areas of insurance, and discussed how increased rates should be taken into
account. He read a passage from an insurance policy clause that exempted certain types of breeds, and their names. He
did not say what the insurance company was.

Michelle Elliot spoke that none of the breeds read by the last person applied to this issue. She mentioned how she had
spoken to Animal Control and expressed the hope that Council members would have done the same (I have). She
discussed a recent social media furor recently caused over a dog that some people assumed was banned, but was not.
She spoke against the recent requests by some to move the issue to a vote, and asked us not to be bullied by shrill voices.

Patti Robinson cited a study she had pulled off the internet that she said "is not propaganda." Her focus was on
percentages of pit bulls involved on a hospital report about dog bites. She said pit bull bites could not be compared to
a chiquaqua (you know), and then sited a horrific attack of a boy by two pit bulls. She reported another woman named Patti
Robinson used her name on an email and asked for the right to vote. I did get two fraudulent emails and struck them
from my records--all subsequent emails using that particular format have been asked to confirm their identity

Darryl Patterson (?) wanted to discuss why he disagrees with council member Chad Gardner, and that this is a
contentious issue. He advocated putting the issue to a vote. He mentioned the opposition being well-funded. He feels
pit bulls are bred to kill and worries about dogs who had previously been raised to be cruel being out there.

Jessica Roberts (?) spoke as an individual and not the clinic where she works. She believes all dogs are animals and
any of them can cause harm. She opposes breed specific legislation. 

Leslie Rush spoke about reputable facts over fear, and passed around a handout advocating "Vote Yes on Ordinance
1022" that identified 22 organizations that opposes breed specific legislation, and how much of the information given
by the supporters of BSL bans is based on unreliable statistics. She questioned where the money everyone is talking
about is coming from, and expressed how she wished she had it. Apparently people are accusing her of paying
members of the Council. To my knowledge that is complete fiction.

Tricia Grant expressed her support of the Ordinance and how she expects the council to examine this issue and guide
the city, and worries that going to a vote will only cause more hate and negative social media posts that divide local
communities. "Not rational."

Vithoune Augustin Vignarath spoke about how he was the fellow
whose dog got loose, he posted online asking for help finding his dog, then took it down after the recovery.
Afterwards he and his dog were attacked online with hateful posts. He found it hurtful, and now worries about the
whole community thinking he has pit bull, which he does not. He finds it wrong to judge a dog by its breed or looks.
He opposes breed specific legislation. He got a smattering of applause.

Jeff Van Patton spoke his opposition to the new ordinance, and requested that the issue be taken to a vote. The Mayor
complimented him for being concise, to the point, and brief.

Steven Davenport talked about growing up in an area with a lot of dogs, and how a neighboring city has poor animal
control and poor city ordinances, with animals not being contained behind adequate fencing. He has been bitten by a lab
and border collies, been chased by a lab and several mixed breeds. He likes how the new ordinance requires proper
maintenance of fences and would make Maumelle a more friendly community. He likes how the city maintains
ordinances. He thinks the breed ban is "ridiculous."

Council member Mosley made a motion to put the ordinance on a May 2022 ballot. The City Attorney has said that an
ordinance is not normally put on a ballot that far away, but it could be done. Council member Saunders seconded the
motion, and said he does not believe the argument that it's the job of the council to always make decisions, and thinks
this is an issue that should go to a vote. Council member Mazzoni questioned about having the same motion made two
meetings in a row. Council member Mosley said his original motion was to table, and now he's motioning to put it
straight to a vote.
The motion failed.

I took this opportunity to point out how everyone was focussed on a single aspect of the new ordinance, and that it
accomplished so much more than just lifting the breed specific ban.

Speaking with Animal Control supervisor Chris Davis, I asked him to confirm that Maumelle has no tether laws,
and how the new ordinance would change this, and asked how many acts of animal cruelty he currently sees that
would be offenses under the new ordinance.

Animal Control supervisor Chris Davis stated that he currently sees acts of animal cruelty 2 to 3 times a week in
Maumelle that would be considered offenses under the new ordinance.

I shared some of the details learned during a discussion I had last week with Mister Davis, but thought I'd share them
in better detail here. In 2020, in addition to numerous bites inflicted on adults by family dogs, 1 Animal Control
officer was bitten, a woman trying to protect her dog from an attack was bitten, a roofer was bitten, a vet was bitten
(this animal was euthanized), and Amazon driver was bitten, a man was knocked down by another dog trying to get to
his, 6 children were bitten by family dogs, 1 child was bitten on the buttocks and back by a neighbors dog when he
played with his toy truck on a rock in the neighbor's yard, and a pair of German Shepherd mix dogs have chased the
trash truck on Oachita Drive multiple times. There is a Great Dan that bit the family's mother last year and has bitten
the daughter this year. There were 9 instances of dogs fights with injuries, including a melee at the Dog Park
involving 2 corgis, a golden retriever, and 2 Shepherd mixes--a Police report was issued on this one. A German
Shepherd and a pit bull (yes, a pit bull) killed a neighbor's cat. A woman was bitten by her cat and a raccoon bit a dog.

Council member Mazzoni asked Mister Davis about the difference between the damage done between a pit bull and
another breed. He replied none. He then gave his certifications to evaluate Animal Cruelty.

Mister Davis has a Code 3 Association, is NACA Certified, Certified Animal Cruelty Investigation, Board member
for Arkansas State Animal Control Association, and is Arkansas' representative for the American Animal Cruelty
Investigation School.

Council member Holt asked if this ordinance would make his job easier or harder, and Mister Davis gave an example
of a dog being strangled by the way he was tethered. Under the current ordinance Animal Control could do nothing
about what was an easily preventable situation. Member Holt talked about how his dog once growled at some
teenagers and was considered to be a dangerous dog, and he felt he had to surrender his dog to the shelter. Holt is
opposed to the ordinance because he believes this is a people problem and not a dog problem, and considers that you
cannot regulate people. Mister Davis said since Holt's dog was not on a leash at the time--he was considered to be an
at large dog.

Council member Mosley asked Council member Shin about a suggestion to divide the ordinance into two parts. Shin
asked the City Attorney if a new proposal could be made by the next meeting. She replied that she did not previously
know that this would be a request.

Council member Gardner made the point that while the Supreme Court has ruled that cities can ban certain animals,
they have not ruled if it was just.

Council member Saunders expressed support of dividing the ordinance.

Ordinance 1023 Amending Maumelle Land Use Plan, changing the legal description that was previously designated as 
OS (Open Space) to PRD (Planned Residential Development) had its third reading.

Gib Carpenter spoke his opposition against the Amendment. He was concerned about how I had requested the
Council packet include an appraisal provided by Central Arkansas Water and CAW's summary of the costs to
demolish and restore the property, which were both $353,000. Then he asked why we would be interested in know
the price of real estate... and ran out of time. The answer to why I asked these to be included packet was answered later.

Greg Ramer spoke against ever rezoning the property. He feels that the traffic on the proposed road would
create a situation of dodge ball trying to cross the road. 
He felt the traffic would be like a typical city street.

Brad Fredrickson spoke as the President of Maumelle Country Club, and how important he felt this issue is to the
Club. They would like the property. He knows of one family that moved to Maumelle because of the club. He
questioned the need for five houses to be added to the city of Maumelle.

Ron Harris said he is just a builder standing in front of the council and trying to work with his neighbors. He talked
about how he will resolve the club's drainage issues, and is considering added a racquet ball court to help the club,
and how any plans would still go to the planning commission and then back to the council.

Council member Mosley wanted to ask Mister Carpenter and questioned the appraisal. Again he questioned the role of
the council to ask questions of this sort. Mister Mosley also thought that this was nobody's business. The city
attorney said that the valuation could not be considered in zoning.

Council member Mazzoni expressed concerns if this was zoned PRD if the current development falls through, might it
not become something else? (The builder has expressed previously that he would commit restrictions on the deed to
prevent this from happening)

I then explained one reason I wanted to include the appraisal in the package. We had heard from the Club, the developer and
the City on this issue, but nothing from CAW. So I contacted them, and inquired about the costs of restoring the land,
which is something all the residents of Maumelle are paying as part of the conversion to CAW. I then asked if they
had done their own appraisal, and shared what they provided to the rest of the council. This was not done to establish
a valuation for zoning, but to learn how far apart the Club's offer is from CAW's evaluation, since the club continued
to say how they wanted to buy the land. I wondered how real that possibility was. But the most important reason for
including the appraisal in the packet are discussed later.

Council Member Holt asked questions about switching from Open Space to PRD. He wanted to know if we have
made a change of Open Space before. Planning and Permits Director Grummer said he has not done the research to answer that.

I then asked Mister Grummer to confirm the recommendation of City Staff and the Planning Commission--
both gave this Zoning Change a Do Pass.

I then explained how I wanted the appraisal shared because of the great deal of information it included
(people kept saying come take a look at the property, and here was a professional and unflinching look at all
the details). In the appraisal it discusses how the current path utilizes a 50 foot easement,
One thing I'll share here that did not come up during the discussion was how many members of
the Club sent many pictures of them using the path, essentially making a case for the need to bring
this pathway up to City Code.

Mr. Grummer confirmed that the builder said the proposed road would fit into the pre-existing area. He
also confirmed that the traffic would be less than what it was previously when a CAW. A personal aside
here, I live on a cul-de-sac, and these do not generate the traffic that a through street does. In most of the
letters in opposition, they made the argument as though this would be a through street. It will not. It's a
dead end with the one way in being the one way out. The builder said he had not yet decided if he would gate
access or not. This could certainly preclude any extra traffic. With the proposed PRD, any conversion to a
road will still first go to the planning commission and then again to the Council for approval. So concerns
over the welfare of the club and its patrons will be protected. The concerns expressed in many letters was
addressed, including my own.

Previously I had voted against a Zoning and Land Use change on this property, when it was proposed to put
in 15 condo units. In that case I agreed with Club members that such a development could create a
hazardous situation with too much traffic. The new proposal dealt with those past concerns.

Council Member Mosley said that there currently was no traffic and that this change would affect 1000 residents.

The Ordinance passed by a vote of 5 to 3.

Ordinance 1024 Amending the Maumelle Zoning Map, changing the legal description that was previously designated
as OS (Open Space) to SUR (Special Use Residential) on the same property as the last ordinance had its third reading.
The motion passed by a vote of 6 to 2.

Resolution 2021-7 Approving a Conditional Use Permit, granting a conditional use permit to St. Nicholas Episcopal
Church to locate a church in a C-2 zoning district passed unanimously.

Ordinance 1025 Amending Maumelle Land Use Plan had its first reading. This is the area between old Kroger
Building and Commerce Drive, proposing to change if from commercial use to allow for senior citizen housing.

Ron Harris again addressed the Council and spoke about how the owner had been able to do nothing with this
property for some time. This area would have a Property Owners Association to provide residents with leverage over
the health care provider. 

Council member Mosley asked what the staff recommendation was for this area. Director Grummer said that staff
gave a Do Not Pass to keep this area commercial, which has not been developed over the last 20 or 30 years. The
surrounding property is C3 which does not allow residential, and did not feel it was compatible. He said that the
owner has met with the staff since that decision and would be willing to work with the city on a C2 zoning.

Mosley asked the Mayor his opinion. Mayor Norris said he is an advocate of private property rights. His concern was
about business shifting to other areas of town. The City Attorney then read the type of uses in C3. With the applicant
willing to rezone to C2, the Mayor said he had no objection.

I asked Mr. Grummer to confirm what the recommendation was by the Planning Commission. He confirmed that they
gave this a Do Pass recommendation.

Council member Gardner wanted to clarify with Mr. Grummer that the C2 recommendation would satisfy the City
staff's concerns. Mr. Grummer said, "It's does, somewhat." It offers an opportunity to separate the residential from
commercial use. He spoke of a previous residential area near to a commercial use where there were complaints about
noise coming from the commercial area. There was also a discussion about difficulties connected to developments
being built on hills.

Council member Mazzoni asked about the increased need for emergency responders should we add a senior citizen
area. Mr. Grummer said these conversations have been had, and there was a potential cost to the city.

This was the first reading.

Ordinance 1026 Amending Maumelle Zoning Map dealing with the rezoning an area along Commercial Park Drive,
changing it from C3 to PRD had its first reading. There was no discussion.

Ordinance 1027 Enacting Supplemental Provisions had its first reading. This is an administrative ordinance. Council
member Gardner made the proposal to have all three readings made tonight. The motion failed by a vote of 5 for and 3
against. It needed a two-thirds majority.

Mayor Norris discussed an issue where the City received a grant, and someone on the Council had made a comment
to someone on the board that made them unwilling to assist in playgrounds in the future. What was said was not
revealed, nor was the identity of the person making the comment. Council member Williams thanked the Mayor and
suggested that the council send a thank you note. I agreed with the suggestion and offered to do the same.

The council meeting concluded after mere three hour marathon.
March 1, 2021 Update



Tonight's City Council was another hybrid meeting, with two council members attending virtually.

Mr. Phillip Rayburn gave an update on Parks and Recreation. Youth basketball has
concluded and adult basketball starts in a week. Pickle ball is currently under way, and
requesting more courts for play. Shelly Horton is the new aerobics instructor at the Civic
Center. Outdoor facilities are being prepped for Spring. There was some freeze damage
to several different park bathrooms during the storm. Parks and Recreation also did
some clearing of City parking lots during the snowstorm. The Splash Pad is progressing.
An Easter Egg hunt is being planned a couple of different ways, but hopefully we can
return to the traditional hunt this year. Barriers erected around the park entrances kept
four-wheelers out of the parks during the storm.

The Planning Commission report was given by Council Member Williams. A church was
granted an approval from activities at a strip mall. Two other items gained a Do Pass
that will be coming before the Council in upcoming weeks.

Ordinance 1022 amending the City Code dealing with hazardous animals had its first
reading in its updated, revised format. Public comment cards were read by Tina
Timmons, the City Clerk. One spoke in opposition of lifting a ban on pit bulls, and
requested it be put to a vote and asked why Council persons would oppose that. another
spoke about an Ohio study dealing with dog bites, and said no one had answered her
question on how the new ordinance would improve matters (I had answered these
questions for her by email). A third comment focused on pit bulls
being trained by certain owners to be violent. Jeff Van Patton, who I have spoken with
multiple times, spoke in person in opposition to the change and also asked to put the
change to a vote.

Council member Mazzoni spoke about feedback he had received over his rewrite in the
last week. The questions he had been asked all dealt with insurance questions if an
owner has a dog declared dangerous. He made a motion to add an 8J clause to specify
required proof of public liability insurance in the amount of $100,000 to insure against
personal injuries caused by the animal be provided to the City Clerk or Animal Control
Supervisor. The motion carried by a vote of 7 to 1.

Apparently the "or Animal Control" part of the motion was dropped during the
discussion, and a motion was made to add that to the amendment. During this
discussion Council member Saunders expressed concern that the $100,000 would be
sufficient. His microphone had cut out and he missed this earlier. Council Member
Mosley expressed similar audio and insurance levels concerns. The vote at this time was
just to add OR ANIMAL CONTROL. The motion passed 6 to 2.

The City Attorney advised that we needed to do another first reading.
A motion was made to do another first reading with the changes.
Both virtual Council members again expressed difficulty keeping clear on what was
happening. The motion passed 7 to 1.

Ordinance 1022 was once again read for the first time by title only.
Council Member Mosley mentioned dividing the ordinance in half, then lost his video again, and
suggested that the ban be made into a separate issue. He suggested a primary election
cost in 14 months would only cost several thousand dollars, and a special election
around $30,000 according to election officials he had spoken with. He once again made a
motion to table the ordinance.

Council member Gardner commented, as did I about how the Council has a job to do.
I mentioned how the feedback I've received from residents has been 5 to 1 in favor for
making this change, and how no one is addressing the issue that every year there are
two dozen bite attacks being reported to Animal Control.

Council member Holt mentioned that his feedback was three to one against the change,
and argued that there was no reason to make a change.

There was some other discussion by Council member Mosley implying that his was a
social question that would only benefit a few people and not benefit safety.

Council member Gardner mentioned how other local cities have had no problem
after making this change.

The motion to table this ordinance until December 1, 2021 went to a roll call vote.
The motion failed.

Council member Mosley asked to talked with Animal Control. He verified that there are at
least 6 pit bulls living legally in the city as support animals, and 3 that are currently being
verified as to their breed. Animal Control stated that the current law is being enforced.
When asked, should the law be changed, how many dogs would come into the city--
if it would be 100 or 1000, he could not guess. Mosley mentioned that
people had reported illegal animals in the city to him and that he would forward them to Animal
Control for investigation.

Mayor Norris then mentioned the problems enforcing a ban breed because of
identification, and how it relies on vet records rather than what the dogs look like. The
current ordinance provides no way to deal with them.

Council member Mosley then asked Council Member Shin is he would support a
referendum. Shin replied that he would prefer to take care of the matter now. Mosley
said he would be making his table and referendum motions again at the next meeting.

Ordinance 1023 amending the land use plan at the Country Club area that was formerly
the water treatment plant had its second reading.

Former Council member Marion Scott asked why not zone it R1 instead of PRD?

Brad Fredrickson, president of the Maumelle Country Club asked to give a presentation,
but technical difficulties kept them from being shown. His focus was on how the
property in question is Open Space and right in the middle of the golf course. Then the
graphics came up and showed what he was discussing, with a focus on how he felt that
traffic would be a problem.

Ron Harris then spoke about how he had been encouraged to go PRD because it gives
the City more control over what would be built on the land. He offered to show pictures
of the homes he proposed to build, saying they were large and pretty.

Council member Mazzoni asked what Mr. Fredrickson thought was the best use of the
land. He said it would like to expand the golf course into the area. Fredrickson once
again focused on the traffic, and worried about having houses in the middle of the course.

Council member Gardner clarified with the City Attorney that the City Council would
have approval of plans in a PRD, which they would not with R1. She pointed out that
with PRD a higher density could be built.

Council member Mazzoni asked what happens if the property were later sold.
The City Attorney said the Planning Commission would still have approval of any
subsequent construction, and would probably allow whatever was according to code.

Council member Mosley asked Mr. Fredrickson about membership, which is around 800
members without children. He also expressed concern about what might happen in the
future should the change be approved. He then asked the City Attorney to read the City
Code aloud.

Ordinance 1024 amending the zoning map for the same former water treatment area had
its second reading.

Resolution 2021-5 adopting the Pulaski County Hazard Mitigation Plan had been
tabled during the last meeting so we would have time to look through it.
The resolution passed unanimously.

The Mayor advised that the next Council meeting would include the State of the City
report, and that the meeting will likely run long. He mentioned that the state mask
mandate may expire at the end of March, which would happen if a State of Emergency is
not renewed, which will take the Council back to live meetings. He then discussed the
pot hole problem in the city after the recent snow storm, describing certain sections a
looking like a war zone, and advised they be reported through the app SeeClickFix, or
report it to the Mayor's office. The costs of responding to the storm are still being figured,
which may exceed the amount budgeted for emergencies.

CAW has sent a letter about how Maumelle did not have the problems during the
storm that they saw in surrounding areas, and complimented Maumelle residents for
their teamwork during the crisis. Council member Mosley also complimented CAW.


February 22, 2021 Update


Tonight was another hybrid meeting with one absent.

Ms.Mathis gave the January 2021 financial review.

Chief Ezell gave a review of the Fire Department. He discussed how the Muamelle Fire
Department continued to run medical emergencies last year when other fire departments
around the State stopped after the Covid-19. After a year of exposure only 4 out of 40
employees running 1900 calls were affected by the pandemic.
He also discussed the recent difficulty with the snow storm that resulted in 84
emergency calls.

Ordinance 1021 amending the. Maumelle city code to reduce the number of copies
required for preliminary and final plat submission had its third reading.
The Ordinance passed unanimously.

Ordinance 1022 to amend Chapter 10 of the Maumelle City code dealing with hazardous
animals and written by Maumelle Animal Control had its second reading. Two written
public comments were read into the public record by the City Clerk that were opposed
to removing the Breed Spedific Ban.
One resident spoke to the board in favor of the removing the Breed Specidif Ban.
Council Member Mosley then spoke against the removal of the Ban and asked to have a
referendum vote.

The City Attorney explained that such a vote would require a 2/3 vote by the Council
and other timelines required by the procedure, just to get it to the County Clerk and how
the City would be required to pay for all expenses involved.
A minimum of $15,000 to $30,000 would be the expense to put this issue to a vote.

Council Member Mosley then asked to table the Ordinance indefinitely.
His motion received a second and went to a vote.
After some discussion the motion failed.

Council Member Mazzoni then made a motion to amend Ordinance 1022 with a
document submitted to the Council shortly before the meeting. As Council Member
Williams pointed out the the revision gave greater power to Animal Control.

My question to the City Attorney was how it compared to the previous ordinance.
Her only concern was that the increased ability of Animal Control to designate and
animal dangerous could get complicated.

Other Council members expressed that they had not yet read the new version and would vote no.

A motion was made to amend the Ordinance and withdrawn when another was made to
table the second reading until the next meeting. Then he was informed that you cannot
table the second reading, but could request an extra reading. That motion was withdrawn.

So no motions were left on the floor.

Council Member Williams then made a motion to accept the changes and seconded.
Not sure if that second was recognized as made by myself or someone else.
Council Member Mosley described the meeting as Saturday Night Live and everyone laughed.

The vote to accept the rewritten amendment passed unanimously.
It the Ordinance now goes to first reading at the next meeting.

The new verion of Ordinance 1022 as at the end of this report.

Ordinance 1023 amending the Land Use Map had its first reading.
This deals with the former water plant surrounded by the property of the Maumelle
Country Club. The City Clerk read into the record one comment by the President of the
Maumelle Country Club who is opposed. He discussed the price different between what
the club was offering over the purchase price offered, which is far greater and would go
to reduce the CAW takeover expenses that City residents are paying.

The developer spoke in favor and expressed hope to work with the Country Club.

Director of Planning and Permits Scott Grummer explained how last year's failed request was
for changing from Open Space to R1, but the difference is that last time the proposal
was for 16 multiple-family units, and this time it is for 5 single family units in a PRD.
This Ordinance is just for the rezoning, not for the proposed plan.

There was some discussion. One question was if it was rezoned, what if something else
might go into that spot. Mr. Grummer pointed out that any changes would still need to
be approved by the Planning Commission and the Council. He also pointed out that if it
had gone to R1, then previously the Council would have lost that approval process. With
the PRD the Council retains approval control.

Mayor Norris pointed out that other types of uses could come in with PRD, and the City
Attorney also pointed out how the Planning Commission and City Council to approve.
He considered PRD to better than R1 because of that approval process.

Mr. Grummer pointed out that the proposed impact use would be less than the previous
use that was made by the treatment plant.

There were other discussions and clarifications of the history involved and intent of the
different zonings.

The question was asked by Council Member Mosley about what "Other" means in Code
54-79 item 7. The City Attorney replied that it means changes other than just to the
proposed area meant for the designated land use.

Council Member Mosley commented about how he felt this was illegal Spot Zoning in
order to increase property values.

Ordinance 1024 amends the zoning map for the same property in the previous
ordinance. By this time everyone had said what they wanted

Resolution 2021-5 adopting the Pulaski Country multi-jurisdictional Hazard Mitgation
Plan for the City of Maumelle. This 150 page document was made by the Little Planning
and Development District and surrounding counties. FEMA requires such a plan to be
made. This plan also names Fire Chief Ezell as Maumelle's representative. Council
Member Mosley (who was very active this meeting) expressed concerns about the
contents, since it had not been made available to the Council. Mayor Norris pointed
out that this document does not have the force of law. A motion was made to table this to the
next meeting so we could have a chance to read it, and passed unanimously

Resolution 2021-6 conforms the terms of previously appointed members of the Civil
Service Commission to six years as required by State Law. Currently terms are 5 years. It
passed unanimously.

This concluded the new business, after which the Mayor discussed the work done at
public works by the snow crews during the recent winter storm. There were 14
people who did not go home for a week, running the 4 snow plows 24 hours a day, or
until they broke down and had to be repaired--repeatedly. By the end of the storm
the city was down to 1 operating truck and two loads of sand left.

The Fire Department also tried to deal with the issue of broken pipes that Central
Arkansas water could not handle, and the Police Department had a 128 calls that were
weather related and rescued stranded motorists. They were also giving rides to critical personal.
Finance was also working to maintain payroll. Mayor Norris also thanked the residents of Maumelle
who were actively helping each other when stranded, and delivering groceries. He also
thanked Entergy for the fact that we had limited power outages.

I and others thanked the city services for their work, and complimented the Mayor for
his leadership during this time of crisis.

Here is the new rewrite of the 1022 Ordinance.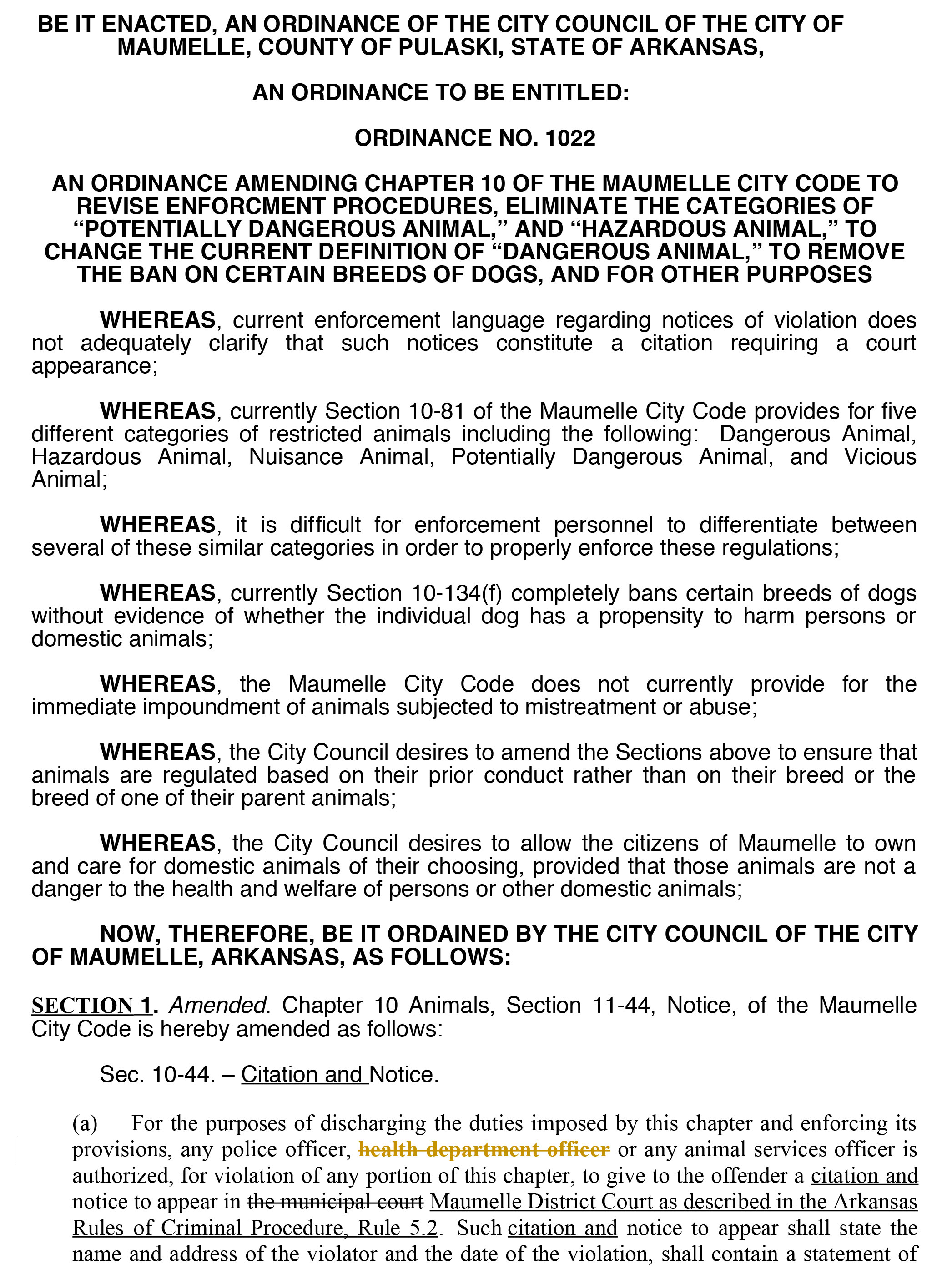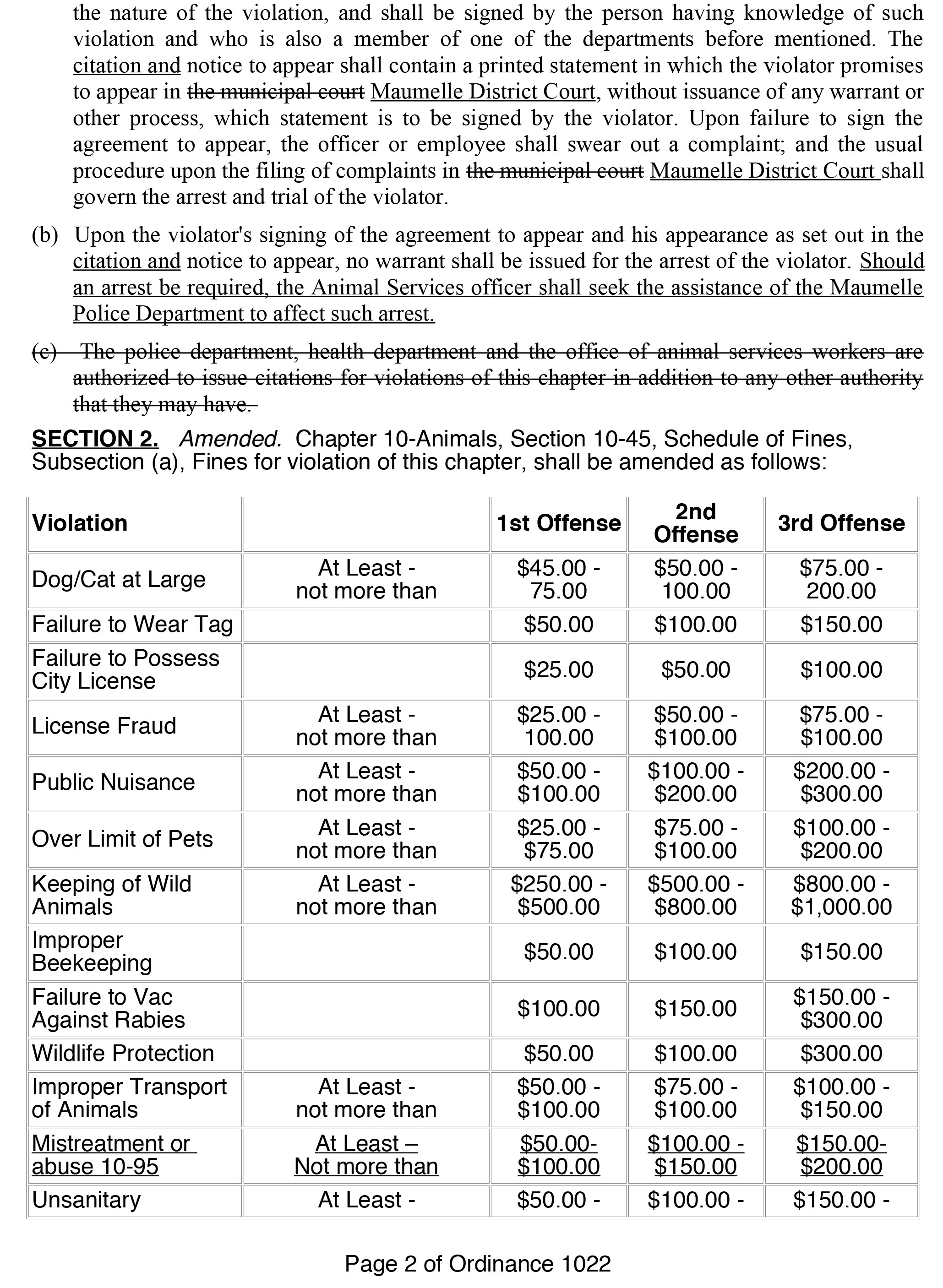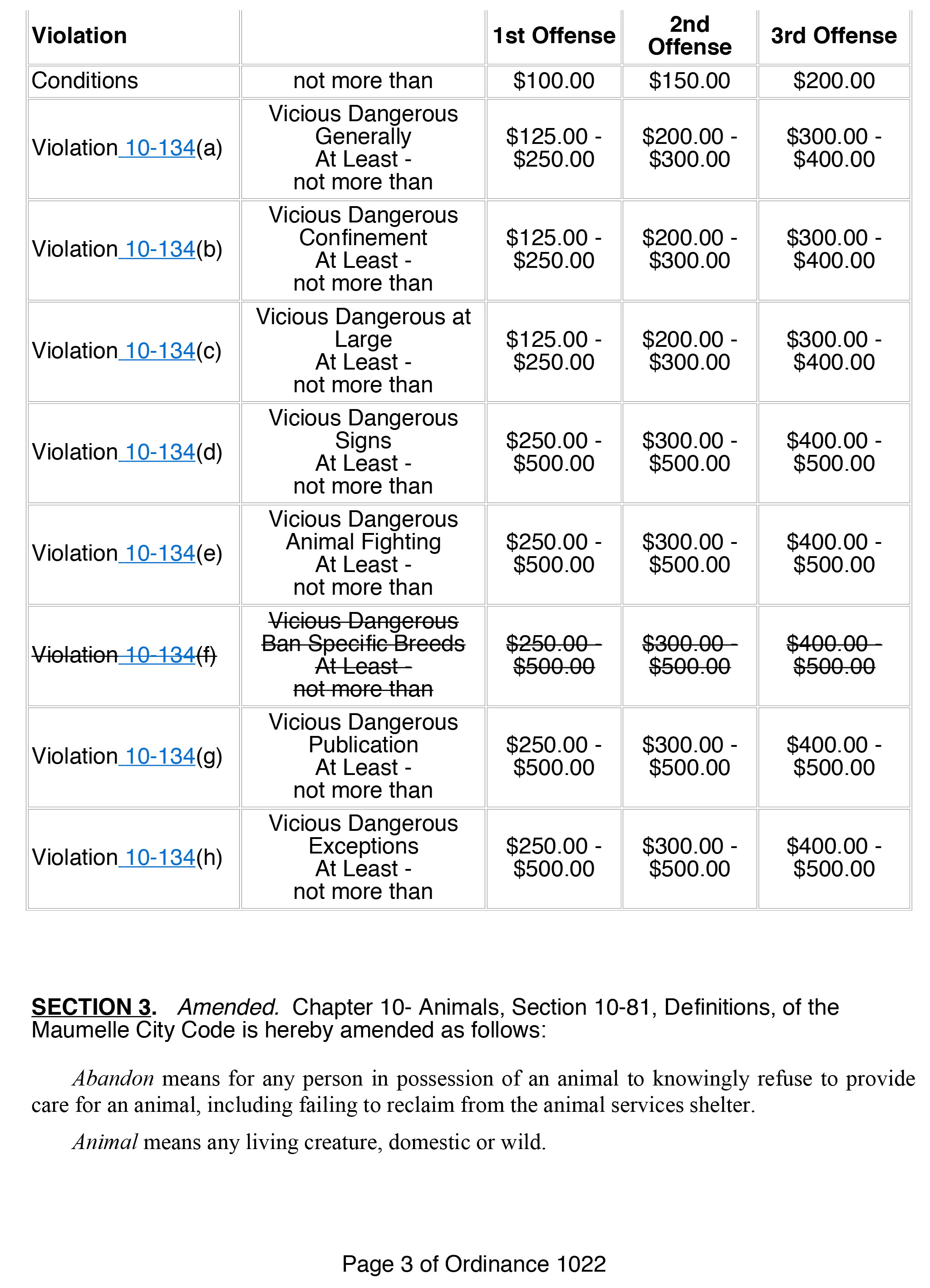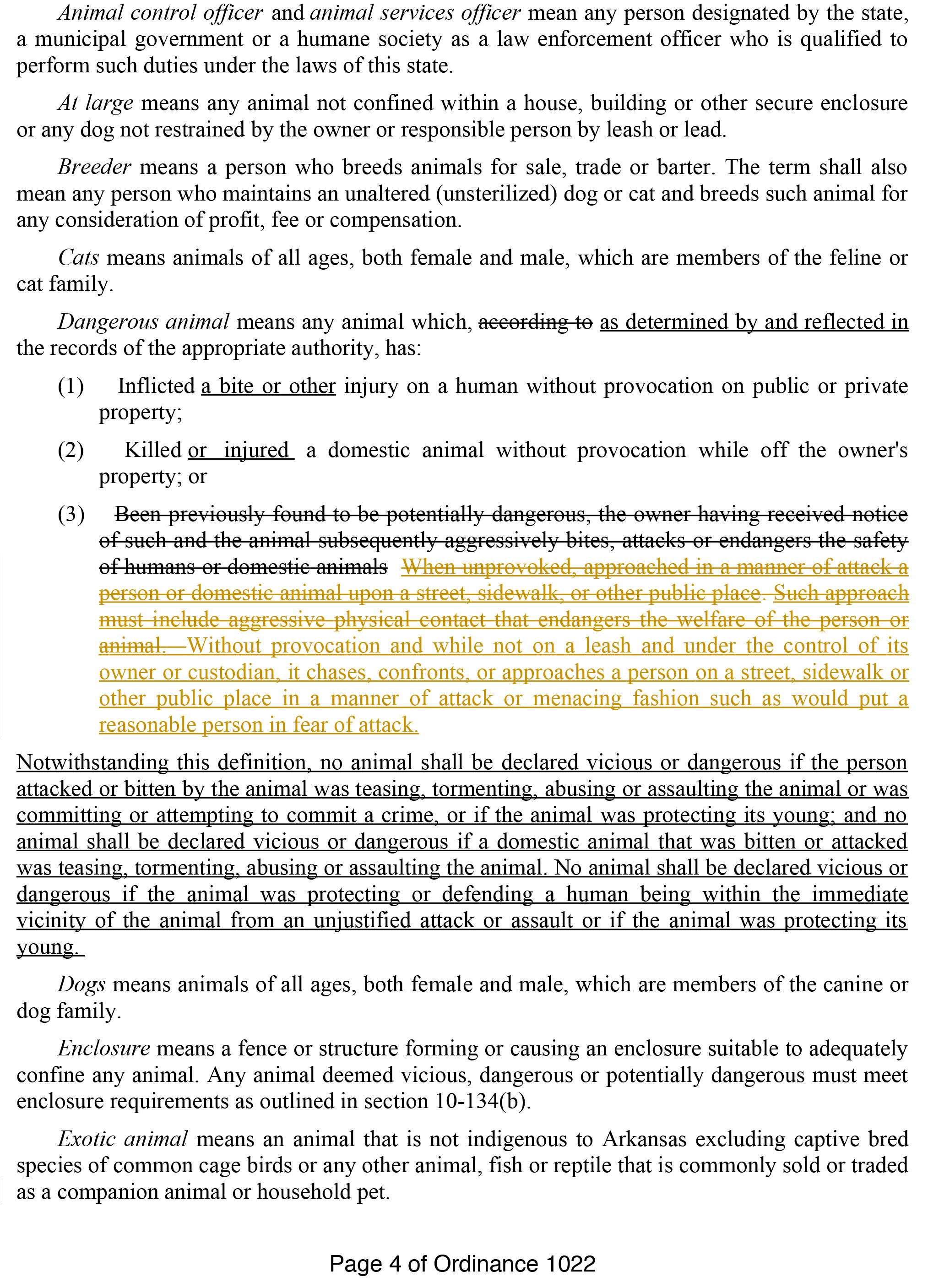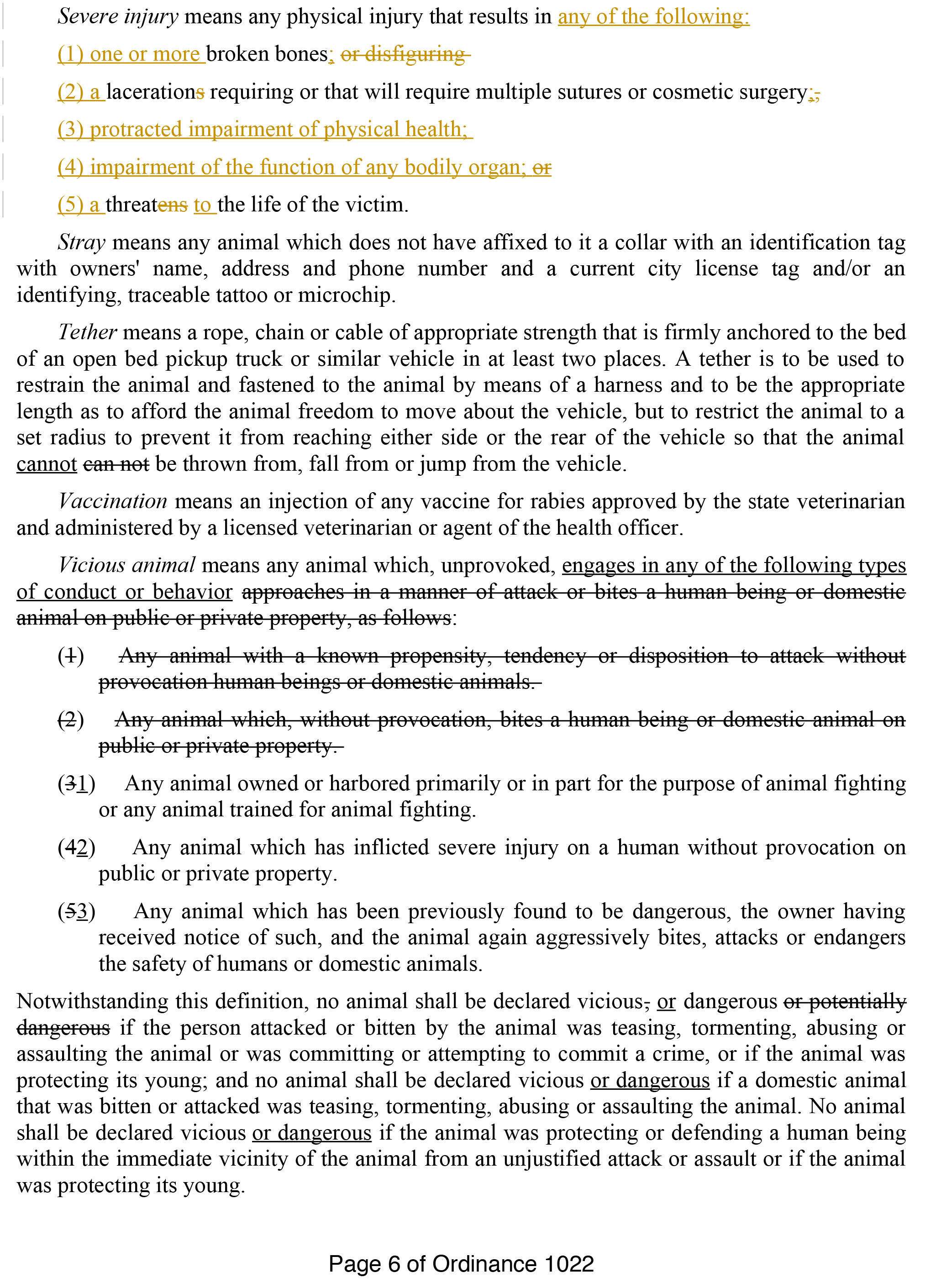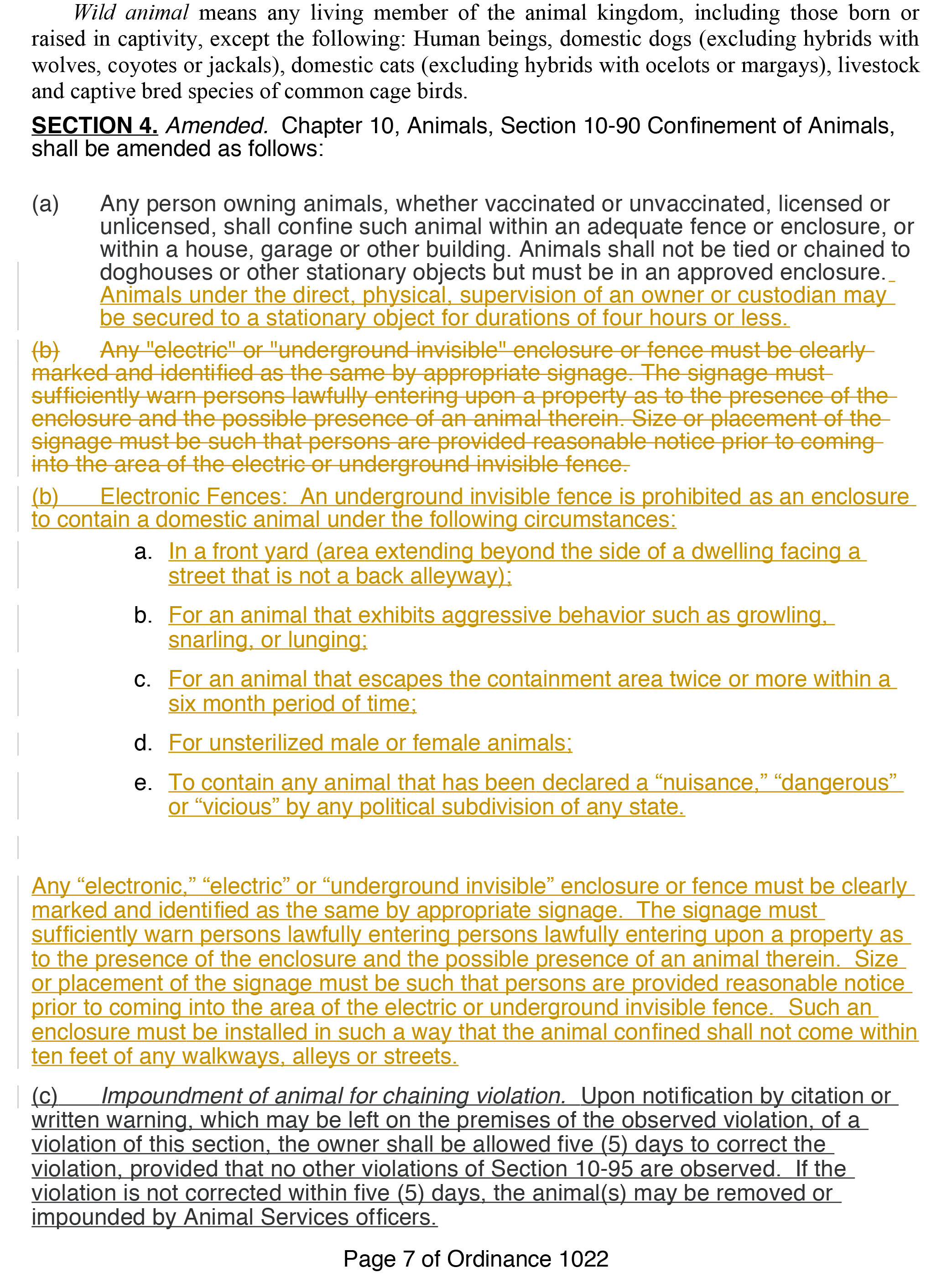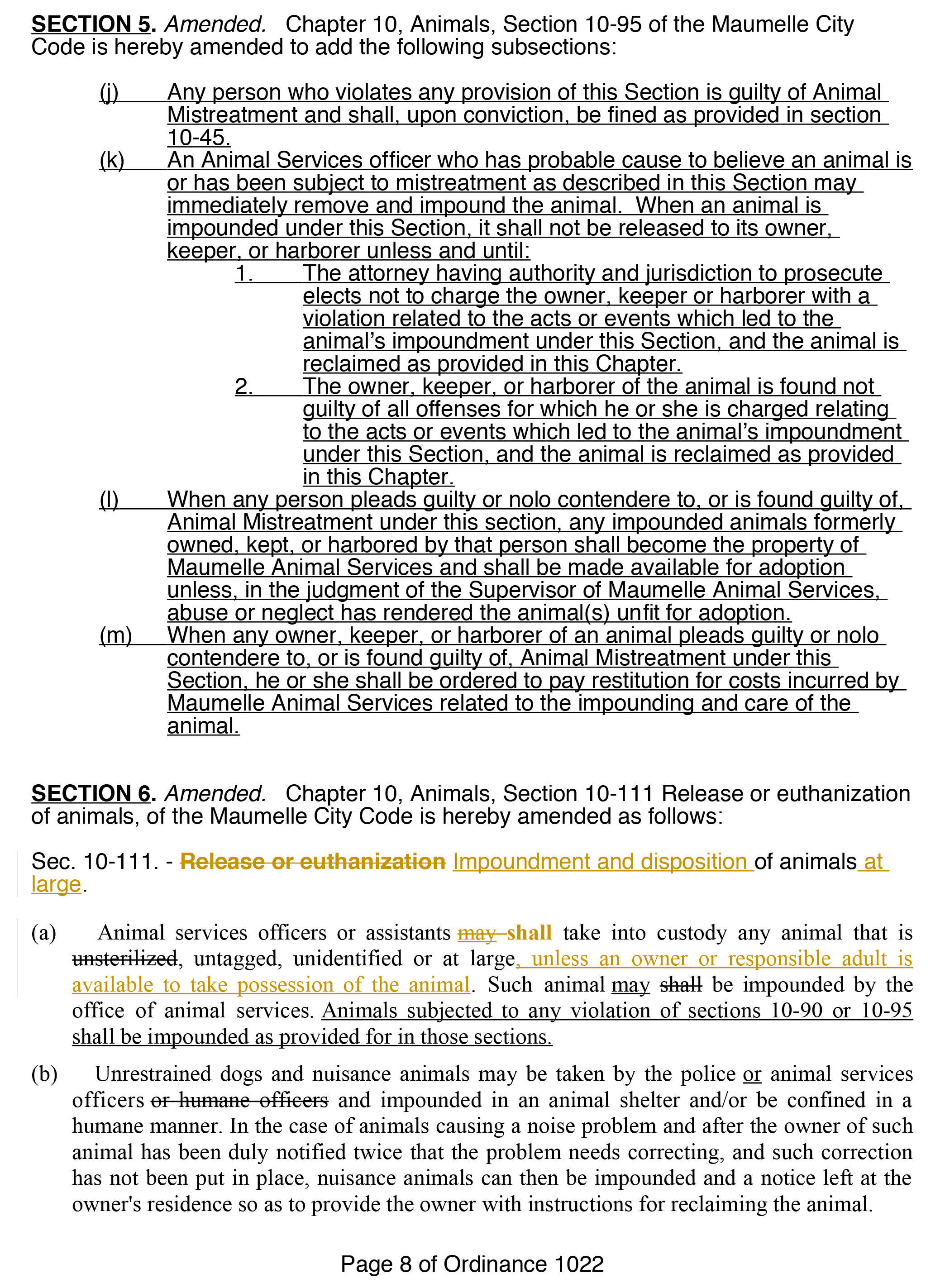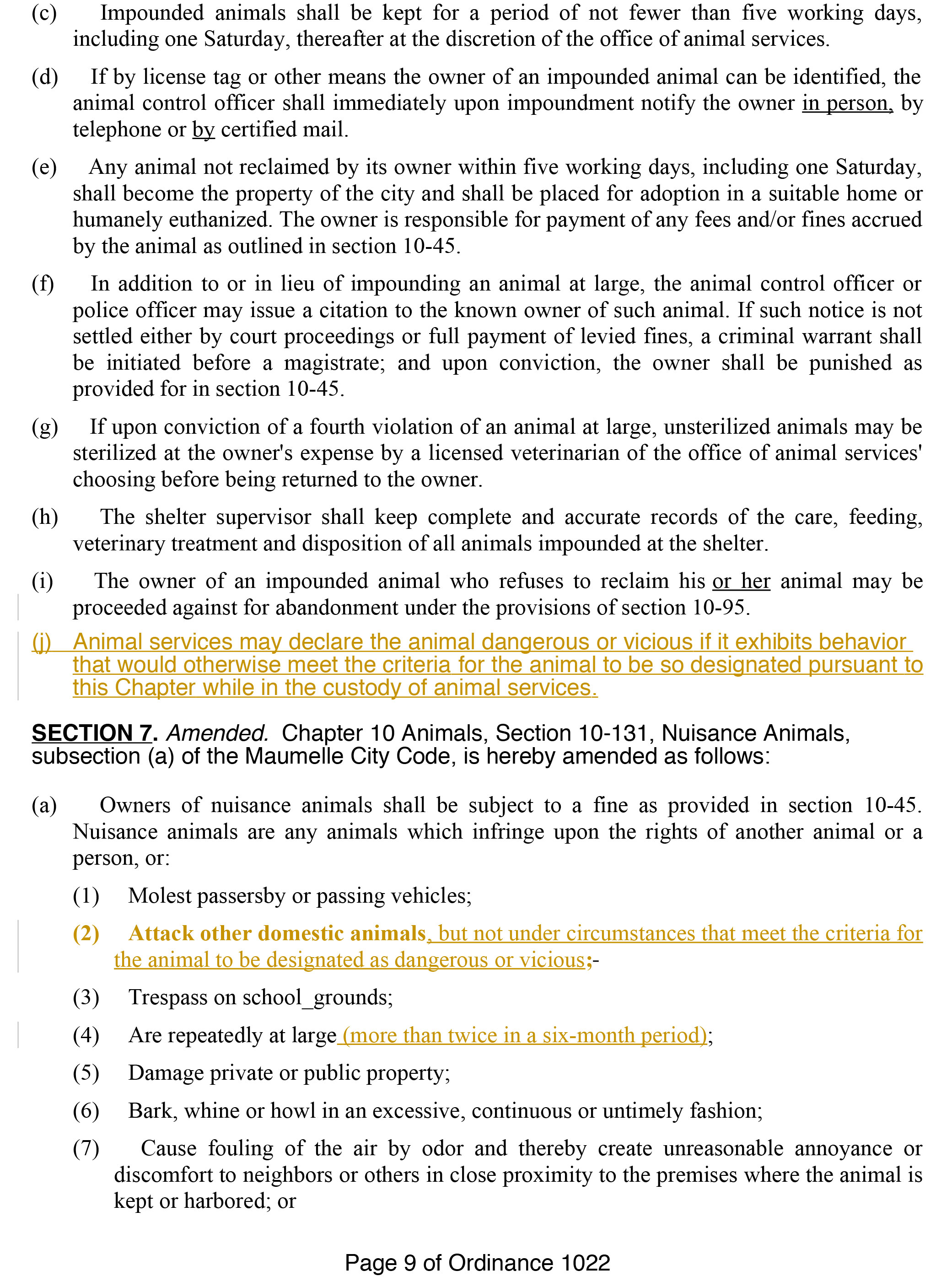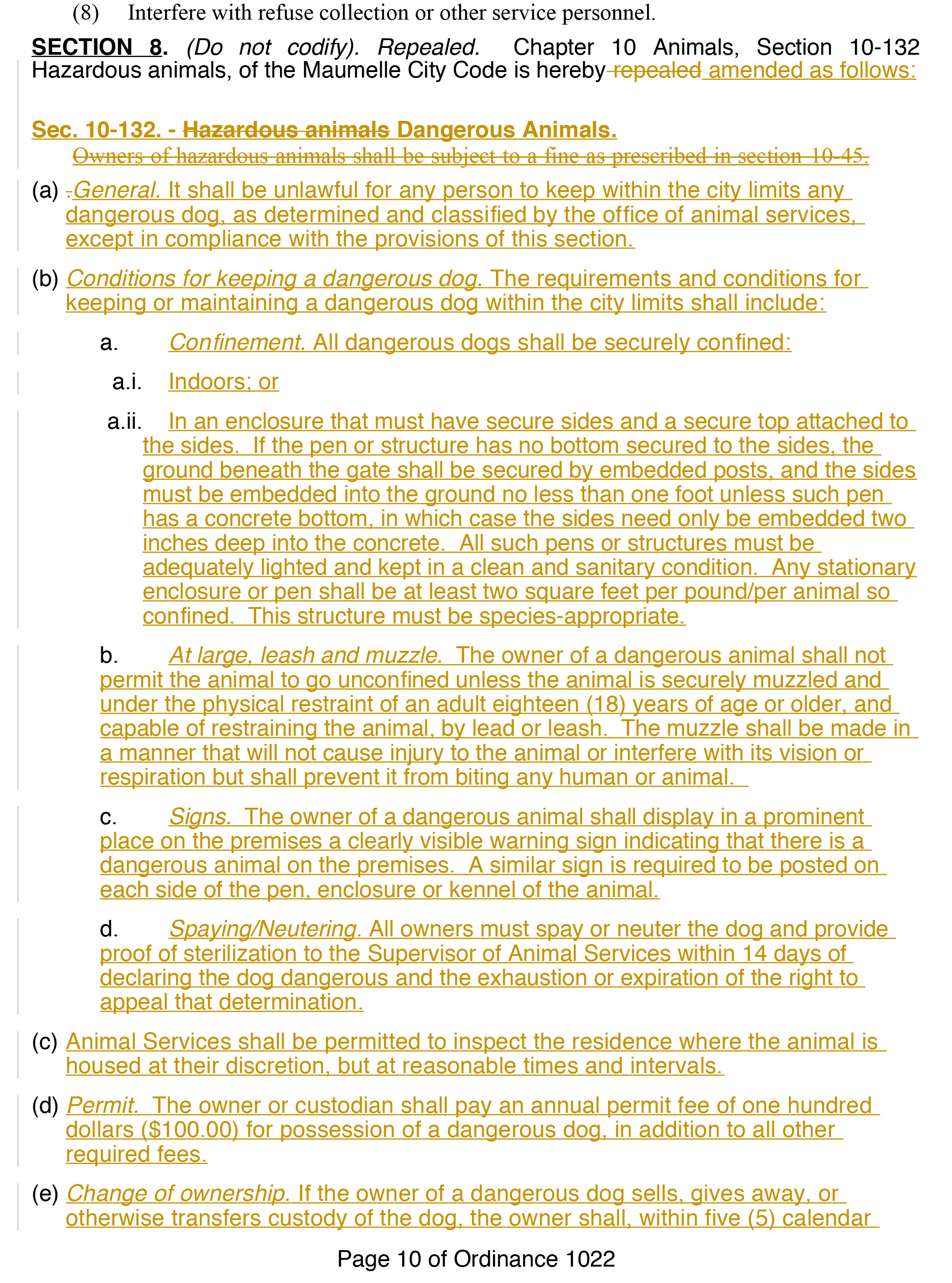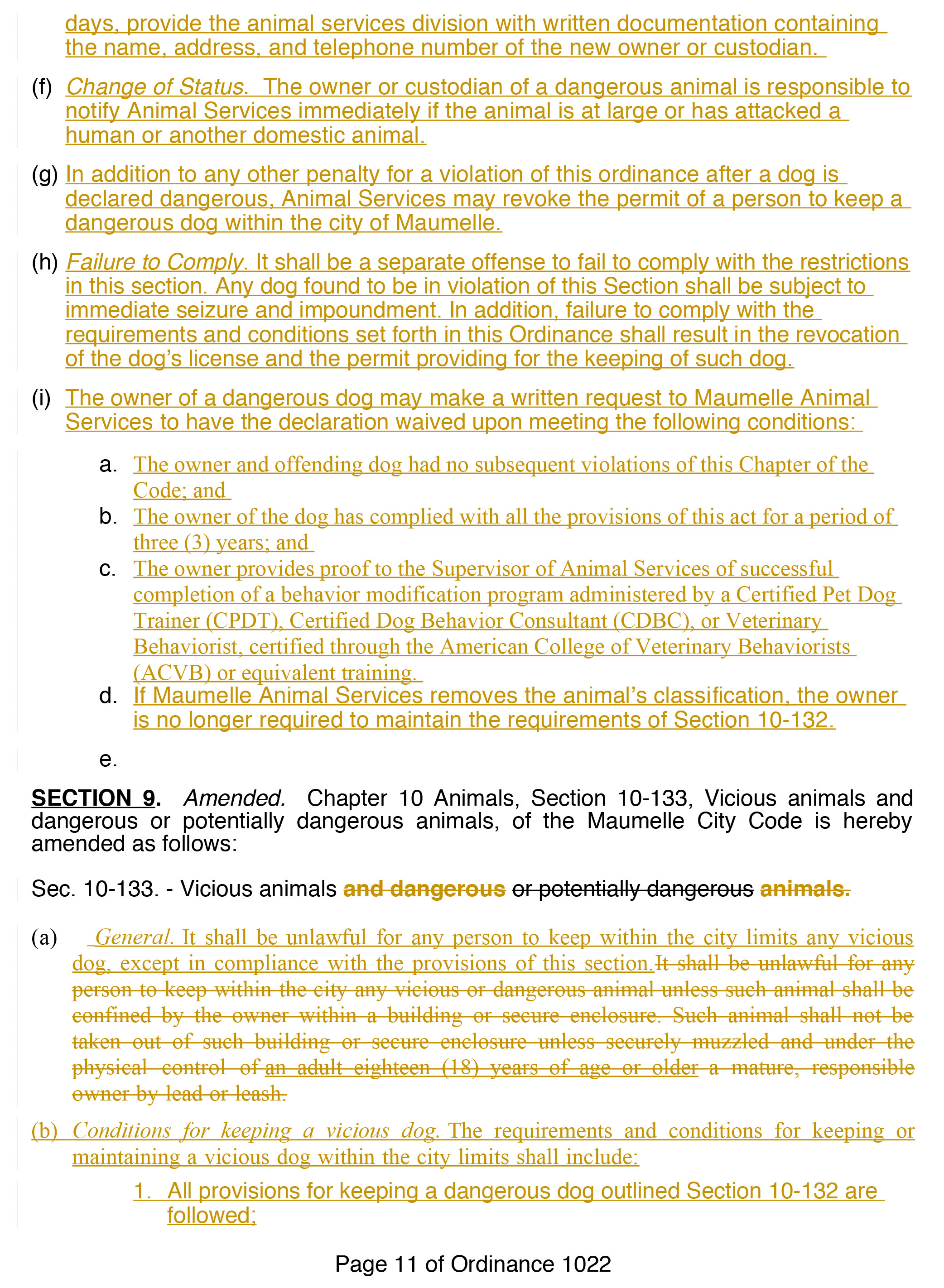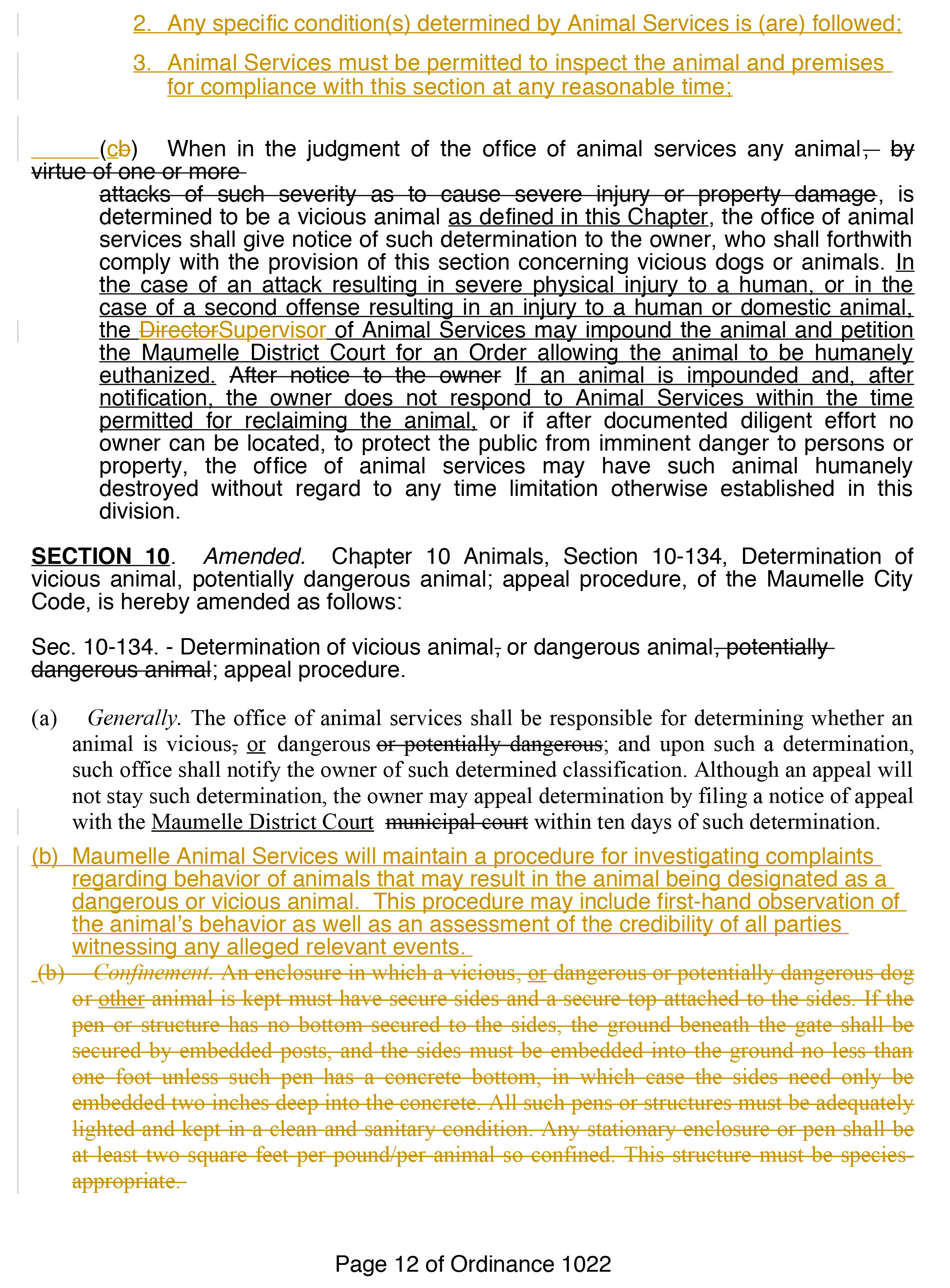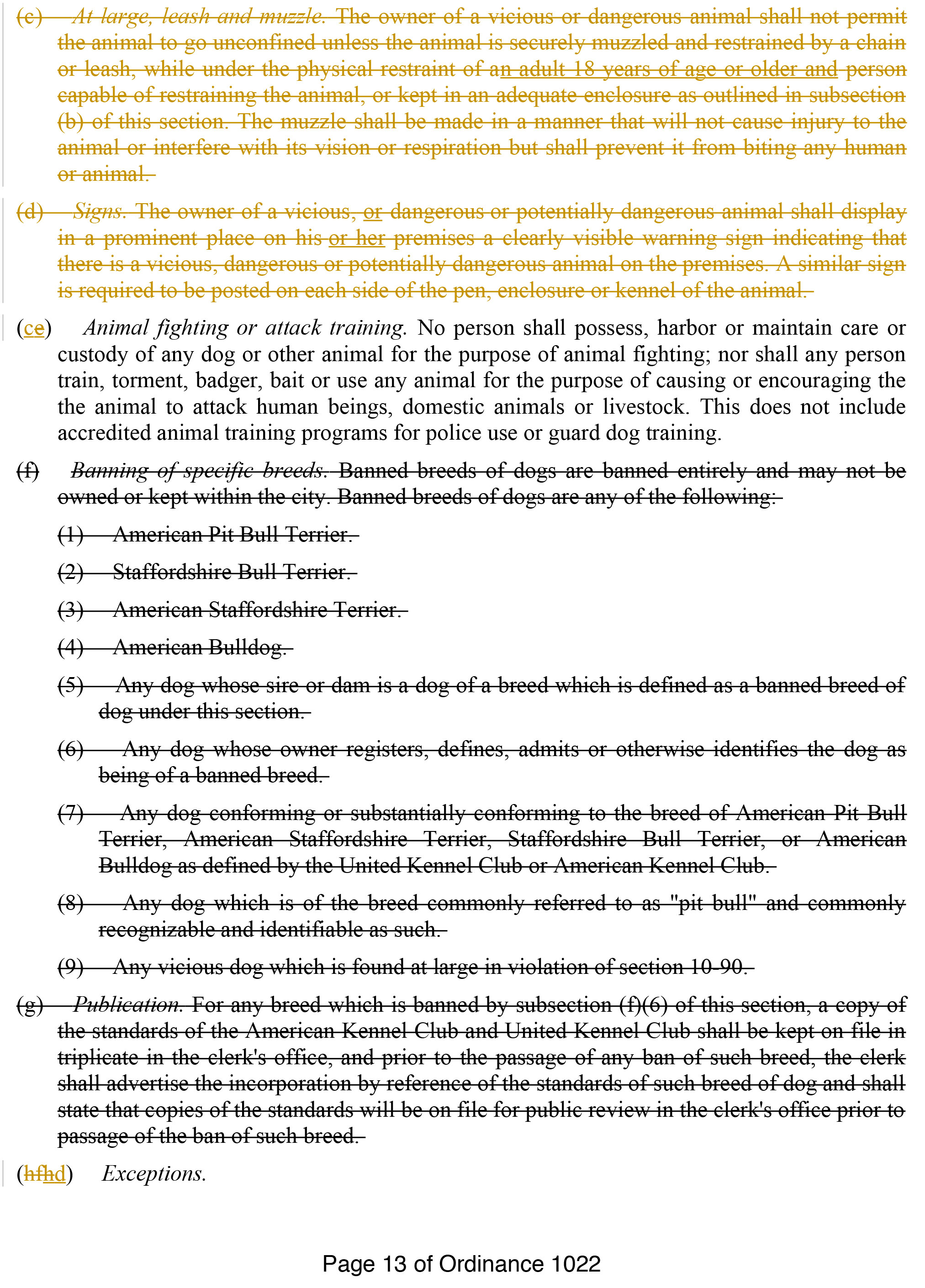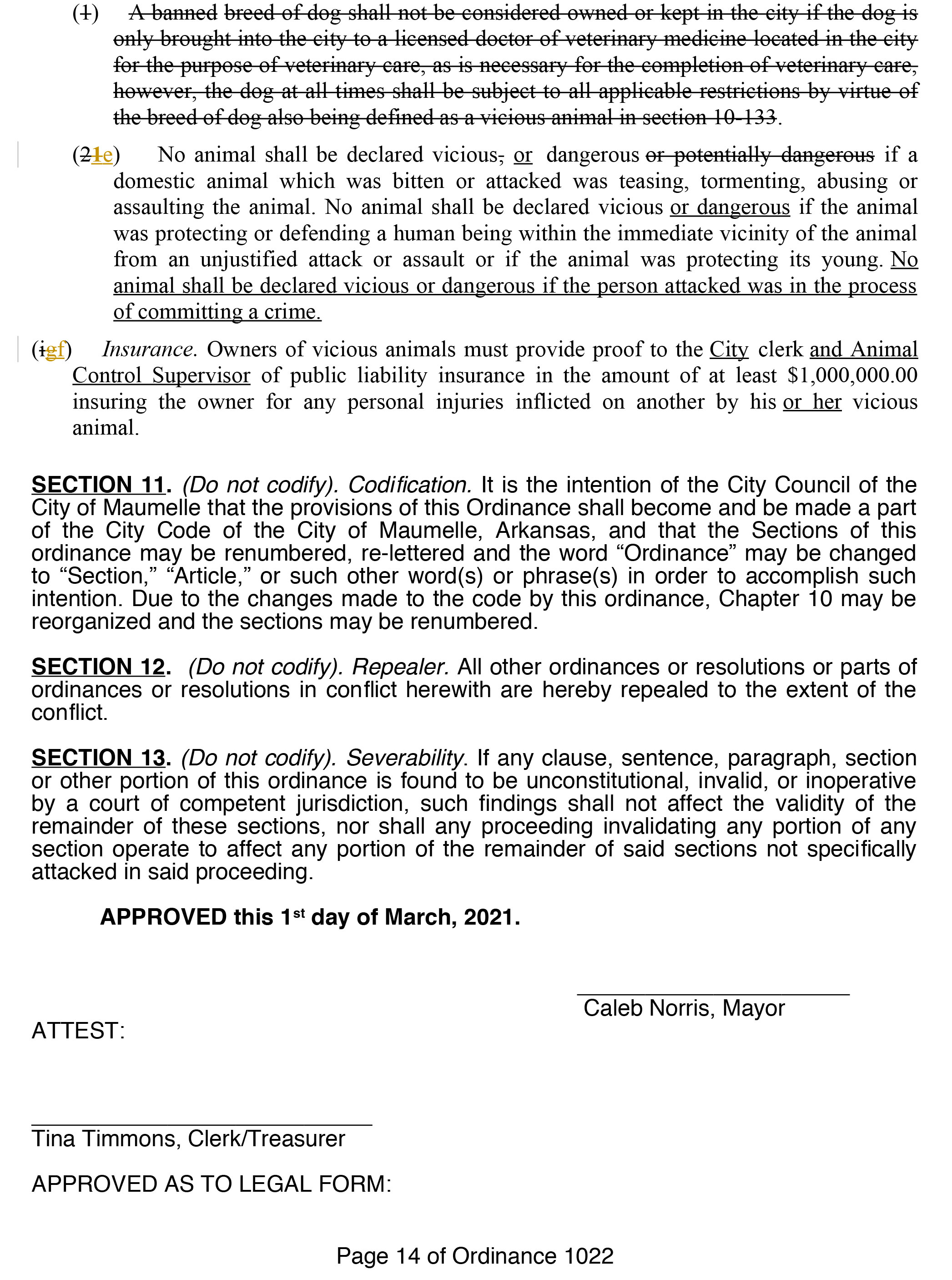 February 18, 2021 Update


City offices remain closed today.

Trucks with snow plows are working to clear the main traffic arteries and intersections.


February 16, 2021 Update


Due to the lasting effects of the snowstorm that has blanketed streets and closed city services,
tonight's City Council meeting was postponed until next Monday, February 22.

All but critical City and State services will be closed again tomorrow.
Everyone please stay safe--and keep your faucets dripping during the freeze.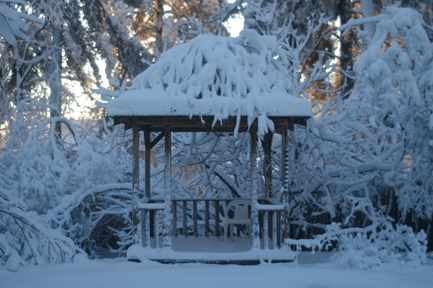 February 9, 2021 Update


Due to inclement weather, this week's closure for widening I-430 has been postponed.
So any travel plans you might have cancelled for Valentine's Day are back on.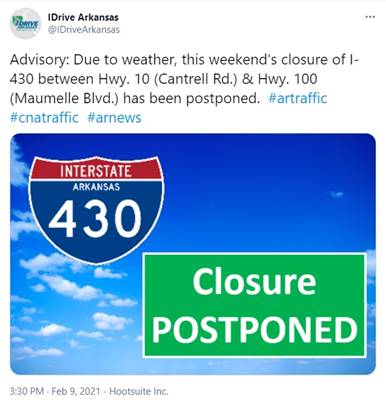 February 8, 2021 Update


Ordinance 1022, dealing with dangerous animals., has come before Council with a rewrite.
I've received many emails encouraging the change, and some opposed to it.
Because this is a very emotional issue to both sides, I wanted to provide an in depth analysis with
facts that everyone should be made aware of.

One email opposed to the rewrite made this statement:

"Please keep the current law in place and continue to insist on safety first."

This is a contradictory statement.
The intent of the rewritten ordinance is to put safety first.
Instead of focussing myopically on a single breed, the rewrite strengthens Animal Enforcement's
ability to better deal with irresponsible owners and all animals identified as a threat. The purpose of this
rewrite is to better protect residents, and also better protects animals against mistreatment by their owners.

This rewrite also protects residents in other ways.

The way the current law is written, if an intruder breaks into your home and is attacked by your
dog, then you as the homeowner could be sued by the intruder for any injuries. The rewrite eliminates
that, and holds no blame against any animal protecting their home.

If anyone will take the time to read the actual rewrite, as did many who wrote about their support,
I think you might have a clearer understanding of the intent.

I have an intimate understanding of this issue, as a child having been the victim of a dog attack. One
minute I was walking with friends, and the next I was in the jaws of a dog whose owner always goaded
his dog to "sic 'em" every time children walked past his house, laughing as the dog strained against its
leash. I was the third child that dog got loose to attack before the city could finally force the owner to
pen the dog up under the laws as they were written then. Everyone knew the owner was a problem, but
nothing could be done until after repeated attacks had occurred.

What type of dog attacked me?
It was a german shepherd.

Since that time I've always watched the news and laws on this issue.

Over the years I've seen great danes, rottweillers, and other breeds go through periods of being
banned. The type of dogs considered to be the most dangerous keeps changing. In recent years pit bulls
have become the main target of a group out of Florida who are responsible for most of the misleading
information posted on the internet about pit bulls, and who mail insults and obscene pictures to council
members around the country every time this issue comes up--but when confronted can never cite where
the pictures they are sending originated from. Industrial accidents become pit bull attacks. They are
peddling in fear, hate, and anger. When this item last came up for a vote, they threatened me personally
with violence over this issue--said that they were coming to a Council meeting to deal with me if I didn't
vote the way they wanted.

Personally, I refuse to be influenced by fear.

I didn't let it change my love for animals after being attacked, and I won't let fear influence my
decision on this issue--because the thing that is of paramount important here is the safety of the
community, OUR COMMUNITY, and the thing we need protection from isn't always just the animals,
it's our neighbors.

As an adult in another city, a pit bull owned by people visiting across the street slipped under my
privacy fence and charged at me in my back yard--but made the mistake of thinking my pool's solar
cover was solid ground. I pulled him out by the scruff of his neck before he drowned and sent him
whimpering back, and listened to the laughter of my neighbor's guests turn to outrage. Neither they
nor their dog were ever seen again. It was another example of bad owners acting in an irresponsible
manner. It was very fortunate that my next door neighbor's three young daughters were not playing
outside at the time, because the dog passed through their yard to find a spot to crawl under.

Over the decades laws have improved on this issue, and they're always changing. I believe that this
rewrite would be another change for the better.

If you had a neighbor acting in a cruel and/or irresponsible manner, turning an animal vicious,
wouldn't you want Animal Control to be able to intercede before a tragedy occurs--instead finding out
that german shepherds or other breeds are not on the list considered to be dangerous, until after they've
made an attack?

Another problem with the law is that banning the mixed breed dogs known as pit bulls is very
difficult to enforce. Animal Enforcement is allowed to ban a dog under the current law based on a line of
sight judgement. But...

That judgement can be challenged if a DNA test shows that the mixed breed is less than 50%, then
the ban is overturned.
If an animal vet declares that the mix is primarily a boxer breed, then the ban is overturned.
The ban is super-ceded by the Fair Housing Act Requirement, which allows for pit bulls if they are
considered to be an emotional support pet. Again, the ban is overturned.

Despite an ordinance that bans them, pit bulls are already in our city.

So, rather than cling to a single line of an ordinance clause that is ineffective, this rewrite more
wholly enables Animal Control to better protect our citizens and their pets from hazard and injury.
Animals need protection from irresponsible owners, too.

Read the changes in the ordinance and then decide for yourself whether or not if it is an
improvement in providing for the safety of our community.

And remember that, by state law, Arkansas is a One Bite law state. That means a dog won't be
considered dangerous until he attacks a person or another animal.

But in the original encounter that I described,
Animal Enforcement could have stepped in before I or any other child was attacked.
If an owner is obviously training a dog to be vicious, telling him to "Sic 'em," intervention
can take place. If a dog is prone to growling or barking, that's another matter. That would not be
considered evidence of a dangerous animal. But once a dog is proven to be a danger to the community,
then Animal Enforcement will have greater power to deal with the animal--regardless of breed--before it
can do further harm.

I'll give you an example of where our current law has failed in the past.

In recent years there have been three dog attacks reported to the Maumelle City Attorney's office.
Two were considered minor and one caused serious injury to a child.

The dog determined to have attacked a neighbor's child was a belgian malinous, a breed very
similar to a german shepherd. Under the current law, this was a difficult situation, with the owner being
a former law officer and the dog a rescue animal. That situation was only resolved after the owner
passed away and his dogs then removed. With this proposed rewrite, the City and Animal Services would
have better legal authority to deal with future problems such as this, where an animal has proven itself
to be a danger, and they could have acted immediately to resolve the situation.

Over the last 5 years, there were 8 Maumelle Police reports of animals biting people.

Animal Services biting attacks reported in that same time period:
31 bites in 2015
19 bites in 2016
18 bites in 2017
21 bites in 2018
27 bites in 2019
29 bites in 2020

These bites include cat bites and those by small dogs.

To do a break down of one year,
In 2018, 12 bites were by black labradors, and 6 by german shepherds.

According to Animal Services, black labs and german shepherds are the primary culprits for
biting attacks in Maumelle and the immediate surrounding area.

The whole purpose of the rewrite is to enable Animal Services to be better able to deal with
dangerous animals, regardless of breed.

Isn't that protection what we all want?

Please be aware as you read this that areas that have been crossed out are replaced
by new language, indicated by being underlined.
Sometimes that language will be in another section.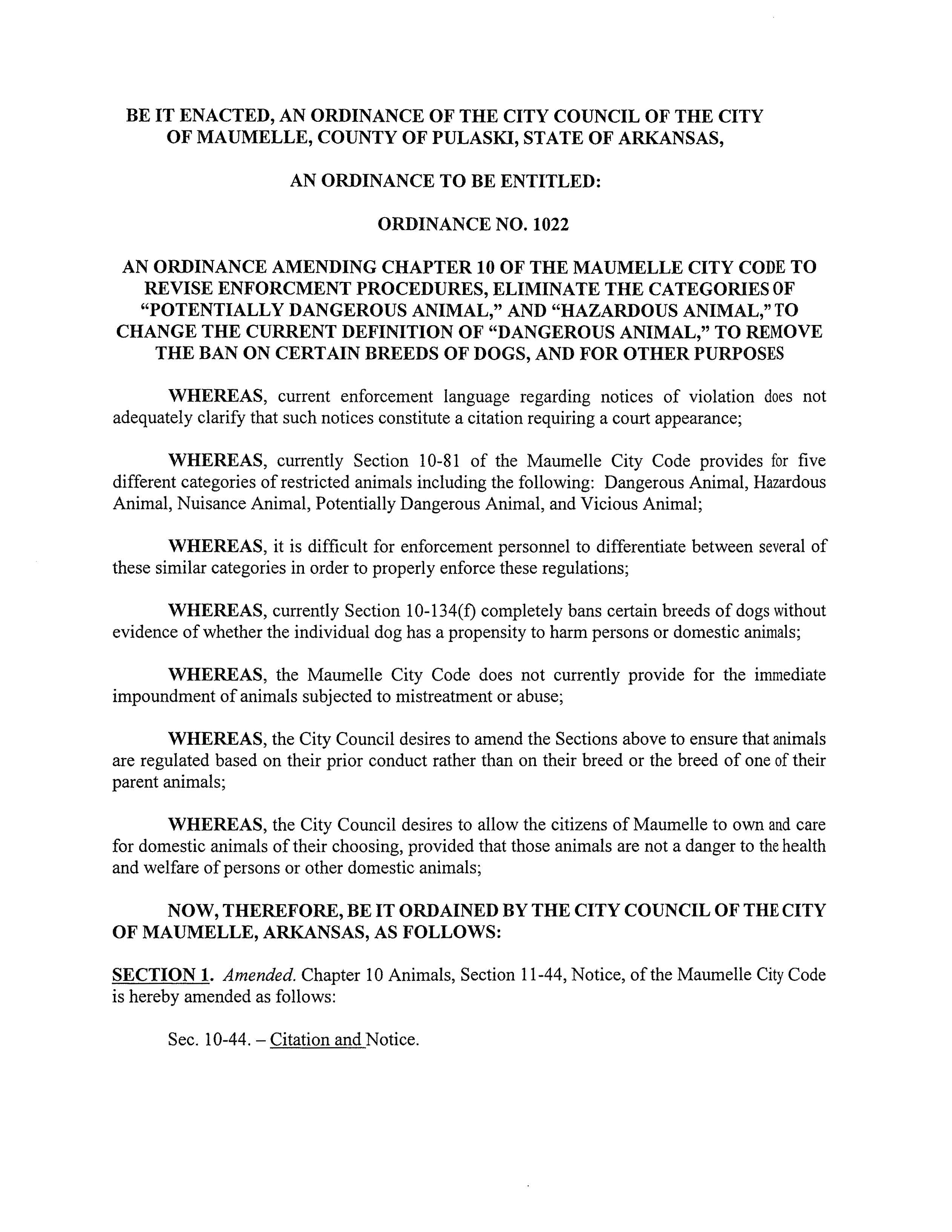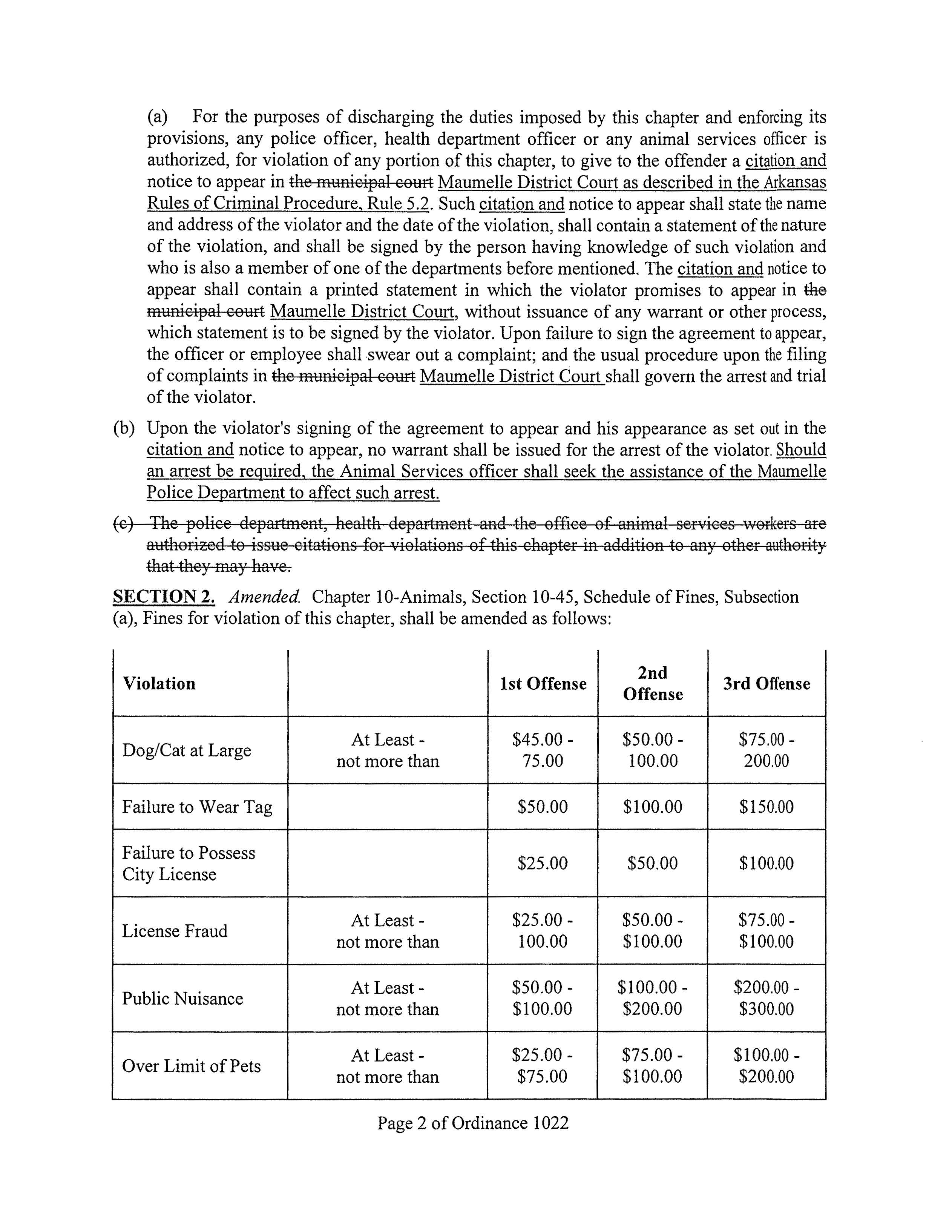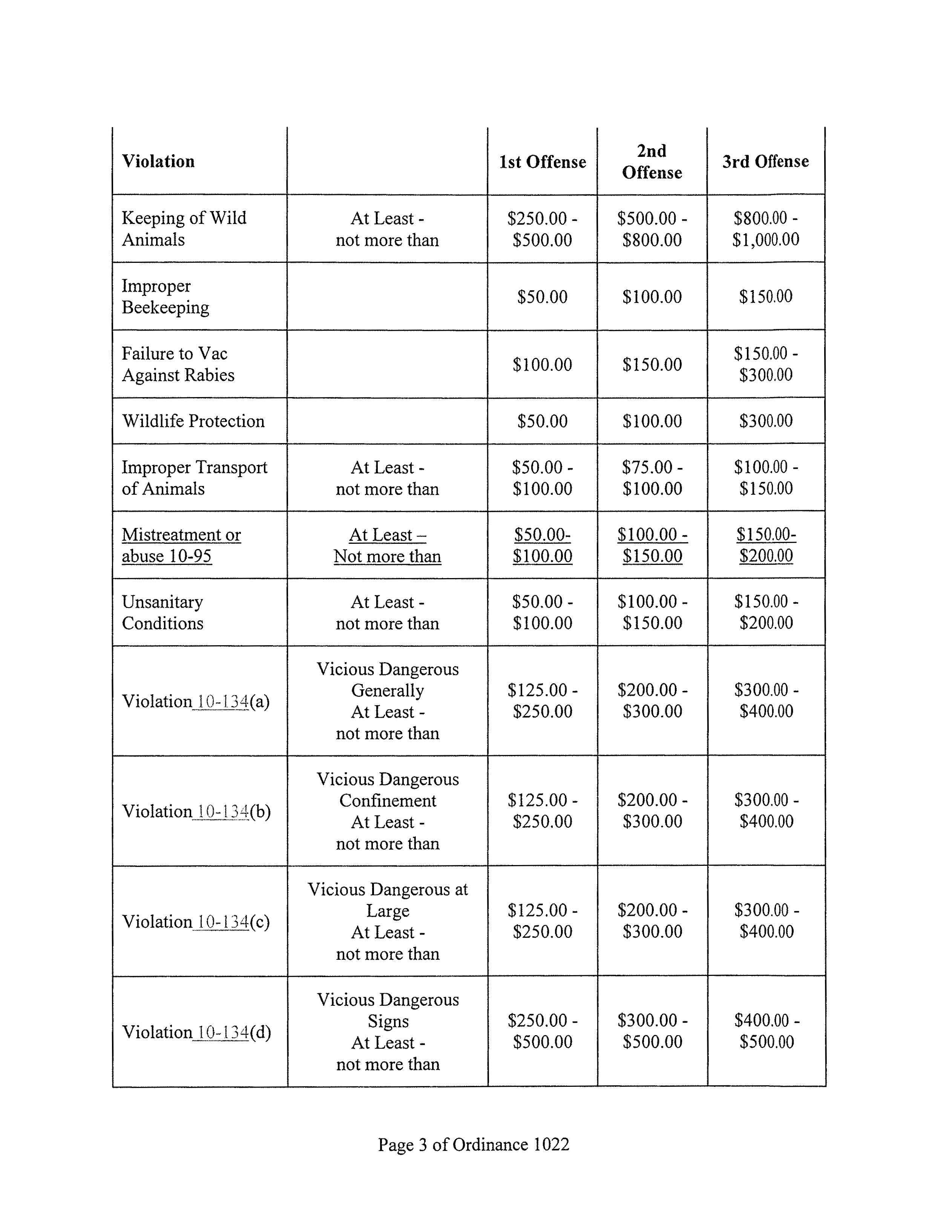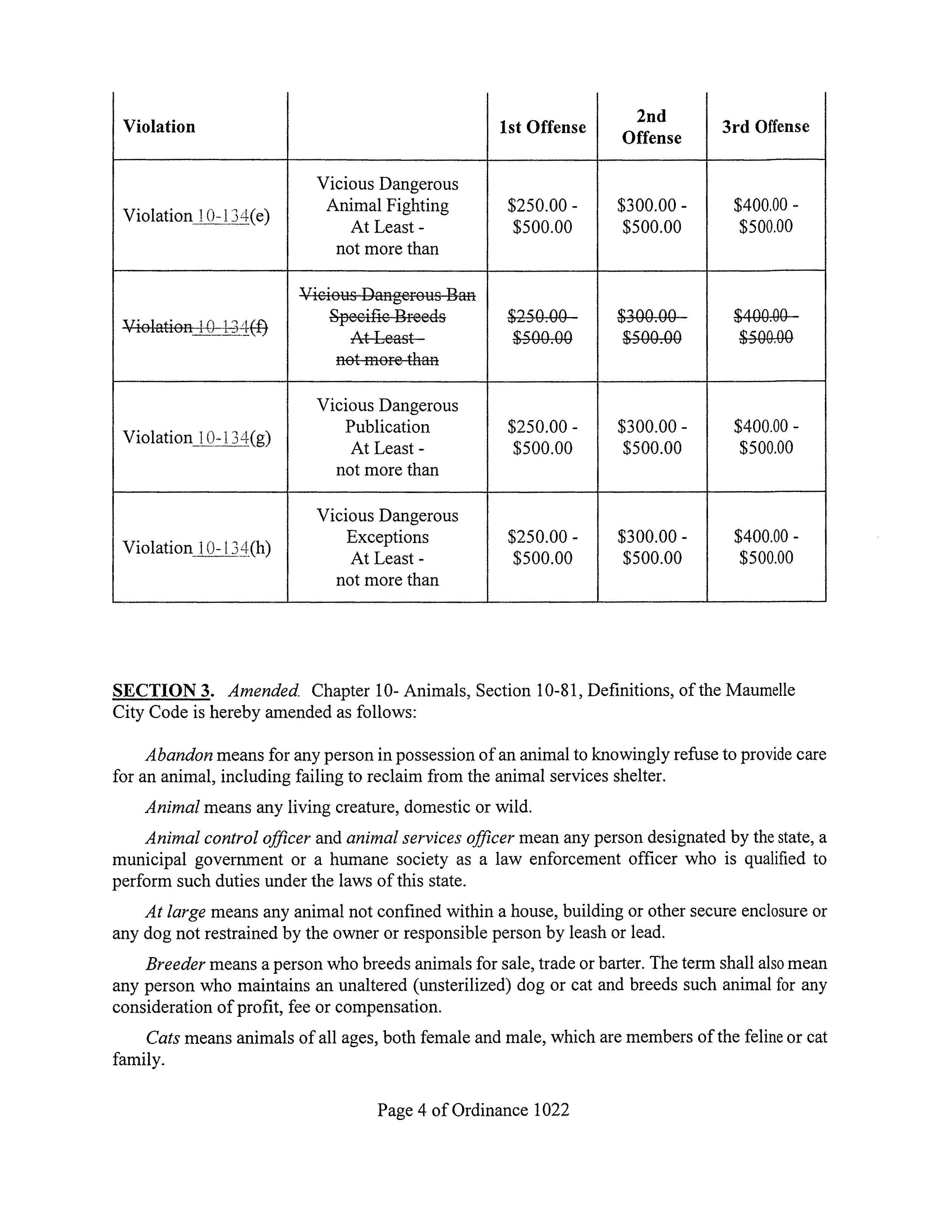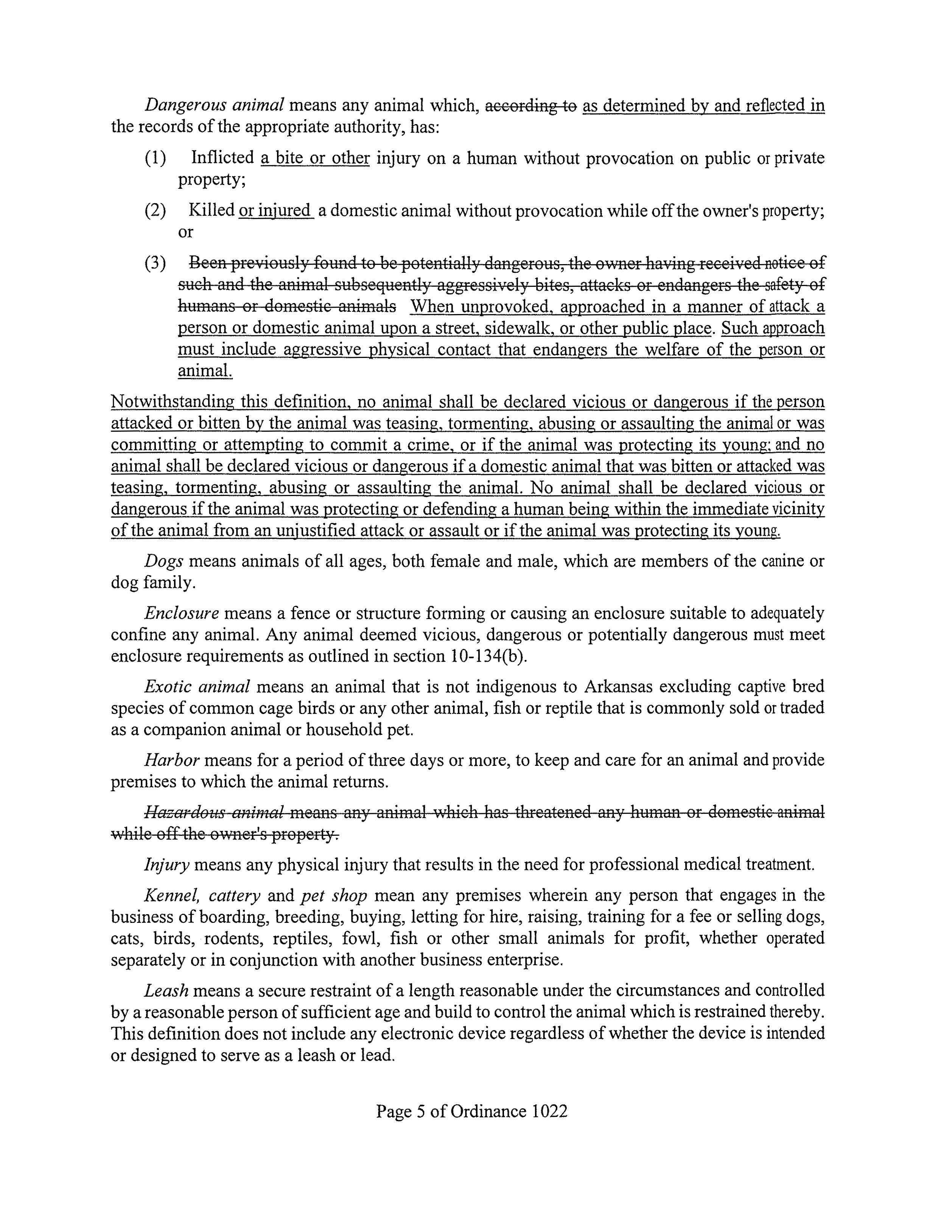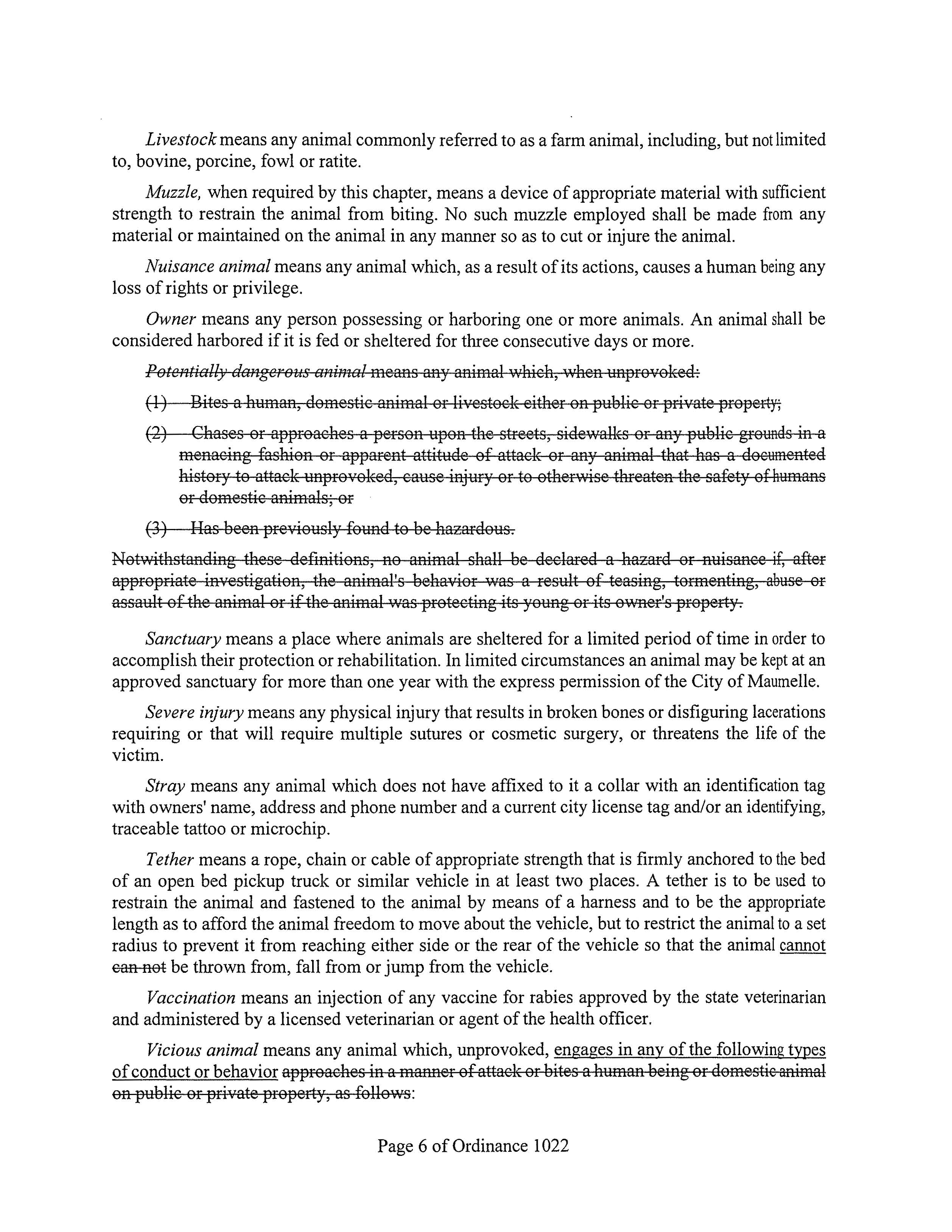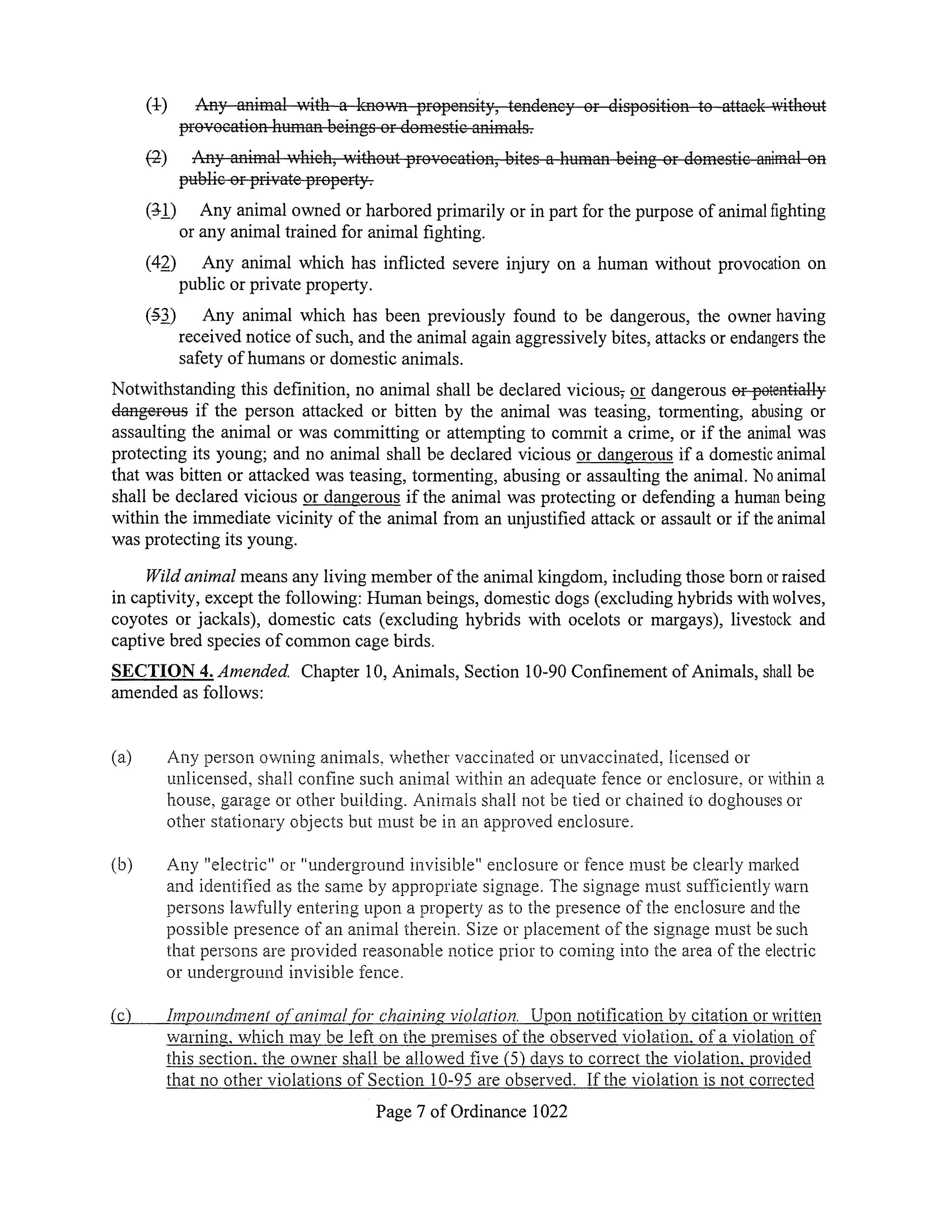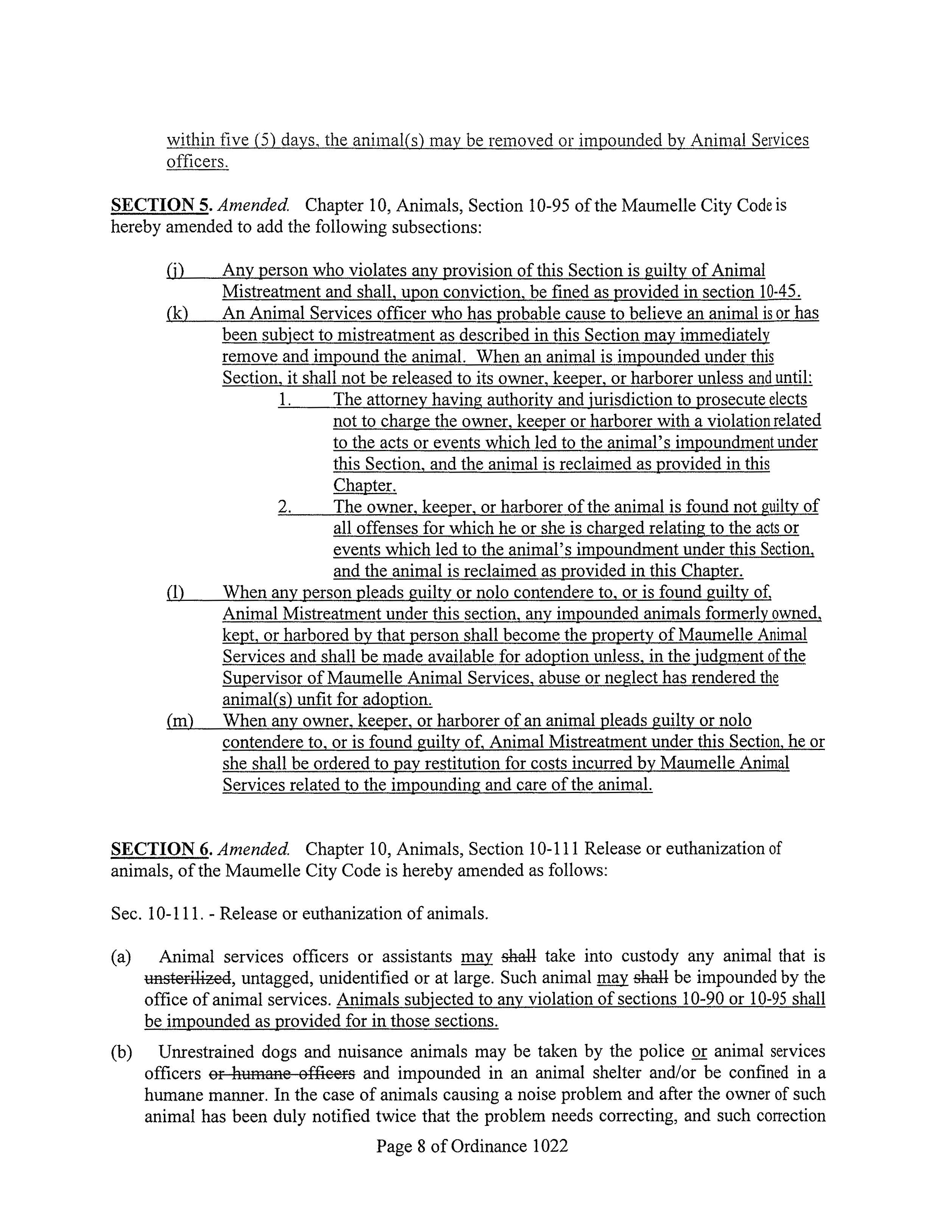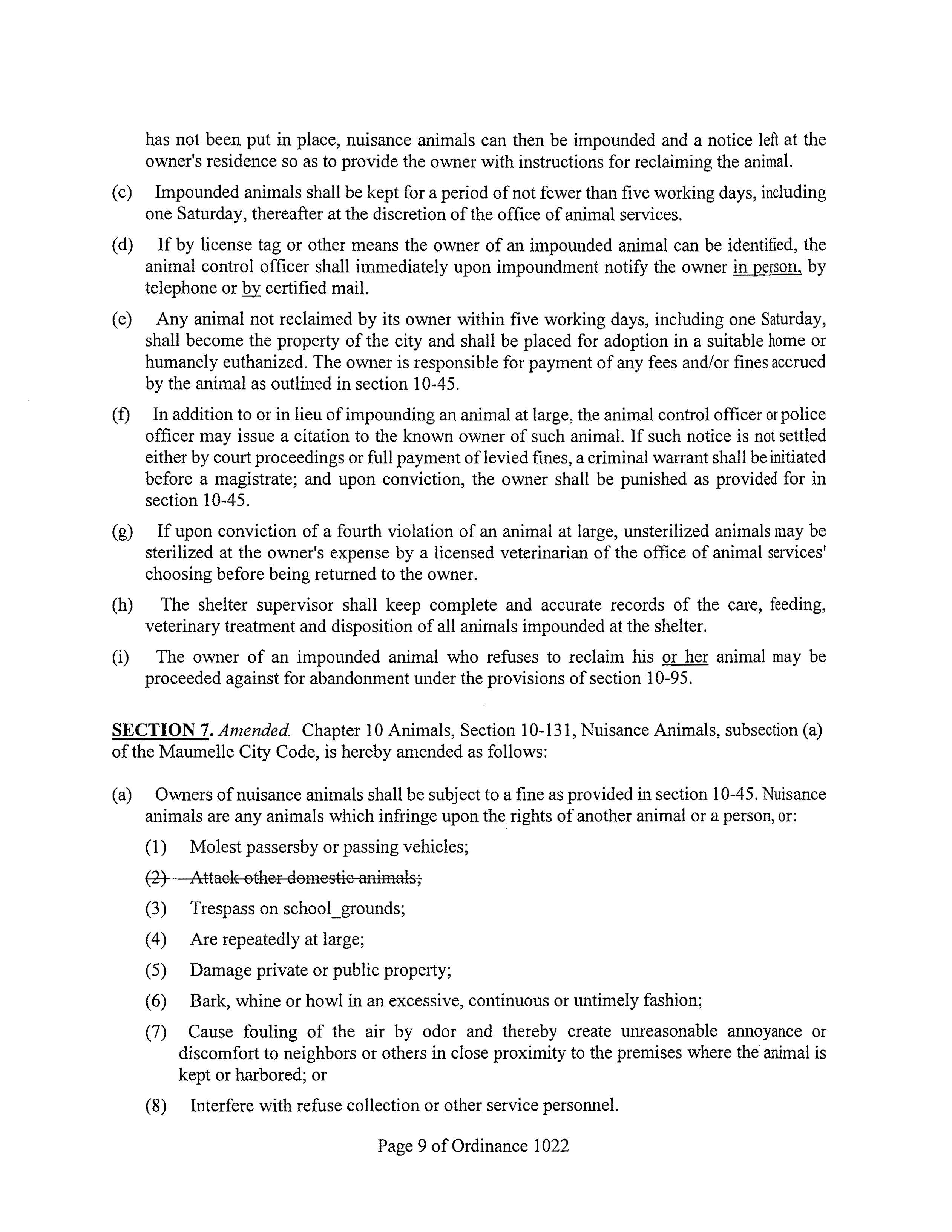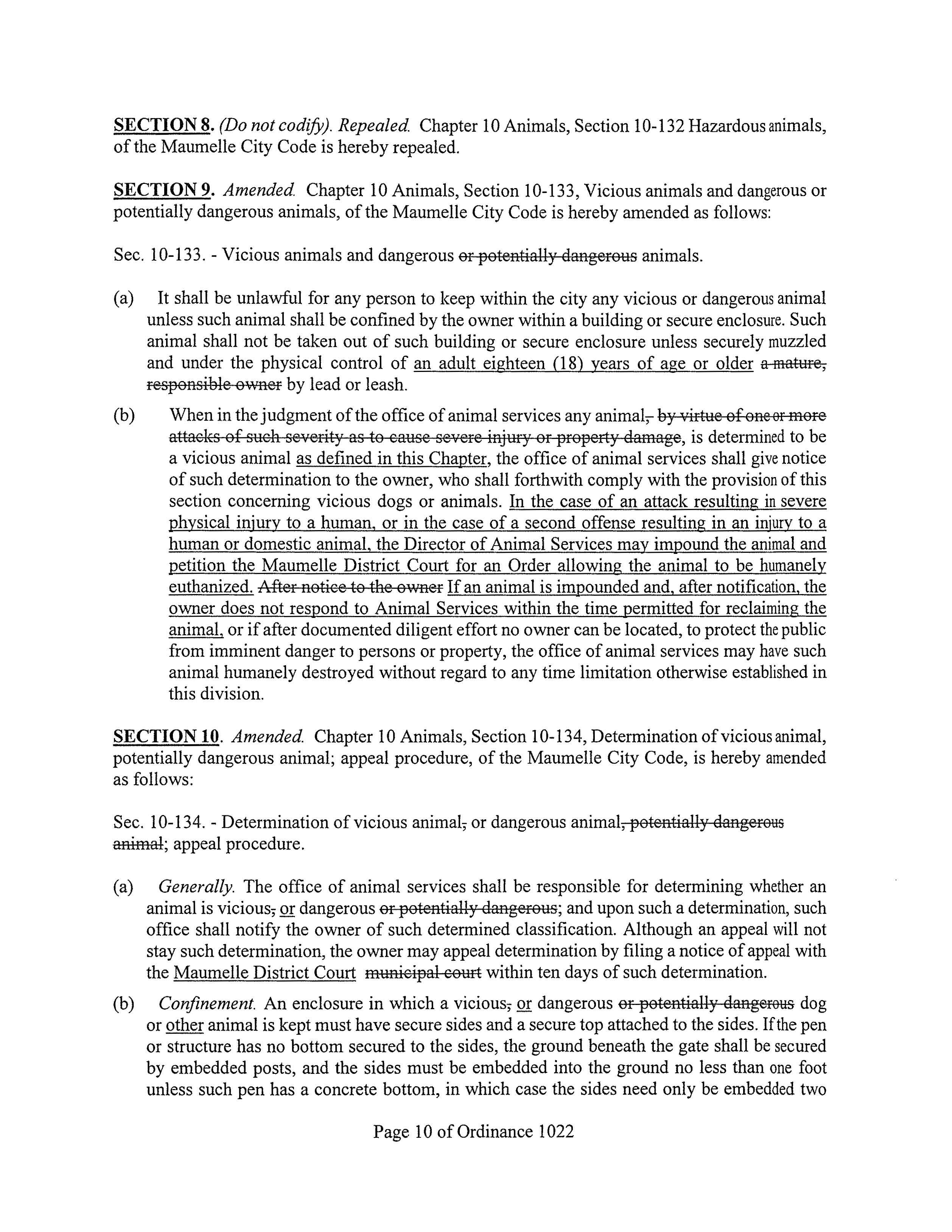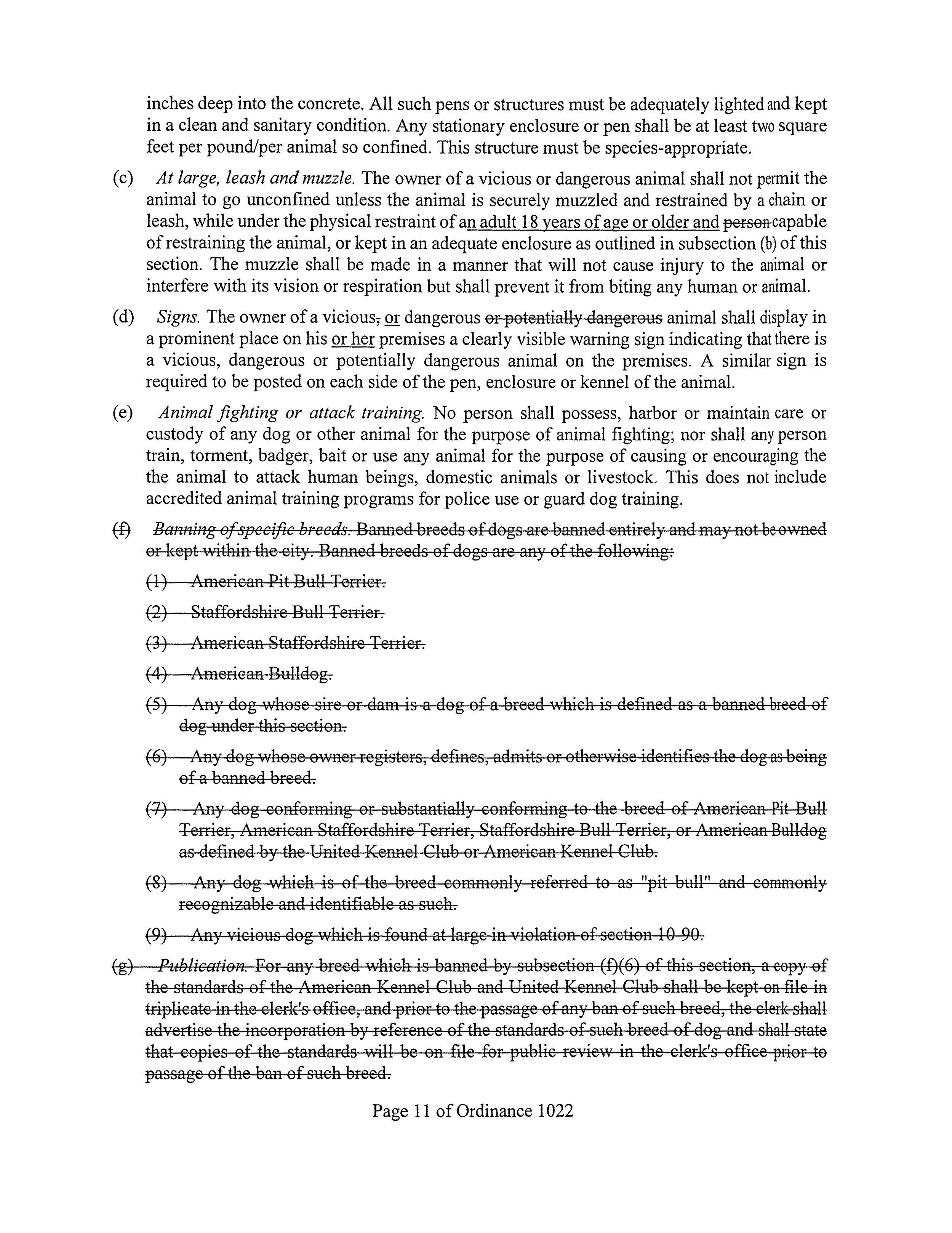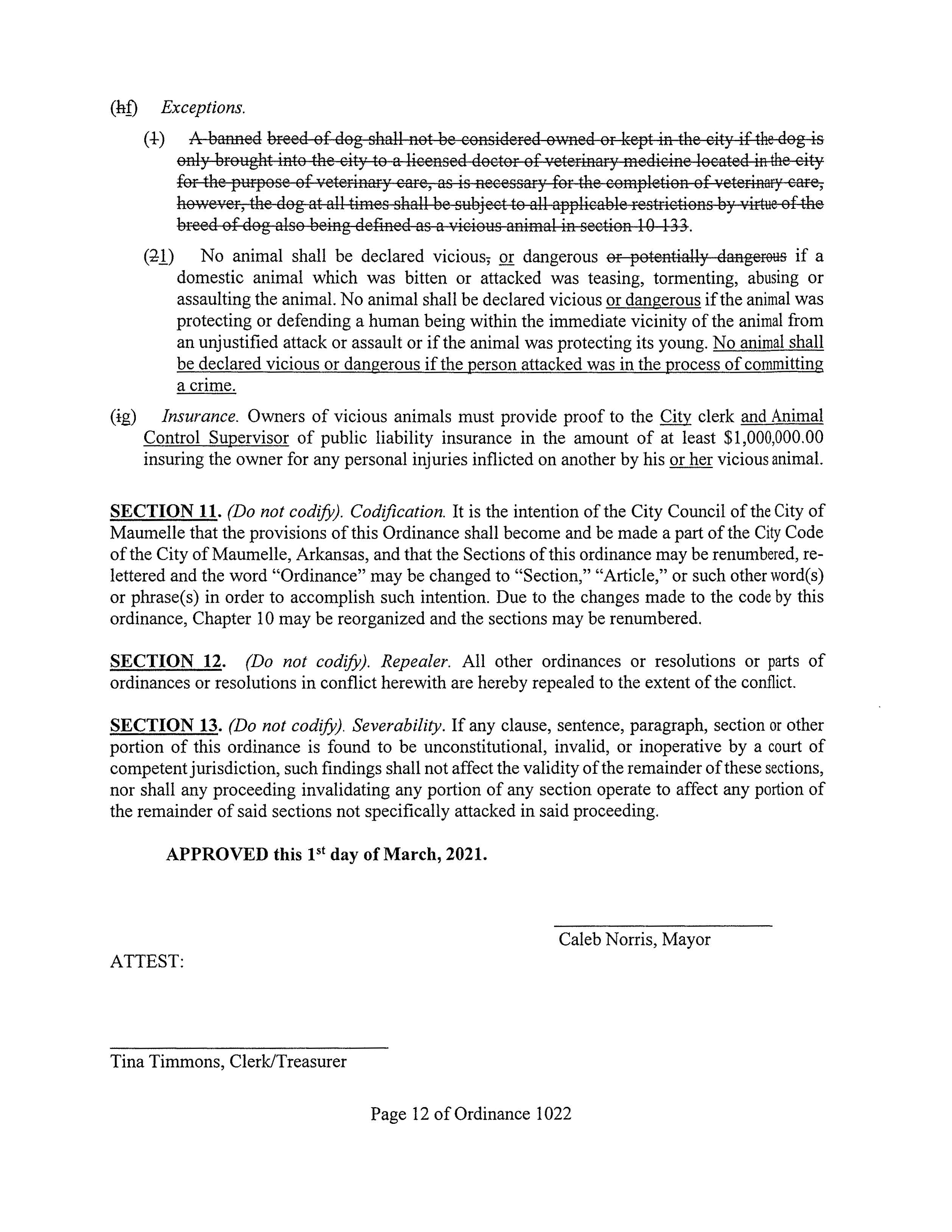 February 4, 2021 Update
Arkansas Highway Department of Transportation announces
Road Closures starting February 12th
and running through February 15th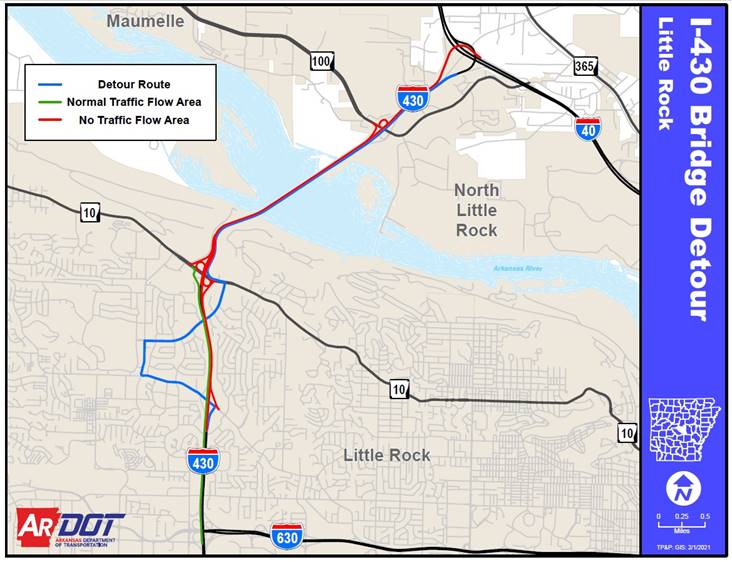 Mayor Norris sent this notice:

Portions of I-430 will be closed starting Friday, February 12th at 8pm and continuing through
Monday, February 15th at 5am. Weather permitting, crews will close all southbound
lanes between Highways 100 and 10 and northbound traffic will be closed from the
Rodney Parham interchange to north of the Cantrell Road interchange. Maumelle
police & fire departments have been in contact with ARDOT and first responders from
other jurisdictions and have been ensured that there will be designated lanes for
emergency vehicles. For more information, please see the attached release or visit www.ardot.gov.

Here is the official notification from ARDOT:

Highway 10 Widening Project Requires Significant
Closures to the Interstate 430 Arkansas River Bridge

PULASKI COUNTY (2-2) ­ Improvements to the Cantrell Road (Highway 10) interchange at
Interstate 430 require significant closures, according to Arkansas Department of Transportation (ARDOT) officials.
Weather permitting, crews will close all southbound lanes between Highways 100 and 10
and northbound traffic will be closed from the Rodney Parham interchange to north of the
Cantrell Road interchange starting on Friday night, February 12th at 8:00 p.m. and
continuing through Monday, February 15th at 5:00 a.m. The westbound Highway 10 to
northbound I-430 entrance ramp as well as the eastbound Highway 10 to southbound I-430
entrance ramp will remain open. This will include closing the entrance ramps in this section
of highway and will allow crews to erect structural beams and install the safety platforms.
This single weekend closure will minimize the number of nightly lane closures required,
thereby reducing the risk and exposure to the motorist as well as the construction personnel.
ARDOT encourages drivers to avoid using I-430 north of I-630 and to avoid I-430 completely
where possible. Truck traffic should use I-30 and I-440. All traffic north of I-630 will be
diverted at the Rodney Parham Rd. Interchange (Exit 8) onto a detour route. Truck traffic
will not be permitted on the detour route and will be re-routed to I-30 and I-440.
If you must travel in that direction for the weekend, please see the attached detour map.
Motorists traveling along I-430 north of the Big Rock Interchange will need to exit at Rodney
Parham Rd. (Exit 8) and drive westward to the intersection of Hinson Rd. and N. Rodney
Parham Rd. and turn right, traveling north onto Rodney Parham Rd. and taking another right
onto Pleasant Valley Drive. This will eventually lead drivers back to Cantrell Road
(Highway 10) where they can access northbound I-430.

Traffic will be controlled by traffic barrels and signage. Drivers should exercise caution when
approaching and traveling through all highway work zones. Additional travel information
can be found at IDriveArkansas.com or ARDOT.gov. You can also follow us on Twitter @myARDOT.


February 1, 2021 Update



Tonight's meeting was another hybrid meeting, with two council members attending virtually.

Ms. Mathis gave the financial review statement.
The City has navigated a difficult 2020 far better than most cities.

Council member Gardner gave a Planning Commission report that centered on the rezoning and land use
change requests concerning the old water plant that is centered in the middle of the Maumelle Country Club.
The Planning Commission gave a Do Pass recommendation on both measures.
Both will now come before the Council for a vote.

Ordinance 1020, amending the Maumelle City Code to permit the Director of Planning and Permits to
approve minor subdivision splits had its third reading.
The Ordinance passed unanimously.

Ordinance 1021, amending the Maumelle City Code to reduce the number of copies required for plat
submission had its second reading. In this day of digital files, this change is one that is probably
overdue, being a holdover from the analog days.

Resolution 2021-3 was a request to approve an Economic Development Service Contract between the
City and Metro Little Rock Alliance (MLRA).
This is not a new contract. It is an existing alliance that requires approval each year in order to be
renewed. The executive Vice President from MLRA gave the Council an update on what their
organization has been doing in the last year to promote the central Arkansas region.
MLRA has been in existence for the last 20 years.
The resolution passed unanimously.

Ordinance 1022, amends Chapter 10 of the Maumelle City Code regarding the enforcement procedures
for dealing with hazardous or dangerous animals. This is an ordinance change that failed last year because of
controversy over eliminating the ban on certain breeds of dogs. The Ordinance has been rewritten
this year to move the focus on treating all breeds equally. Language that was in the previous category
that were stricken has been added back in to other sections. This will give animal enforcement more
authority to deal with chained animals, and animal mistreatment by homeowners.

One resident spoke in support for the elimination of a breed specific ban.

One thing I wanted to clarify is how, under the current ordinace, if an intruder breaks into a home and
the homeowner's dog attacks the intruder, then the homeowner can be sued. Under the new ordinance
the home owner would not be held liable.

Two council persons spoke about their opposition to lifting the Pit Bull ban, and how their residents
preferred to keep the ban.

Another council person expressed the exact opposite reaction from residents.

Two other members echoed the value of giving added authority to animal control and that this is a
matter of putting responsibility back on the owners.

I can attest that in Ward 3, I have heard mixed reactions, with a predominant number in favor of lifting
the ban. Opinions on both sides of the issue are exceptionally passionate.

There will be two more readings on this issue for residents to have their preferences expressed.

A vote was taken to determine the new Planning Commission appointment.
The City received applications from five very qualified applicants: Jacques Pierini, Alicia Gillen, Jade
Moore, Roy Andrews, and John Latch. They are listed here in the order in which the applications were
received, and that the interviews were done.
There were no bad choices in the group.
The vote came down to a tie between Ms. Gillen and Mr. Andrews.
Mr. Andrews won the runoff vote.
We thank them all for the willingness to serve the city.

Resolution 2021-4 deals with the restriction of nepotism hiring practices.  After passing a similar act, it
was discovered that there was a previous exemption. The Resolution was rewritten and passed unanimously.

The Mayor gave an update on the Crystal Hill rebuild. There will be a lane closure for construction in
the next week. Details will follow on the City website.

Council Member Gardner announced that we have received an additional $24,000 grant toward the Splash Pad
project. This will go to a 30 x 30' shade structure that had been previously planned, but the funding had
not been there.

City Attorney Melissa Krebs mentioned that the Arkansas legislature is in session and to watch Bill 1252
which would require all elections to be partisan, forcing candidates to declare a party affiliation.
Personally, I have never declared a party affiliation.

City Attorney Tina Timons mentioned that President's Day is next Tuesday.

January 20, 2021 Update


Mayor Norris just realeased this notice: After many years of planning and development, as of today the adaptive traffic signals
are now functioning along the entire Maumelle Boulevard corridor.

The system was designed to create better traffic flow.
So, from now one there should be no more sitting as the only car at a light,
waiting on a fixed timer to let you pass right about the time more traffic shows up
from the opposite direction!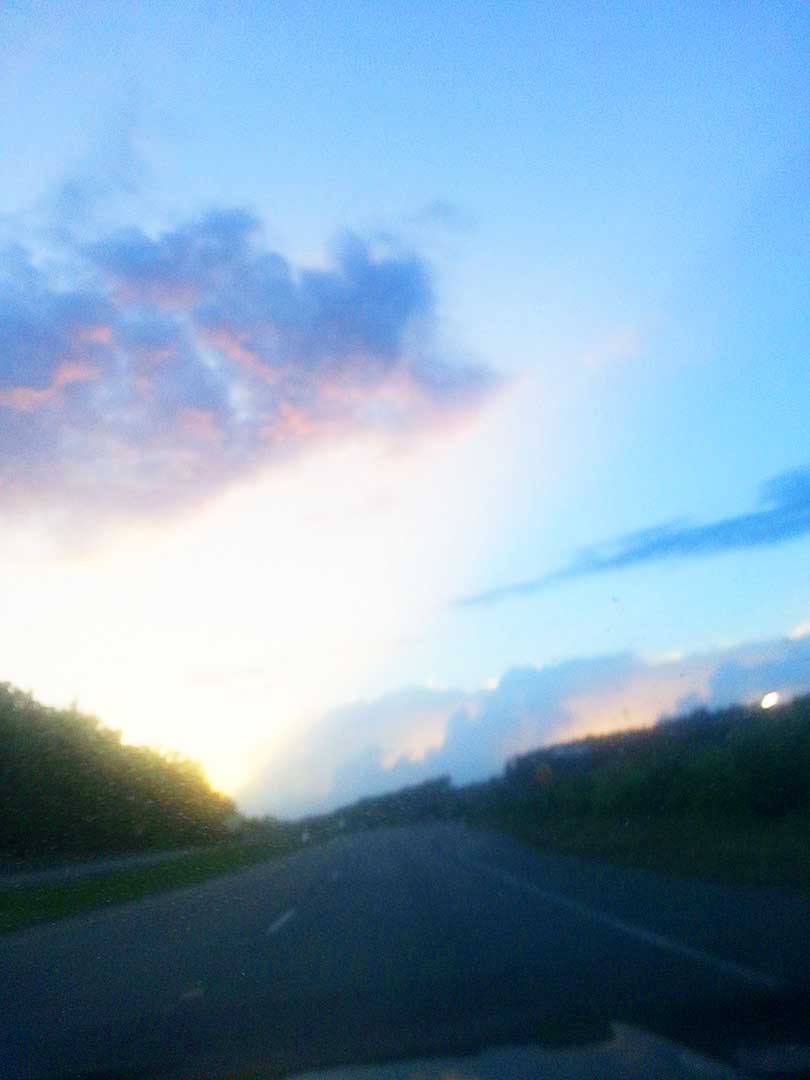 January 19, 2021 Update



Tonight was picture night for the City Council before the meeting, so if you watched the streaming
video and wondered why everyone looked so formal, now you know why.

Before the meeting started I gave a gift to the Mayor and City.
When I moved to Maumelle in 1994, the first thing I did was purchase a City Code book.
I continued to received and save mailings of updates for several years.
The collection made a very interesting time capsule to compare where the City was then and where we are
as a growing community today.

The meeting was another hybrid, with two Council persons attending virtually.

Mayor Norris made a Proclamation for a National Day of Racial Healing in Maumelle on January 19,
2021. The Mayor then recognized outgoing Council Member Marion Scott, for her terms of service,
and presented her with a plaque in thanks for her service to the City.

James Johnson from Public Works was proclaimed the Employee of the Month for July 2020
and January 22, 2021 was declared to be James Johnson day.

Ordinance 1020 Amending the Maumelle City Code to allow the Director of Planning and Permits to
approve minor subdivision splits had its second reading.

Ordinance 1021 amending the City Code to reduce the number of copies required for plat submissions
had its first reading.

Resolution 2021-2 dealt with the disposal of three obsolete vehicles from the Police Department.
I requested that odometer readings be provided on future requests in order to provide a better snapshot
of the vehicle's condition. Captain Pickard explained how one vehicle needed a new engine, another a
new transmission, and the third needed the front end replaced. These vehicles will be sold through
DotGov on auction if any residents are interested in bidding. The resolution passed unanimously.

Appreciation was expressed for Marion Scott's service during the Council Member's comment section.

City Attorney Melissa Krebs discussed Zoning law information she had provided in our most recent packet,
and guidelines. Included was a series of law articles about zoning law, and how zoning changes
should be pursuant to harmony with our master plan.
Spot zoning and reverse spot zoning was also discussed according to how it is viewed by the
Arkansas Supreme Court.

Council Member Mosley suggested having a Zoning law workshop, which proved a very popular idea
and will probably be scheduled soon for Council members.

There was a fair amount of discussion about zoning law and the Open Space designation.

The City Attorney made a point that she had provided this information not in specific reference to the
recent Open Space discussion at the last meeting, but because there will be several other matters
dealing with zoning upcoming before the Council.

City Clerk Timmons pointed out that she is still accepting applacations for the City Planning
Commission opening.


January 4, 2021 Update



Tonight's Council Meeting, the first of the year, was another Hybrid meeting, with two members
attending virtually and one absent. As a result, all unanimous votes will count on the record as 7-1.

The swearing in by Judge Bailey of newly elected Council members of R. J. Mazzoni for Ward 2, Doug
Shin for Ward 4, and reelected  Member Terry Williams for Ward 3 took place.

Re-elected Council Member Mosley for Ward 1 attended via electronic means and was sworn in earlier
by the City Clerk.

There was a brief recess while family photos were taken, and then the meeting resumed.

Doreen Mattes was introduced as our new Director of Human Resources.

Ordinance 1019 amending the Maumelle City Code had its third reading.
The purpose of this is to change City drainage standards from 10 year events to 25 year events. The
Ordinance passed unanimously.

Council Meeting protocols were establishing for the upcoming year.

Waiver of M.C.C. section 54-80 Master Land Use Plan Amendment was requested by
Central Arkanss Water to waive the one year requirement to wait before making a new request. The previous
request by CAW to amend the property that is surrounded by the Maumelle Country Club was denied
last year. This was a request for an opportunity to present the Planning Commission with a plan for consideration.

Ron Harris spoke for CAW in favor of the waiver request. He talked about how when CAW used the
location, studies showed their traffic equivalent to 12 that of homes. Their new request is to develop the
property for 5 private homes. The previous prospective buyer had wanted to build a dozen condos.

Gib Carpenter spoke in opposition, as a representative of the Maumelle Country Club.
According to him, after being approached with a request to support the project, a vote was taken that the
club "vehemently" opposes any rezoning of the property.

The waiver was passed by a vote of 5-2, with one absent, so 5-3.

Waiver of M.C.C. section 94-12 Zoning Amendment Application.
This is the zoning change application request for a waiver from the one year waiting period. This waiver
was passed by a vote of 5-2.

This allows the matter to now go to the Planning Commission.

Resolution 2021-1 restricting nepotism hiring practices. The replaces previous code that was originally
written when Maumelle had a different form of government.
The Resolution passed unanimously.

Ordinance 1020 amending the City Code to permit the Director of Planning and Permits to approve
minor subdivision splits had its first reading. Director Grummer addressed the Council addressed the
Council to explain the new Ordinance, and how this change would only affect minor splits or
consolidations of plats of three lots or less. Anything more would still require review. This was the first reading.
I expect this measure to pass unanimously when voted on.

After 20 years of excellent service, John Todd has stepped down from his Planning Commission position,
which means there is a vacancy if anyone wishes to apply.



---

Maumelle City Council 2020 Notes

Here is a link to all my notes pertaining to Maumelle's City Council during 2020.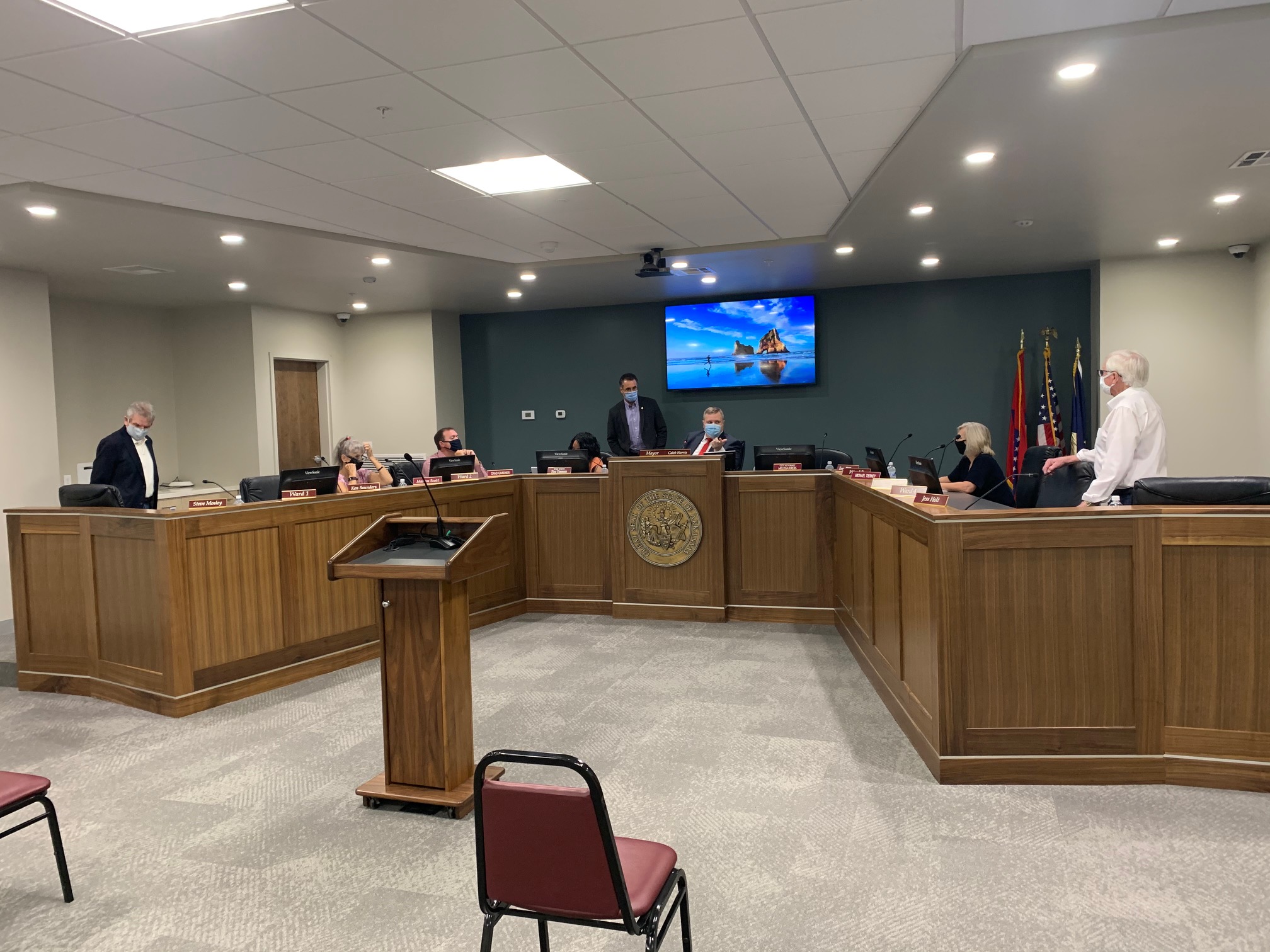 ---
2019 City Council Notes:
Here is a link to all my notes pertaining to Maumelle's City Council during 2019.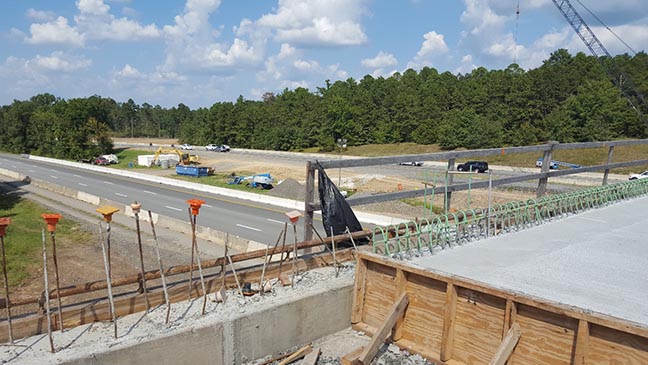 ---
Here is a link to my 2018 Campaign page.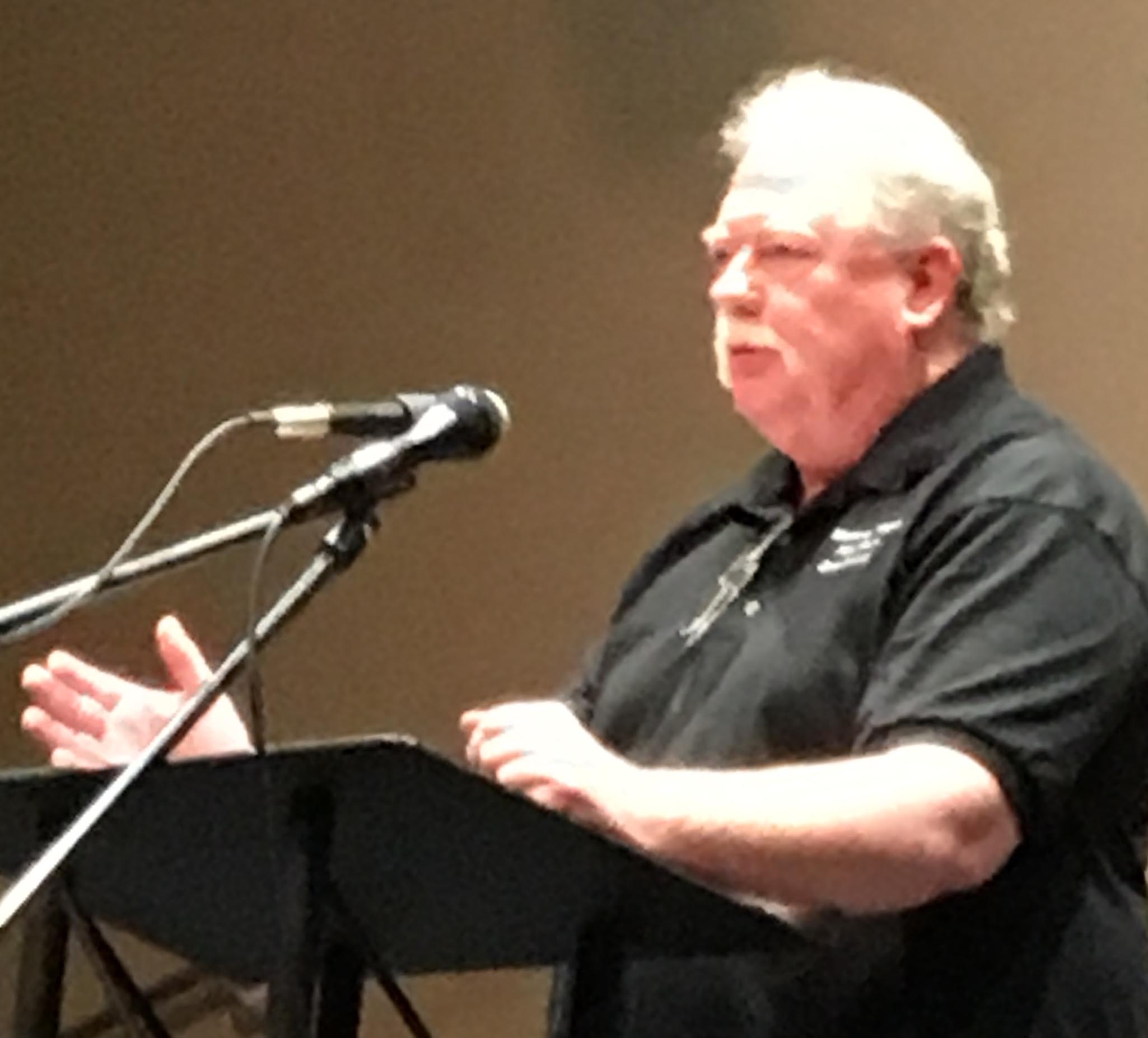 photo by Shannon Odom
---
MAUMELLE Zoning MAP
Click on the map below to find your Zoning: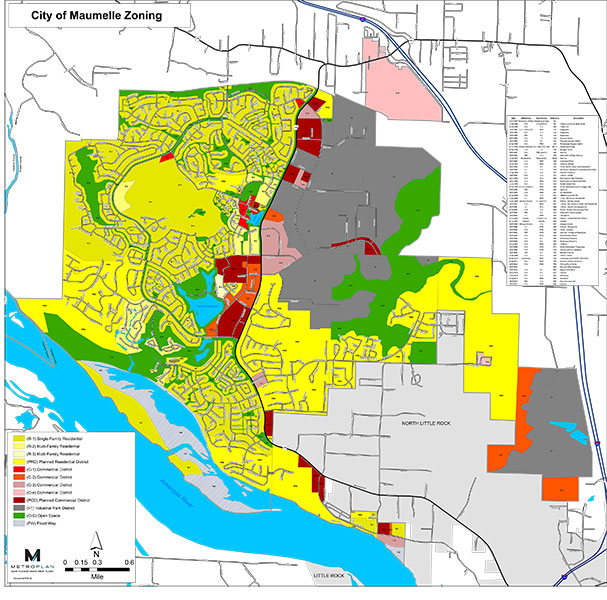 ---
MAUMELLE WARD MAP
Click on the map below to find your voting ward: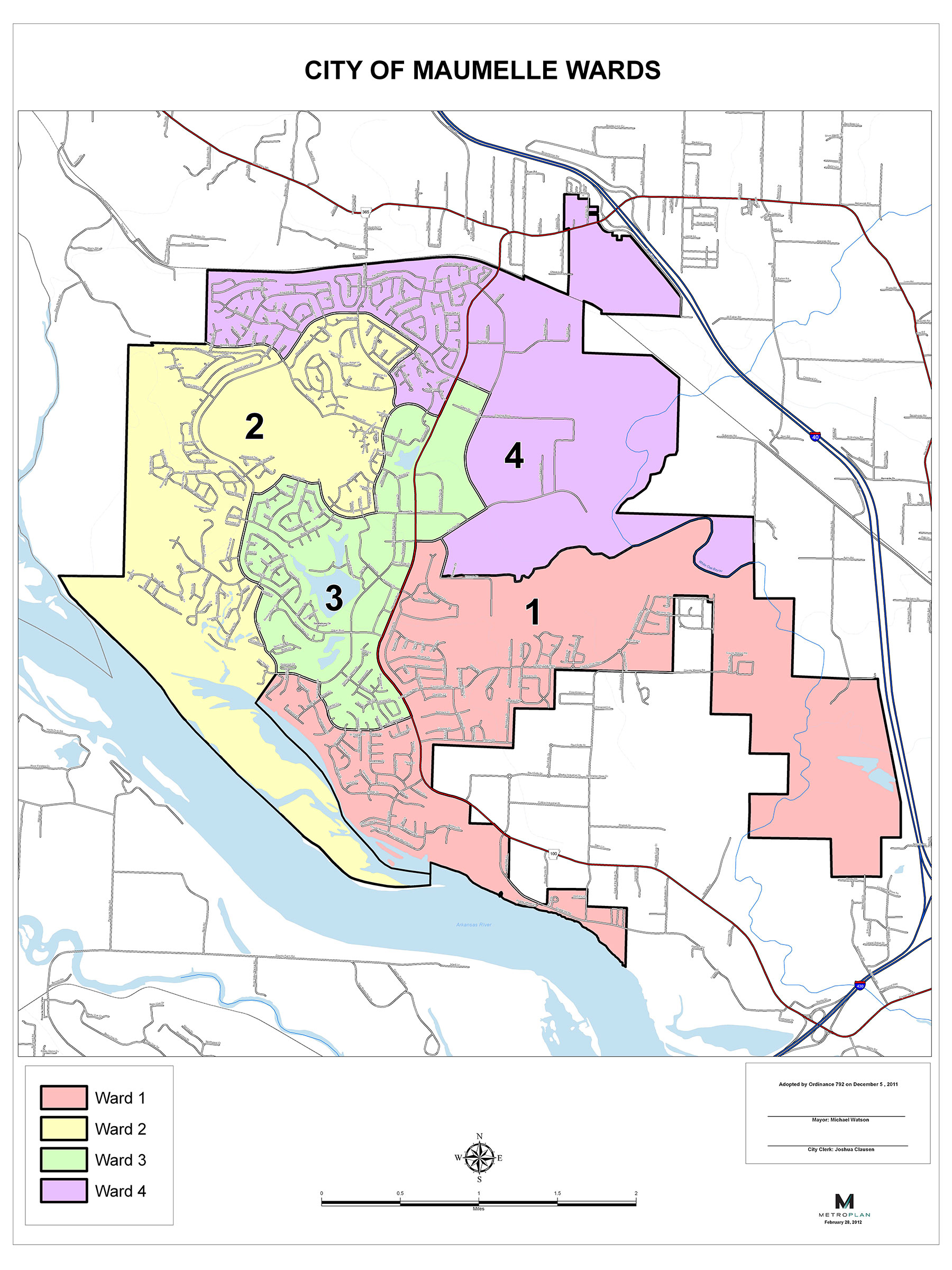 ---
The State of Arkansas has it's own long-range planning, called Long Range Intermodal Transportation Plan (LRITP), with a vision that reaches to 2040. You can access the public record of this plan on the following link:
http://www.arkansashighways.com/Trans_Plan_PolicyARDOT_LRITP_ExecSummary_Final.pdf
wildstars.net
wildstars.biz
thewildstars.biz
thewildstars.ca
wildstars.club
wildstars.co
thewildstars.co
wildstars.guru
wildstars.info
thewildstars.info
thewildstars.me
wildstars.mobi
thewildstars.mobi
thewildstars.org
wildstars.pro
wildstars.us
thewildstars.us
thewildstars.ws
wildstars.xyz
michaeletierney.com
michaeletierney.net
michaeletierney.org
michaeletierney.info
littlerocketpublications.com
littlerocketpublications.net
littlerocketpublications.org
littlerocketpublications.info
---